How The Lesbian Romance In 'GLOW' Season 2 Expands '80s Gay Representation In Media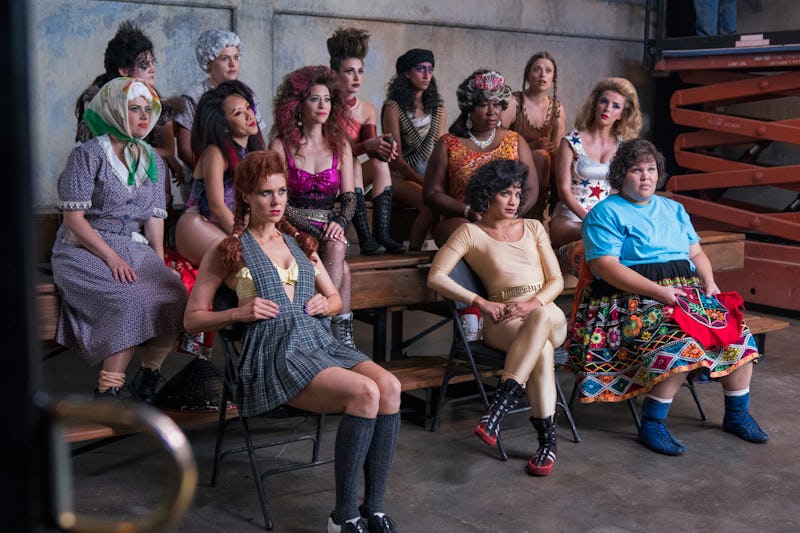 Netflix
For a show executive produced by Jenji Kohan, known for creating Orange Is the New Black and all of its complex storylines about LGBTQ women, GLOW was slammed for being surprisingly straight in Season 1. Not that the show should treat women's wrestling as exclusively gay, but with that many women in one cast, did they all need to be straight? The show could definitely have afforded some more diversity in the LGBTQ sector. Fortunately, GLOW Season 2 features a lesbian romance, taking baby steps away from Season 1 and toward a more complete representation of real life. Spoilers ahead for Season 2.
In Season 2, audiences are introduced to Yolanda, the newest Gorgeous Lady of Wrestling and a part-time stripper. She's also gay, and proudly so. Throughout the course of the season, Arthie takes an interest in Yolanda. Although she is at first seemingly uncomfortable with Yolanda's tales of sexual exploits, asking her to "be less graphic," it soon becomes clear that Arthie is falling for Yolanda.
The two are pretty polar opposites personality wise. Yolanda is loud and unabashedly herself, and Arthie is more withdrawn and quiet. Still, the two make a charming pair as Yolanda helps Arthie open up more and begin to accept who she is. The ladies go from roommates to more by the end of the season, sealing things with a kiss and having a dreamy dance sequence along the way.
The storyline helps round out the show's representation by adding a new lesbian character and developing Arthie's sexuality as well. It's even more exciting that the romance is between two women of color, and an interracial relationship as well, with Yolanda being Mexican-American and Arthie being Indian-American. It's rare enough to have a gay romance on screen, even less likely that it's a lesbian one, and rarer still to have it be an interracial lesbian gay romance. GLOW is clearly trying to make up for lost time.
Interestingly, Netflix's GLOW is taking a different approach to one of its members being a lesbian than the real Gorgeous Ladies Of Wrestling, upon which the Netflix series is based, allegedly did in the '80s. According to Uproxx, real GLOW star Tiffany Million left in 1989 citing alleged management harassment after she was suspected of being a lesbian. So, Yolanda being out and proud is a big deal in the 1980s world that GLOW is set in. The LGBTQ community was deeply stigmatized in the '80s, thanks in large part to the vastly misunderstood AIDS crisis. Gay sex was also illegal in many states, meaning that Yolanda being out and proud could have actually landed her in jail.
Yet, on the show, Yolanda's sexuality is pretty much accepted by her peers and management. No one says anything about the kiss she and Arthie share during a live match. Of course, not all of the reactions to Yolanda are perfect. When Yolanda casually mentions to Ruth that she has an ex who's a woman, Ruth is visibly taken aback and seemingly uncomfortable. She comes around after Yolanda shows her how to dance. (Ah, sitcom problem solving.)
So, contrary to real life, Yolanda and Arthie haven't (yet) faced the kind of harassment on the set that Million claimed happened to her — although it's possible that Season 3 will go down that path. In any case, the Yolanda and Arthie's relationship adds valuable representation to the TV landscape. GLAAD found that in the 2017-2018 TV season, only 24-27 percent of gay characters on broadcast and cable TV were lesbians. Streaming sites did slightly better with 36 percent of their LGBTQ characters being lesbians. But 77 percent of all gay characters on 2017-2018 streaming shows were white, a statistic the addition of Yolanda and Arthie will help shift.
As gay women, they're also helping shade in an area of period pieces that is often neglected. All too often, gay representation in 1980s film and TV is centered on men, particularly with regard to the AIDS crisis. This is a topic GLOW has also tiptoed around with the unconfirmed sexuality of producer Bash and his butler Florian, who dies of AIDS in Season 2. And while those are equally valid and important stories to tell, they're certainly not the only ones worth exploring. Gay women existed in the '80s, and it's time for TV to tell their stories too. Netflix viewers have had a taste of this with Black Mirror's "San Junipero" episode, but it's great to see an '80s lesbian romance brought out of Black Mirror's dystopian genre and into the real world.
Still, as nice as this all is, that's pretty much all it is — nice. The show can definitely afford to go further. It isn't enough to just give your show two gay women of color — you then have to give them storylines and character development and screen time. In Season 2, Yolanda and Arthie don't get any solid resolution after they kiss. Are they together now? How does Arthie feel about basically publicly coming out? Did anyone else notice the kiss, and how will that affect them in Season 3? None of this was examined in the show, and there weren't a ton of scenes focusing on their romance aside from the kiss, a dance number, a scene where Arthie reveals she wants to keep living with Yolanda, and a scene where a wide-eyed but intrigued Arthie visits Yolanda at the strip club.
The show needs to further expand on this relationship, but this was an exciting baby step toward rectifying the past of the real GLOW and Netflix's own annoyingly straight Season 1. Now, here's hoping Season 3 has more than, like, 10 minutes of Yolanda and Arthie, because they deserve as much exposition as GLOW's straight relationships.