This Harrowing New Movie Gives A Rare Glimpse At The Aftermath Of Sexual Assault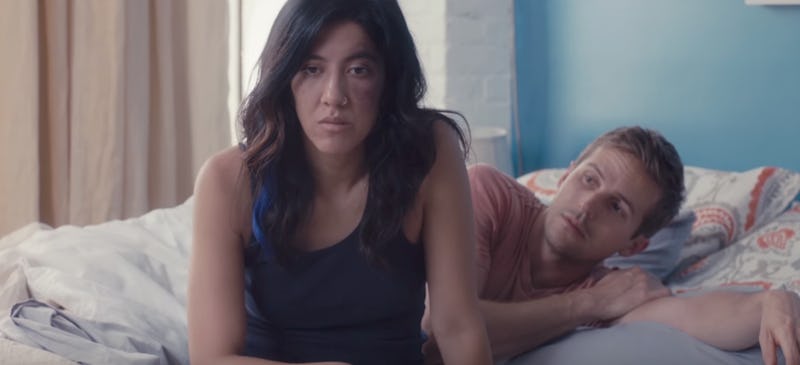 Imagination Worldwide
Sexual assault is all too often used as a narrative tool on television and in film, that is when it's not ignored completely. Oftentimes, rape in pop culture will be used as a dramatic plot point, the aftermath swept under the rug. However, the new film The Light of the Moon shows the aftermath of sexual assault, and it is as eye opening as it is necessary. The movie is about Bonnie (Stephanie Beatriz), a young architect who is sexually assaulted after a night out with friends, and how she struggles to recover from her rape while also trying desperately to return to normal. And the exclusive clip from The Light of the Moon below gives an unflinching look at the immediate aftermath of Bonnie's rape, something rarely seen on screen save for the occasional episode of Law & Order: SVU.
The Light of the Moon, out in limited release in November, is not a movie about an assault — it's about a woman living in the wake of trauma. Speaking to Women and Hollywood after The Light of the Moon's South by Southwest Film Festival (SXSW) premiere, writer-director Jessica M. Thompson revealed the one goal she had when she set out to make her film: "to create a raw and realistic portrayal of trauma and recovery, which is told solely from the victim's perspective." Thompson's quest for realism comes through in this clip, in which Bonnie is seen finishing up her rape kit and doctor's visit following her assault.
The Light of the Moon clip features a few things rarely shown in on screen rape or assault. This movie doesn't just fade to black after the attack and pick up hours or days later. Instead, the audience is taken with Bonnie as she goes to the hospital, and receives the medication necessary to prevent unwanted pregnancy and HIV infection. This clinical aftermath of sexual assault is hardly ever depicted in film and television, which tends to ignore the lasting effects of sexual assault and the outside factors that make it so difficult for victims of trauma to move forward. For example, in this scene, Bonnie is given medication that she will need to take every day for the next month, ensuring that there will not be a day when her life is not altered by her attack. It's details like this that drew Beatriz to the role. "I'd never seen a rape story be about what happens to a woman after. It's always some kind of plot point, or revenge fantasy," she told HelloGiggles.
Thompson purposefully chose to focus her film on the aftermath of sexual assault, not the assault itself (though that is shown in the film). Specifically, Thompson wanted to depict sexual assault in a way that went against what she was seeing become an unfortunate Hollywood norm. "I felt rape was being portrayed very strangely in the media in that it was almost contributing to and exacerbating rape culture," she said in an interview with The Moveable Fest. More than anything, the director wanted to make a film that would honor survivors, not sensationalize or minimize their experience. "[In films and TV] it was used as a tool to make a woman more complex, and it was not realistic or fair either to rape survivors or women," she added.
The Light of the Moon aims to depict how survivors of sexual assault actually become survivors, not the act itself. "The meat of the film is her relationships with the people in life and her relationship with herself," Beatriz told Cut Print Film. "Ultimately, that's the biggest thing that happens to a rape survivor, dealing with themselves after the fact, loving themselves after." It's not glamorous or overly empowering, it simply is.
If you or someone you know has been sexually assaulted, call the National Sexual Assault Telephone Hotline at 800-656-HOPE (4673) or visit online.rainn.org.