Prince Harry's Ex-Girlfriend Attended The Royal Wedding & Twitter Can't Get Enough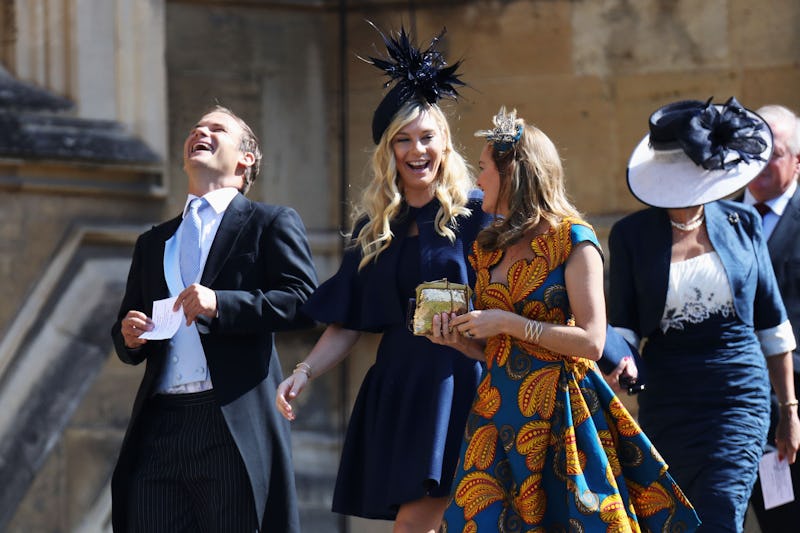 Chris Jackson/Getty Images Entertainment/Getty Images
The 2018 Royal Wedding was an intimate affair by royal wedding standards, as just 600 guests were invited to take in the ceremony. Among these special guests was Chelsy Davy, Prince Harry's most well-known ex-parter. These memes of Chelsy Davy at the Royal Wedding are so perfect — her face in the crowd said exactly what anyone that's ever watched an ex get married was thinking at the time.
While the memes are humorous, observers don't know exactly what was going on in Davy's head to inspire such an expression — only Davy knows. It may not have had anything to do with the bride, groom, or the wedding at all. But what is clear is that the meme has inspired Twitter to make some humorous commentary on what they think is going on.
Inviting your ex to your wedding is a bold move by any standards, but inviting your ex to watch you walk down the aisle when you're a literal royalty? Since Davy did receive an invite and was present to the wedding, it seems like Prince Harry and Chelsy Davy are on good terms these days, considering the two enjoyed a high-profile, on-again, off-again relationship between 2004 and 2011.
Davy, to her credit, showed up to the 2018 Royal Wedding to watch the magic happen. And while no one can say for sure what was on her mind during the ceremony, her expression suggests that excitement for the newlyweds wasn't the only thing on her mind. She may have split from Prince Harry for good seven years ago, but does one ever really recover from not marrying a Prince?
Here are the best memes of Chelsy Davy attending the Royal Wedding, so you can decide for yourself.
1. One Person Compared Her To Allie From 'The Notebook'
Painfully true – right down the amount of time Davy and Prince Harry were together.
2. This Fan Captured Davy's Grimace In An Amazing .Gif
She's definitely so happy for Prince Harry and Meghan Markle. No, totally. No, yeah, totally.
3. The 'Friends' Episode With The Wedding Dresses Also Applies Perfectly
Well, kind of. To be fair, Prince Harry didn't propose to any of his previous girlfriends or rumored girlfriends. But still, Prince Harry — in an extremely Virgo move, no less — found it in his heart to invite literally all of his exes to his wedding. Chelsy Davy was in true Libra form by showing up, but not being too psyched about it.
4. Even The BBC Got In On The Fun
If Chelsy was willing to rock a feathered fascinator and a strained expression, she had to know this was a possibility, right?
5. At Least One Person Felt Deeply Conflicted About It...
A sensitive take on the situation, for sure.
6. ...But More People Felt Like It Made Sense
In defense of Davy, Prince Harry and Meghan Markle haven't even known each other for seven years, which was the length of Davy and Prince Harry's total relationship.
7. This Fan Thought Davy A Cautionary Tale
In other words, the argument against inviting your exes to your wedding — even if you're friends — is writ large on Davy's face in this Twitter user's opinion.
8. This Displeased Cat Looks Familiar
Is it possible that Chelsy Davy's 2018 Royal Wedding expression could be the face that launches not one, but two memes?
9. Even A South African Beer Brand Joined In On The Meme
Oddly enough, they're the only ones that mention Davy's head-to-toe outfit. Also, she was born in Zimbabwe, but has dual citizenship with South Africa and England. So it's not too random for FlyingFish SA to play along.
10. 'It Should Have Been Me...'
This particular meme is short, sweet, and to-the-point. No other caption necessary.
11. This Person Had The Greatest Take Of All
Luckily, she did not object and she watched the festivities just like the rest of us.
These are just a few of the many, many examples of the new Chelsy Davy meme. But in the end, the only person who really knows how Chelsy Davy feels about watching Prince Harry get married is Chelsy Davy.