And The Winner Of Miss America 2019 Is...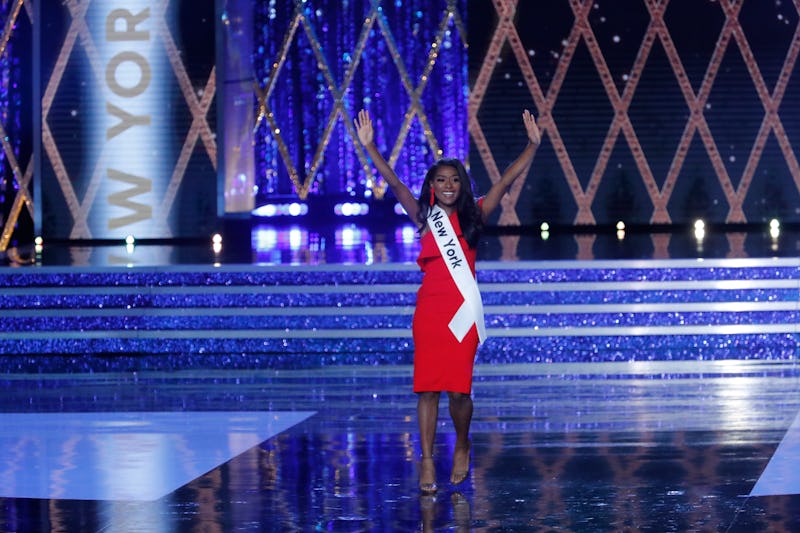 ABC/Lou Rocco
This year, the Miss America pageant was punctuated by bright smiles, eloquent answers, and poise. However, out of its 51 contestants, only one could earn the title of Miss America 2019, and that honor went to Miss New York. The competition, which was hosted by Carrie Ann Inaba and Ross Mathews, was fairly tame and upbeat. But when Nia Imani Franklin won Miss America 2019, the stadium erupted into cheers.
The theme of this year's pageant was clear: feminism. To the tune of Beyoncé's "Run the World (Girls)," the show opened with contestants huddling in groups, talking about diversity and inclusivity. Although she didn't make it far in the competition, Miss Michigan was an early favorite. While the other contestants introduced themselves with information about their college majors, Emily Sioma instead talked about Flint's lack of clean water.
And while there was no swimsuit competition or evening wear portion this year, a red carpet and interview portion replaced those previous pageant staples. Franklin told InStyle that she had no problem with Miss America eliminating swimwear. "I am a curvy woman, and I am proud of that, and I've never felt excluded because of my body type, but now that there is no swimsuit competition, it does feel more inclusive for everyone," she said. "We're giving out scholarships, and at the end of the day, especially in 2018, it's not necessary to wear a swimsuit to get a scholarship."
As for the competition itself, 51 quickly became 10, after which the finalists performed their chosen talents for the judges. Anyone who's seen Miss Congeniality knows this can mean anything, as Sandra Bullock's water glass music talent should prove. But for Miss America 2019, these talents showcased everything from a monologue about being diagnosed with cancer (Jessica Shultis, Nebraska) and several piano performances, to a high-energy river dance (Bridget Mary Oei of Connecticut).
However, Franklin's opera performance blew away fans and judges alike. Swishing her glittering red gown and smiling as she hit impossible notes, it was clear why judges eventually chose her to wear the crown. According to her Miss America bio, Franklin attended the University of North Carolina School of the Arts, where she majored in Music Composition. "My dedication to the arts influenced my educational choices, resulting in my master of music composition degree," she said. "Although I was a minority in my school, I connected with my peers based on our mutual love of the arts."
However, Franklin hadn't gotten her crown just yet, so alongside the New Yorker, four other lucky contestants made it to the top five: Holli Conway from Louisiana, Gabriela Taveras from Massachusetts, Taylor Tyson from Florida, and Bridget Mary Oei from Connecticut. And after these finalists were announced, the women were each given an opportunity to answer a question asked by a specific judge. Franklin gave a succinct and impressive monologue about being a tough city girl. "I have New York grit," she said, explaining that she had moved a lot due to subleasing.
Thankfully, Franklin and her gorgeous opera voice won the day. She donned the crown, looking ethereal in a white dress, and thanked God and her family. Now, America is just looking forward to what she'll accomplish as the latest in a long line of Miss Americas.