How Melania Trump Made A Ton Of Money Off Of Her Image Last Year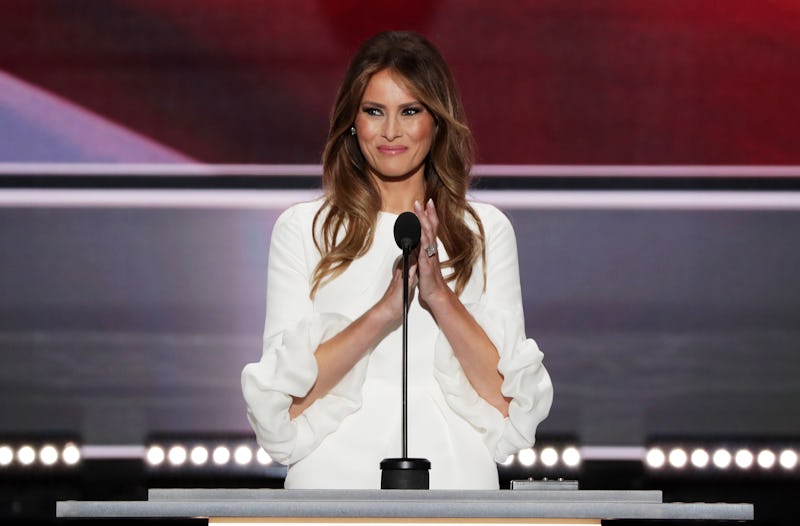 Alex Wong/Getty Images News/Getty Images
On Wednesday, President Donald Trump's 2018 financial disclosure filings were released to the public, and they shed some light on the first lady's finances, too. The filings revealed that in 2017, Melania Trump earned a lot of money through royalties from Getty Images — somewhere between $100,001 to $1,000,000.
It's easy to overlook, but it's right there in the documents released on Wednesday. Under the section for "Spouse's Employment Assets and Income," there's a hefty annual sum included from Getty Images. It shows that the first lady raked in between six to seven figures through the photo agency last year, in the form of royalties.
It might seem strange, and not just because you wouldn't usually expect such a public figure to be making money on photos of them. The first lady is typically one of the most photographed women in the world, and although Melania didn't move to Washington, D.C. immediately after becoming first lady, her visibility is only likely to increase as she takes on a more traditional first lady role.
The curious thing about her royalty earnings from Getty Images is that you'd think photographers generally reap the financial benefits of their photos. But that's not always the case, as Portland-based attorney and photograph Bert Krages tells Bustle.
"Getty's basic business model is to license photographs and other images for various uses," Krages says. "Getty then pays the copyright owner a percentage of the license fees it collects."
According to Krages, the copyright holder on a photo is usually the photographer, or if the photographer is employed by a media company, that company.
"However, it is possible to assign ownership of images to other persons, and it is thus conceivable that Ms. Trump has acquired the rights to various images and has submitted them to Getty for licensing. I don't know how common this is but it would not be particularly difficult to do from a legal perspective," Krages said.
In other words, it would appear likely that Melania owns the rights to some of her own photos, and is licensing them out through Getty, thus netting herself hundreds of thousands of dollars in the process. All things considered, it sounds like a pretty laid-back way to earn money.
According to Business Insider, the way she's probably doing this is through a "rights-managed" license with Getty, in which people who want to license the professional photos first contact the photo agency, which then passes the request along to the first lady's representatives. Bustle has reached out to the first lady's office for comment.
A brief look at the rights-managed images of the Trumps available on Getty show some you've probably seen before, many of which were clearly taken inside the family's lavish Trump Tower suite in Manhattan. They include shots of Melania taking a photograph of her young son Barron, and many of Trump himself.
So it seems like the country now knows a tiny bit more about how the first lady makes her money, thanks to the president's financial disclosure filings. But even though it's a huge amount of money for a person of average means, it's barely a drop in the bucket considering how much the Trump family is reportedly worth.
It's not as if making money off of her image is a new phenomenon for the first lady, however; at the time she met the president, she was a successful professional model, having emigrated to the United States from her native Slovenia in 1996. She became a permanent legal resident of the U.S. in 2001, and was married to the president in 2005, seven years after the couple first met.