Top Awkward Moments On The 2017 Globes Red Carpet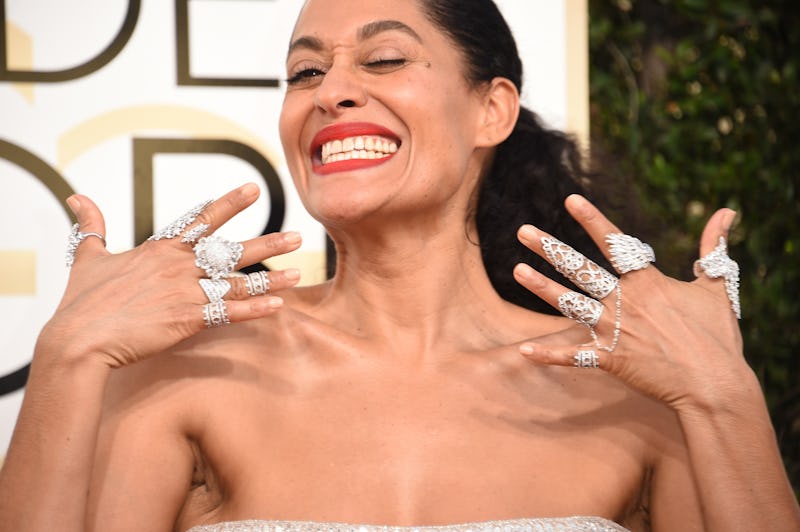 VALERIE MACON/AFP/Getty Images
There are a few ways in which the 2017 Golden Globes could be considered as a sort of dry run for the Academy Awards taking place later this year. The Globes don't have quite the same prestige as the Oscars, which lowers the stakes significantly, and they serve food and alcohol, which makes celebrities a bit looser and more at ease. The result: some pretty wacky red carpet moments. Let's hope the most awkward red carpet moments at the 2017 Golden Globes helped celebs and reporters get their crazy out before Oscar night.
Even the rise of the #AskHerMore campaign, which encourages reporters to ask female actors about more than just who they are wearing can't save the Golden Globes attendees from awkward red carpet moments. No matter what the event, red carpets always end up producing some pretty iconic awkward moments. There are the old standbys like mispronounced names, unattractive expressions, inappropriate questions, and awkward silences. But then there's also the off chance someone (read: Jennifer Lawrence) might trip and fall on her way down the red carpet, or that someone else (read: Sarah Silverman) will take out her weed on live television. Read on to find out what iconic awkward red carpet moments happened at this year's Golden Globes.
Ryan Seacrest Asks Milo Ventimiglia About Salad
What does one ask the most handsome man to walk out of Gilmore Girls and onto the red carpet at the Golden Globes? Well, if you're Ryan Seacrest, the answer is simple: salad. Yes, salad. While talking up Ventimiglia, Seacrest asked the This Is Us star about his diet, specifically, he asked, "How do you cook a good salad? I find the key is cool, crisp lettuce." As you can imagine, a thrilling conversation about salad ensued. Just kidding! It was awkward.
Seacrest Calls Out Giuliana Rancic
Ryan Seacrest made a co-host faux pas when he revealed that Giuliana Rancic got a spray tan on live television. Some things are better left unsaid, Seacrest.
Seacrest's Dax Sheperd Interview
Seacrest created yet another awkward moment when he asked Dax Shepard about his new project, an R-rated big screen adaptation of CHiPs, and wasn't quite up to date on the material. After Shepard revealed he would be playing Jon, Seacrest followed up asking who would play Baker — Baker and Jon are the same character, so he's Jon Baker. (In case you were wondering, Michael Peña plays Baker's partner Frank 'Ponch' Poncherello.)
Jenna Bush Calls Hidden Figures "Hidden Fences"
While speaking to Pharrell Williams, who is nominated for Best Original Song for his track written for Hidden Figures, NBC's Jenna Bush Hager called the movie "Hidden Fences" instead of Hidden Figures. Ever the gentleman, Williams didn't call her out on her misstep, but, for future reference, Hidden Figures and Fences are two very different films.