Drake Finally Confirmed He Has A Son On His New Album & The Lyrics Are Super Emotional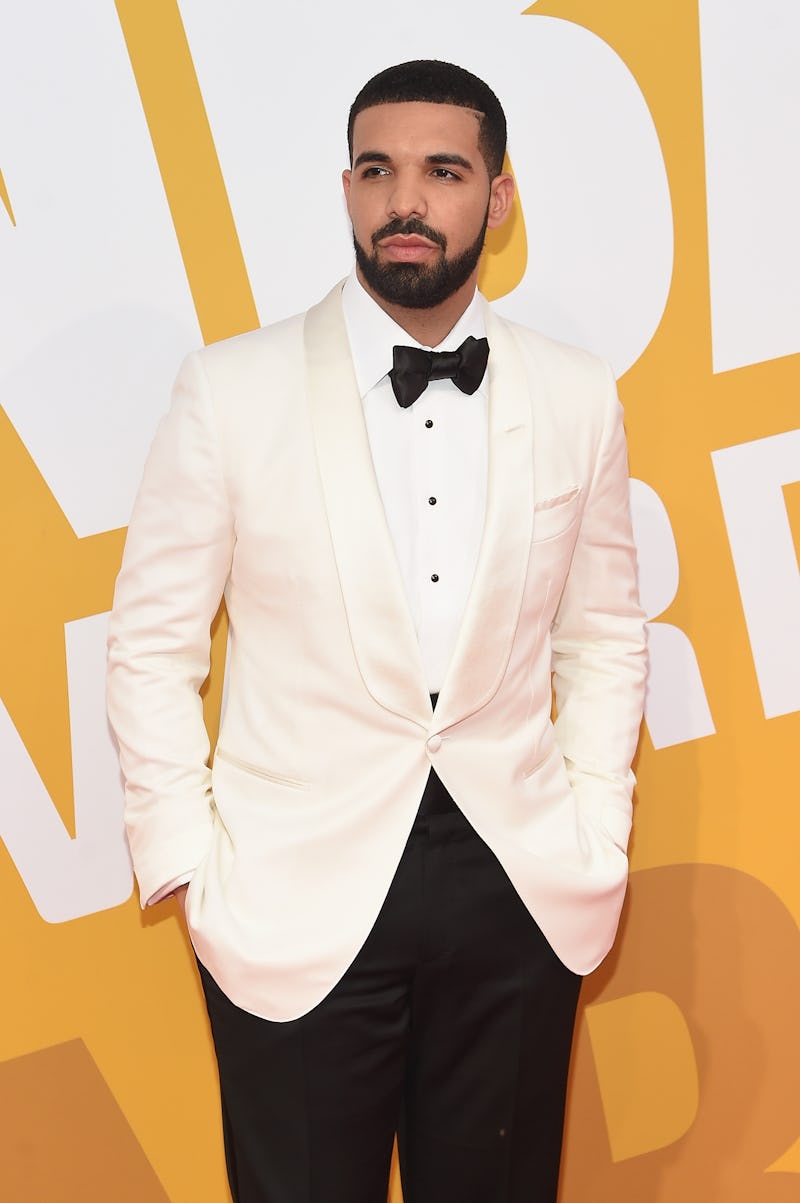 Jamie McCarthy/Getty Images Entertainment/Getty Images
Ever since Pusha-T claimed that Drake has a secret child, fans have been wondering if his claims are true — and now, it seems they finally have their answer. On Thursday night, Drake dropped his latest album, Scorpion, and some of the songs were very revealing about what's been going on in the rapper's personal life. There are actually a lot of lyrics about Drake's son on Scorpion, and it finally seems to be confirming the rumors that we've all been so confused about all along.
Between the Pusha-T feud, the blackface scandal, and the Degrassi reunion he surprised fans with in his video for "I'm Upset," Drake has been on a lot of people's minds lately. But now, it seems like he has people talking more than ever, thanks to the details he's giving away on Scorpion. If you've been feeling curious about whether or not Drake's a dad, this album will probably cure that for you.
Although Drake mentions his child across a few tracks on Scorpion, a couple of the tracks in particular (like "Emotionless" and "March 14") are especially telling. But now that the rumors have been confirmed, does this mean Drake will be more open about things from now on? For now, we'll just have to rely on his lyrics.
"8 Out Of 10"
In his song "8 Out Of 10," Drake only briefly mentions his kid, since the song itself is mostly about how people often judge him, but they still listen to his music. "Kiss my son on the forehead then kiss your ass goodbye / As luck would have it I've settled into my role as the good guy," he raps in the song.
"Emotionless"
"Emotionless" also brings a mention of his child in a way that almost explains why he hasn't been more forthcoming about the fact that he's a dad — especially since the song is mostly about Drake's view of people who live their lives for getting Instagram likes. "I wasn't hiding my kid from the world, I was hiding the world from my kid," he says in the song, and honestly, who could blame him? The world can be a scary place.
"March 14"
This track — the final one on the album — is where Drake really gets into it. In the beginning, he explains that although he only met his baby's mother twice, "all it took was one time" for her to get pregnant, and now, he is facing the reality of being a father.
"I'm out here on front lines just trying to make sure that I see him sometimes/ It's breaking my spirit /Single father, I hate it when I hear it," he raps.
Drake goes on to say that he didn't want to tell his parents he was a single dad, since he always imagined he'd have a "family unit" like the one he never had, and then, he transitions into addressing his child directly. He says:
"I don't want you to worry about whose house you live at
Or who loves you more, or who's not there
Who did what to who 'fore you got here"
Then, he adds that he celebrated the positive DNA test, and says that although he had only met his baby once (at least, at the time the song was written), he'd showered him with Christmas presents. He also reveals that his son was an "October baby," and that he hopes his son will be like his grandfather. Near the end of the song, he says:
"They said that in two weeks you're supposed to come in town
Hopefully by the time you hear this me and your mother will have come around
Instead of always cutting each other down"
There's obviously a lot more to the story than what Drake has shared on Scorpion, but hopefully, the rest is coming when he feels ready to fill his fans in. In the meantime, let's all just sit with the realization that Drake does, in fact, have a child. Whoa.