This Sex Act Is More Popular Than Ever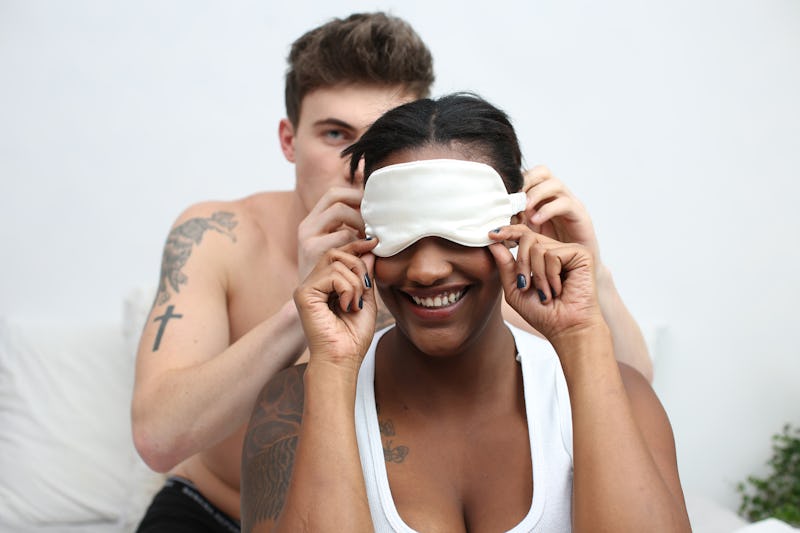 Ashley Batz/Bustle
It looks like more and more people are adding kink to their sex lives. According to a new survey of over 4,500 people, global sex toy retailer Lovehoney found that kinky sex practices are more popular than ever before. Lovehoney recently conducted a survey looking into the sexual habits of men and women across the world. A pretty awesome find was how many people are experimenting and enjoying some of the more kinkier acts from spanking and biting to blindfolds and bondage. "We were happily surprised to see this new data," Richard Longhurst, Co-Founder, Lovehoney said in a release. "One of the factors we think has contributed to the mainstreaming of kink is the hugely popular Fifty Shades trilogy by E L James."
He wouldn't be wrong. Kink has become more popular over the years. Another recent study of 400,000 OkCupid users found that over 70 percent of people say they're into some kind of kink. The number of users who say they're into bondage spiked in 2015 when the first Fifty Shades movie came out, and again in 2017 with Fifty Shades Darker. Overall, BDSM was found to be a bigger turn-on today than ever before and 75 percent of men and 62 percent of women even say they enjoy having rough sex. A 2016 study published in The Journal of Sex Research even found that nearly 50 percent of adults have "unconventional" sex fantasies and desires, so it's clear we're exploring and opening up about kink a lot more common than ever before
"There are many people, more than you think, who are not vanilla," Sex Expert Dr. Logan Levkoff tells Bustle. "We're not all supposed to experience our sexuality the same way… and we're understanding that more than ever. You don't even know what your best friend or neighbor are doing unless you're with them… you have no idea what others are into sexually."
If kink is something you're interested in, the first step is discussing it with your partner. Even bringing up the most popular kinky sex acts — which ones interest you and what your boundaries are — could even be a good jumping point to a larger conversation around kink. So here are the acts men and women enjoy the most.