8 R&B & Hip-Hop Artists Who Deserve Biopics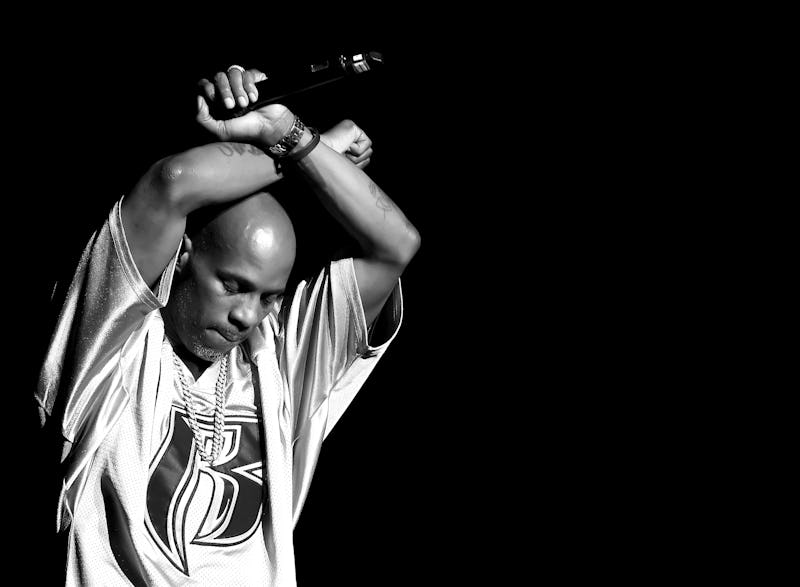 Kevin Winter/Getty Images Entertainment/Getty Images
After seeing the success of the recent BET biopic of New Edition, I'm left wanting to see more movies taking looks at the lives of some of my favorite artists. Biopics about musicians seem to be more and more popular these days, because there is nothing greater, at least in my eyes, than seeing the struggles of some now-successful artists to become the musical icons they are today. Some biopics aren't great, of course, and lack the emotional punch that many fans are looking for, like Lifetime's biopics of Aaliyah and Whitney Houston. But by and large, audiences enjoy these movies, especially when they tell stories of Black musicians who haven't previously gotten the on-screen treatment. The Black R&B and hip-hop artists below deserve to get biopics, and hopefully, they'll be given them sooner than later.
Audiences want to see more Black stories told on screen, and they want them done well. Black musicians have shaped so many genres that we see prominently today, and urban music is, in my opinion, the backbone to so much of our modern day functionality. The musicians below and so many more wow us with their songs, but their life stories are just as affecting. This list consists of household names who, despite their success, somehow haven't received the biopic treatment yet but deserve to have their story told on-screen.
1. Stevie Wonder
Stevie Wonder has been in the spotlight since the age of 13. With his constant contributions to music, you would think that a biopic about this Motown wonder would've been made already, but surprisingly, that's not the case. A movie going from "Fingertips" to "Isn't She Lovely" would show Stevie develop into the multi-instrumentalist genius that he is today, and explore how his blindness has affected his life and abilities. The biopic could also explore the personal battles he had to overcome to be the person he is today, like the battle of ownership of his music.
2. Mary J. Blige
Mary J. Blige's story is one of overcoming life's challenges to find personal peace. Her mantra of wanting "no drama" started when she dropped out of high school to pursue music after her father sent in a demo of her singing karaoke to record executives. Throughout her life, Blige has conquered issues like alcohol and drug abuse and abusive relationships, and combined with her career, which intertwines Hip-Hop and R&B, a biopic would be such a compelling story.
3. DMX
DMX has sold over 30 million records worldwide, making him one of the best-selling hip-hop artists of all time, so a biopic is only necessary. His time with Def Jam, Murder I.N.C., and the Ruff Ryders crew make for fascinating stories, as is DMX's own faith and personal struggles. His biography would take a closer look at the man known for his affinity for dog barking, deep dark bass beats, and strong personality.
4. Aaliyah
Sorry, but the 2014 Lifetime movie on Aaliyah did her no justice. She deserves a solid, thought-out film that really explores the trajectory of her short-lived life. Aaliyah's talent was beyond her years, and her hit singles "One in a Million", "Try Again," and "At Your Best You Are Love," have shaped the sounds of artists like Rihanna, Chris Brown and Drake. Aaliyah's career was full of controversy, from her illegal marriage to producer R. Kelly to her decision to switch her sound with production team Missy Elliott and Timbaland. Her life was cut short at the age of 22 when she died in a plane crash, but her influence in music and fashion is still relevant today.
5. Aretha Franklin
All hail the queen! The iconic singer is an 18-time Grammy winner and was the first woman to be inducted in the Rock & Roll Hall of Fame. From singing gospel in her father's church to getting a record contract in 1960, Franklin had power during times when most Black women were devalued. Her voice shaped many of today's artists' musical sounds and gave the music industry diversity in songwriting. Her hits "Respect" and "Natural Woman" are still anthems of self-esteem for women around the world, and seeing her overcome an abusive marriage to make it out on top again would be so inspiring on-screen.
6. Boyz II Men
In the final installment of The New Edition Story, there was a brief Boyz II Men scene, where Michael Bivins (Bryshere "Yazz" Gray) allowed the group to perform for him. That quick scene was enough to get Twitter buzzing about the founding of the boy group, so the need for a Boyz II Men biopic is clear. It'd be interesting to see four guys from Philadelphia who grew up during the '80s at the height of the crack epidemic became R&B musical legends. Their single "End of the Road" spent 13 weeks at number one on the Billboard Hot 100, breaking the decades-old record held by Elvis Presley, and "I'll Make Love To You," and "On Bended Knee" became instant classics. However, their success had downfalls, too, and the biopic could explore how Michael McCary got kicked out of the group.
7. Bob Marley
Marley is and always will be a reggae legend whose music speaks to all generations. Early in his teenage life, Marley was shunned from his home and moved to Kingston, Jamaica, where he started his career. With the help of musician Jimmy Cliff, Marley was introduced to the music scene and started recording, but in 1976, the musician found himself leaving Jamaica for London after an assassination attempt. His move to the U.K. catapulted him to fame with his recording of the album Exodus, but unfortunately, Marley died just a few years later. It would be fascinating to see the ups and downs of his life captured cinematically.
8. Queen Latifah
Queen Latifah is one of my personal icons. From rapping to singing to acting, her career has crossed boundaries and broken ground. She was the first female rapper to win a Grammy for her song "U.N.I.T.Y." in 1995, and over multiple decades of success, Latifah's career has garnered her both Golden Globe and Oscar nominations, too. She was also the first plus size woman to be an ambassador for CoverGirl cosmetics. Her Hip-Hop career, activism, body positivity, and overall incredible life would make for a great biopic.
It's crucial that we see some of the world's best artists get their lives told on-screen, so hopefully, these musicians will get biopics before long.