What To Know About The New Rule That Lets ICE Stop You Anywhere For Any Reason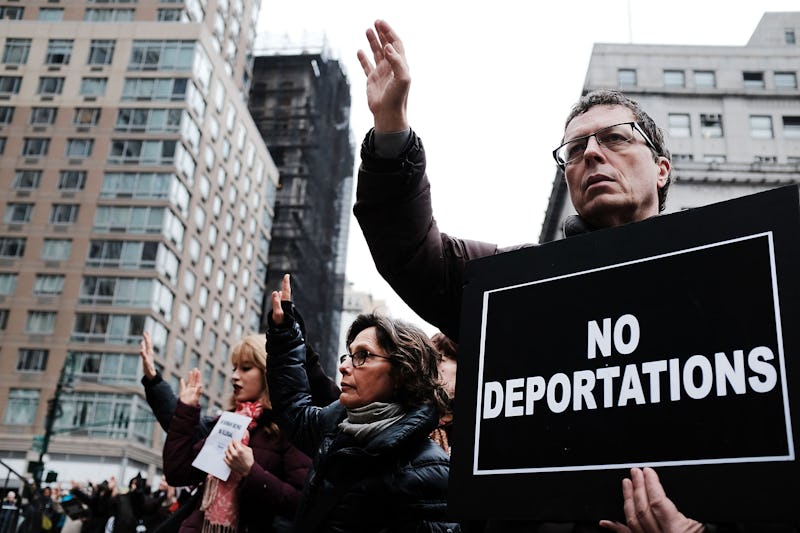 Spencer Platt/Getty Images News/Getty Images
On Monday, the U.S. Department of Homeland Security announced a new expedited removal policy change that could put more undocumented immigrants at risk of deportation, Time reported. This rule also means that U.S. citizens could potentially be erroneously detained if they're questioned by immigration officials and don't have sufficient proof of citizenship on them. Overall, this new expedited removal rule will give ICE more power, and there are a few things you can do to protect yourself in the meantime.
As CNN indicated, expedited removal means that individuals can immediately be deported without a hearing before an immigration judge. Time noted that, previously, the only undocumented immigrants eligible for expedited removal were those who had been in the United States for no more than two weeks — and who were detained by immigration officials within 100 miles of a land border. Now, the new policy states that undocumented immigrants who are unable to prove that they've lived in America continuously for at least two years can be detained anywhere in the United States and subject to expedited removal proceedings, Time added. The policy was enacted on July 23.
In addition to placing undocumented immigrants at greater risk of deportation, U.S. citizens, undocumented immigrants who have been in the country for longer than two years, and immigrants with legal residency also could be impacted, Time reported.
Elora Mukherjee, a professor of law at Columbia University and director of the University's Immigrants' Rights Clinic, stressed this point to the outlet. "Once you're caught up in the immigration system, it's really hard to get out, even if you are a U.S. citizen," she told Time.
Following this sweeping rule change, here are some ways you can protect yourself.