18 New Movies & TV Shows On Netflix This Week, Including An Extremely Creepy Thriller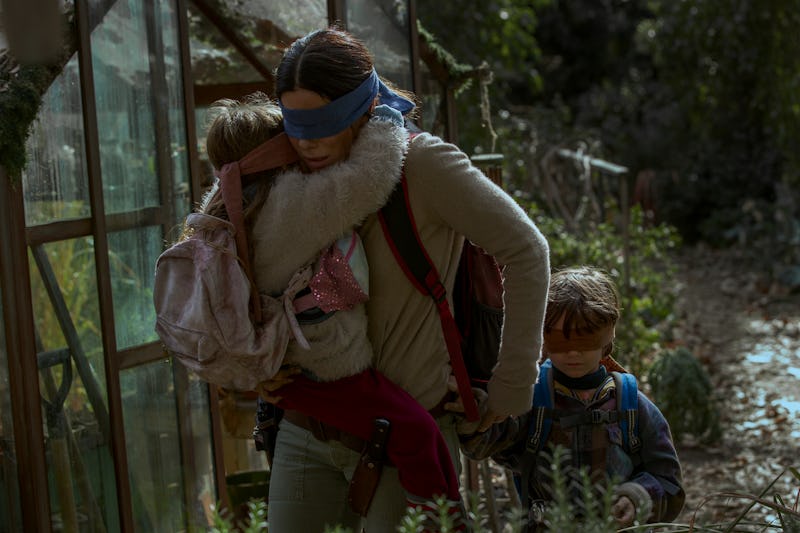 Netflix
While horror films have historically been viewed by most critics as a lesser form of entertainment, in recent years the genre has become the newest destination for prestige filmmaking. Last year, it was Get Out making noise at the Oscars with nominations for Best Director, Best Actor, and Best Picture, and a win for Best Original Screenplay. Heading into next year's Oscars, critical darlings like A Quiet Place and Hereditary will be looking to duplicate Get Out's success. And then there's Netflix. Clearly not wanting to be left out of the discussion, the streaming service has its own prestige horror film premiering with the other new movies and shows on Netflix this week.
The film in question is Bird Box, which stars Oscar-winner Sandra Bullock as a woman in a post-apocalyptic society who must guide two young children to safety. Whereas A Quiet Place featured a world overrun by monsters that hunted by sound, forcing people to remain quiet at all times, the world of Bird Box has been overrun by a supernatural entity that causes people to kill themselves if they look at it. As a result, Bullock and the other characters of the film must remain blindfolded at all times or else risk gazing upon the horror that will lead to their demise.
If scary movies aren't your jam, have no fear. Netflix still has a number of other offerings coming out this week in addition to Bird Box; all of which can be previewed below.