Epcot Announced Plans For A 'Beauty & The Beast' Attraction That Will Make '90s Kids Scream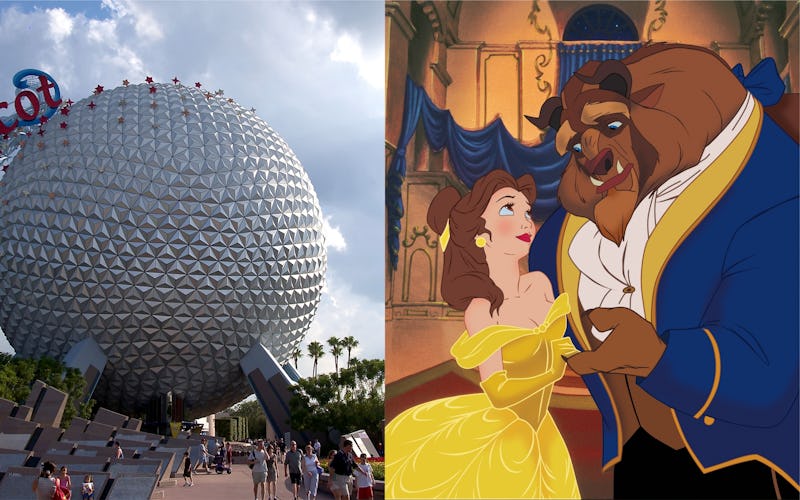 Matt Stroshane/Getty Images News/Getty Images; Disney
Big news for Disney fans: There are tons of new rides and attractions coming to Epcot at Walt Disney World in the near future. At the 2018 Destination D event — a sort of mini-expo that's held on alternating years with the bigger D23 events — that took place on Nov. 17 and 18, Disney Parks' Experiences and Consumer Products Chairman Bob Chapek presented a whole host of updates we can expect to see from the park within the next few years. Perhaps most notably, we got a bunch of new details about the Ratatouille ride being built in Epcot's World Showcase — but that's far from the only new thing coming to the park soon. Looks like someone's planning a trip to Disney World soon…
(It's me. That someone is me.)
Historically, Epcot has been… well, not exactly characterless, but certainly not as heavy on the major Disney franchises as most of Disney World's other parks. Indeed, originally, Epcot was intended to be an experimental planned community. That's where the name "Epcot" comes from: It once stood for "Experimental Prototype Community of Tomorrow." After Walt's death, the decision was made to move way from the city/community concept and instead build the park as a celebration of human achievement, innovation, and culture. The Future World section covers the technological side, while the World Showcase — which grew out of a never-built expansion for Disneyland Park in Anaheim first called International Street, then later International Land — covers the cultural aspect.
That all changed when the Norway pavilion in the World Showcase received a major overhaul in in the mid-2010s. In 2014, Disney announced that the "Maelstrom" ride, which took guests on a boat journey through Norwegian history, culture, and folklore, would be renovated and replaced with a ride based on Frozen. Like the movie, the ride, "Frozen Ever After," became a massive hit after its 2016 opening — and in the years since, Disney characters and franchises have become more and more prominent within Epcot.
Which brings us to Destination D 2018's announcements: More characters are coming to Epcot in the form of both rides and shows. That's not all the park has on tap, though; here's everything planned for Epcot over the next few years, according to Bob Chapek.