This New 'Whitney' Documentary Trailer Will Bring You A Whole Range Of Emotions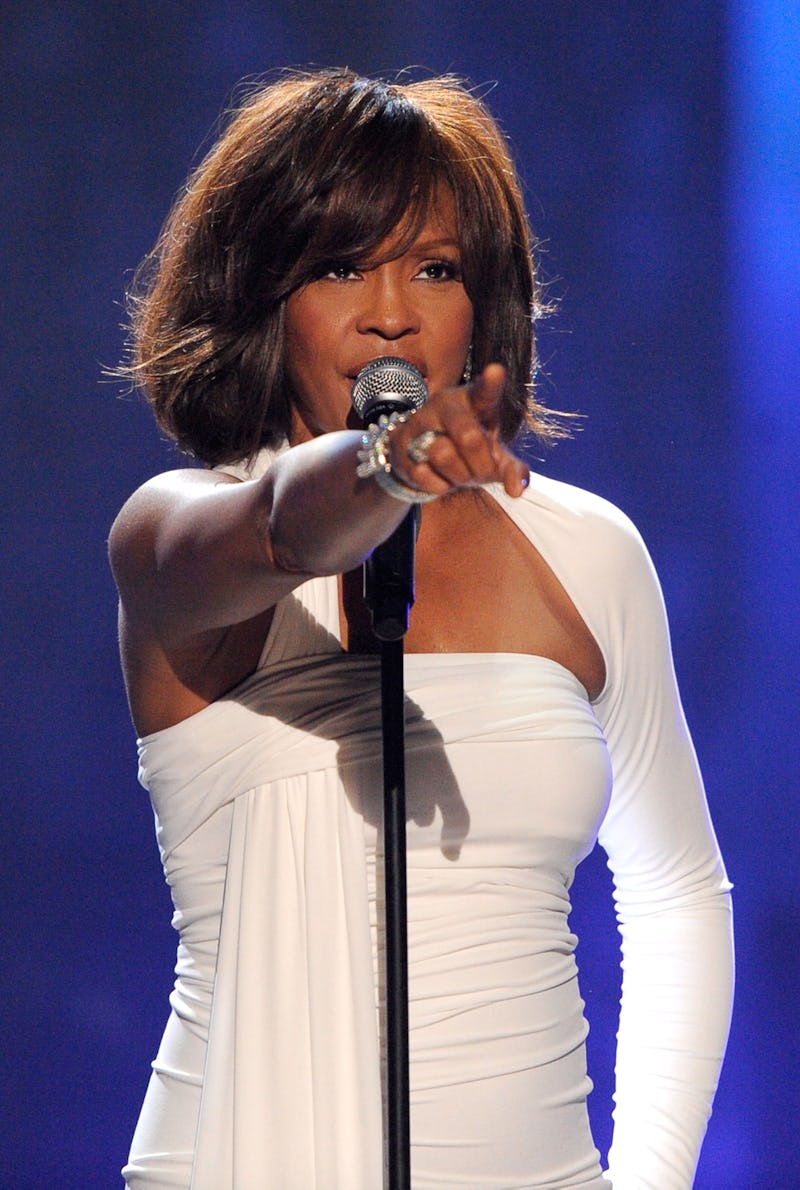 Kevork Djansezian/Getty Images Entertainment/Getty Images
Just hours before its premiere at the Cannes Film Festival, the first official U.S. trailer for the new Whitney Houston documentary was released on Wednesday, May 16. The movie promises a candid look at the late music legend's life, and even just this two-and-a-half-minute preview is emotional.
Whitney was directed by Oscar-winning filmmaker Kevin Macdonald, known for his work on documentaries like One Day in September and Marley. The film tells the story of Houston's life using previously unseen archival footage, demo recordings, various live performances, audio archives, and brand new interviews with those who knew the singer best, according to Rolling Stone.
The preview features numerous famous faces, including music mogul Clive Davis, Houston's ex-husband Bobby Brown, her mother Cissy Houston, and record executive L.A. Reid. "Her voice — I was totally knocked out," Davis, who mentored Houston throughout her career, says in the clip.
Houston, who died in 2012, can be seen performing on various stages, while her family and friends reflect on everything from her phenomenal success, to her relationships with both Brown and her best friend Robyn Crawford, to her struggles with drug use. In one scene, as she lies down in what looks to be a dressing room, Houston says, "People think it's so easy, and it's not." She also shares some harsh criticism of fellow artist Paula Abdul, saying, "Paula Abdul ain't sh*t. That girl is singing off-key on the record."
Macdonald — who worked on the movie with Altitude Films, the team behind the acclaimed 2015 Amy Winehouse documentary Amy — said Houston's triumphant performance of the national anthem at the 1991 Super Bowl was a key element in his decision to make the film. In an interview with The Hollywood Reporter published on May 11, he explained,
"I met Nicole David, her longtime agent, who was incredibly close to her, And she said to me, 'I just don't understand what happened, she was the most lovely girl,' and this was someone who knew her really well. And I thought that was interesting. And then Nicole sent me this article about Whitney's rendition of 'The Star-Spangled Banner' and how that changed how the song has been understood and sung ever since. So I think it was the combination of thinking there's this really interesting personal mystery, but also how this woman was a musical genius."
According to Deadline, the film will cover the highs and lows of Houston's career and personal life, including her tumultuous relationship with Brown and her drug use that came to define that period of her life in the public sphere. Brown was interviewed for the film, but Macdonald told THR that he remains dubious about the musician's honesty.
"The story of Whitney's life is so chewed-over and tabloid-ized, and people who were in her inner circle for 20, 30 years got so used to lying, basically," Macdonald said. "There's this interesting bit where the publicist talks about how guilty she feels because she lied for all these years about so many important things. But I think Bobby actually is not ready to tell the truth, for whatever reason."
Houston previously inspired a 2015 Lifetime movie directed by Angela Bassett, and documentarian Nick Broomfield, known for films like Kurt & Courtney and Biggie & Tupac, also released a film about Houston that premiered last year at the Tribeca Film Festival called Whitney: Can I Be Me?. However, Houston's estate only cooperated with Macdonald and his team, and agreed to give him unique access, whereas they told Rolling Stone in April 2016 that they had "no involvement with [Broomfield's] program whatsoever."
After its screening at Cannes, Whitney will hit theaters across the U.S. on July 6. Based on the trailer, the film is sure to be a rocky, emotional ride, as it examines the awe-inspiring successes and heartbreaking challenges Houston encountered throughout her life.