Twitter Can't Get Over How "Pathetic" The 'New York Post's "Kim Thong Un" Cover Is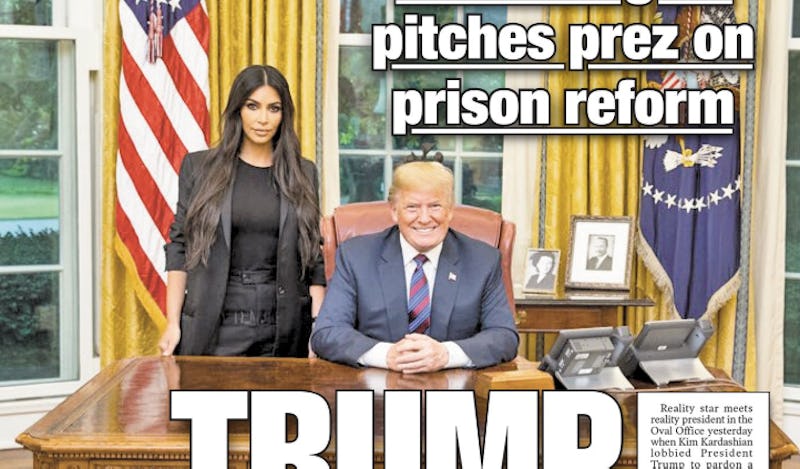 The New York Post
The president met with Kim Kardashian on Wednesday, but the New York Post Kardashian and Trump cover gave no indication that they were meeting about criminal justice reform. Instead, the cover made light of the meeting by referring to Kardashian as "Kim Thong Un," in a move that Twitter users widely denounced as "sexist."
After months of back-channel discussions with Jared Kushner, Kardashian made her way to the White House on Wednesday to discuss prison reform with Kushner and Donald Trump. Most notably, Kardashian attempted to secure a pardon for Alice Marie Johnson, a low-level drug offender who has served more than 20 years in prison. Although Kardashian and Trump both tweeted about the success of the meeting, the newspaper decided to go a different route.
The cover, which was published on Thursday, described Kardashian and Trump's meeting as "The Other Big Ass Summit" — an allusion to Trump's tentative summit with North Korea's Kim Jong Un. The New York Post also dubbed the meeting "Trump Meets Rump," leading many Twitter users to criticize the newspaper for referencing Kardashian's physical appearance three times on its cover.
Even social media users who conceded that they weren't fans of Trump or Kardashian expressed their discomfort with the cover; they criticized the newspaper for focusing more on Kardashian's butt than on her advocacy for criminal justice reform. This is what the cover looked like: