'The Office' Actor Angela Kinsey Had The BEST Reaction To Being In Her Nephew's Tinder Photo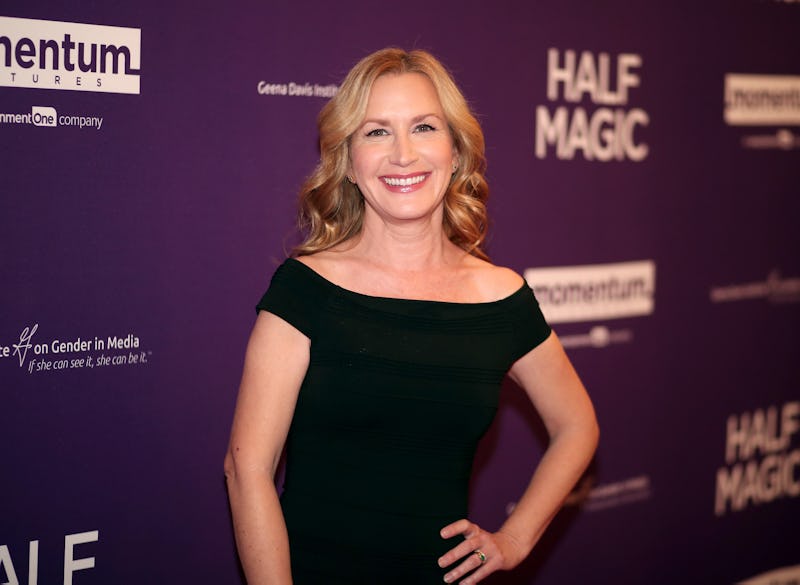 Christopher Polk/Getty Images Entertainment/Getty Images
Leave it to The Office's Angela Martin to be vocal in her disapproval. Seeming to channel her feisty, blunt character from the NBC comedy, Angela Kinsey reacted to her nephew's Tinder profile in a hilarious Instagram Story post. For those who haven't seen the viral Tinder profile screenshot, a 25-year-old named James used a photo of himself with the actress — and a fireman-themed pickup line — to attract dates, bragging in his bio, "and yes Angela from the office is my aunt."
By some amazing stroke of luck (for the public moreso than nephew James, of course), Kinsey somehow saw the viral shot and took a playful swipe at her relative via Instagram. Fittingly wearing shades in a smiling selfie, she wrote in a yellow text overlay: "Nephews… do not put me in your @tinder profile photos. K. Thx. Byeeeee." Angela Martin would've been proud.
This wasn't the first time in recent memory that Kinsey seemed to revisit the eye-rolling accountant since the series ended in 2013. During a recent cooking segment on her and husband Joshua Snyder's YouTube channel, Baking With Josh & Ange, Kinsey recreated a fire drill scene from The Office with her pal and co-star Oscar Nuñez.
"Oscar and I have been friends for 20 years! (I know we are old.)," she wrote in an Instagram tease of the episode. "We met years before The Office and when we found out we both got cast AND got to sit next to each other as accounts... it was just amazing! For 9 years he made me laugh every day."
Sharing a clip to her Instagram page, Kinsey wrote: "Of course we had to recreate this scene! #savebandit 😼 New Baking with Josh and Ange! Link in bio! Baking and chatting about The Office with Oscar! We had so much fun! Thx Oscar for stopping by our kitchen! Oh and the Flan is delicious! ❤️ *He does his Southern accent in the full video and vogues! Hilarious!"
Calling her time on The Office "such an amazing chapter in my life" during a recent interview with Us Weekly, Kinsey also noted that fans are sometimes surprised by her friendly sense of humor. "Most people [who recognize her for the role] expect me to be a b*tch, but it's usually the opposite," she told the magazine. "I talk people's ears off and I actually turn them off because I talk too much."
With rumors swirling that NBC was working on a reboot of The Office, Kinsey took to her Twitter account to give fans an update. "I am asked about The Office Revival alot [sic]," she tweeted. "Here is what I know: nothing, nada, zip. I have spoken to a FEW of the cast and they know nothing about it as well. None of us have been contacted by anyone about a reboot. I love the show but that's all I know."
So, even though it remains to be seen whether or not fans will get to see the Dunder-Mifflin gang together again in an official capacity, they should be glad to know that Kinsey, at least, seems to be keeping her character alive in other ways.