Here's Who Would (& Wouldn't) Return For An 'Office' Revival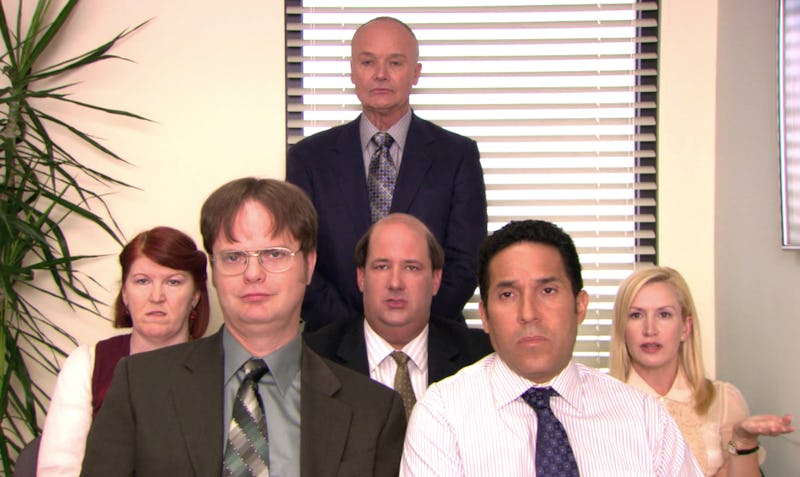 NBCUniversal
Paper fans officially said goodbye to Dwight, Pam, Jim, and the rest of the Dunder Mifflin gang in 2013, but it may have been premature. (Insert a Michael Scott "that's what she said" joke here.) According to TVLine, NBC is reportedly developing an Office revival with members of the original cast. (NBC had no comment for Bustle regarding the news of the revival series.) The reboot of The Office, which was already a reboot of the British Office, could potentially return to the Scranton branch in the 2018-2019 TV season. But, which of your beloved favorites will be in the Office revival cast?
TVLine reported that this updated version of The Office from creator Greg Daniels — who originally adapted the show for an American audience — would take place once again in Scranton, PA, at the Dunder Mifflin paper company. It will also include both new characters and old ones. As of now, it's unclear who exactly would be returning, but it's easy to guess who probably won't be back.
After nine seasons, many Office stars went on to have successful careers that would make it hard for them to revive their characters for another season. John Krasinski, who played Jim Halpert, is off writing and directing movies like A Quiet Place, with his wife Emily Blunt. After finishing her own series, The Mindy Project, Mindy Kaling, better known as Kelly Kapoor, is keeping herself busy with a different revival, Ocean's 8, not to mention, starring in Ava DuVernay's A Wrinkle In Time. And Andy "The Nard-dog" Bernard, Ed Helms, just announced his own show The Fake News With Ted Nelms.
Craig Robinson, B.J. Novak, Jenna Fischer, and Rainn Wilson — who is currently on CBS' Star Trek reboot — will likely be too busy to make their return. (Though maybe fans can cross their fingers for a cameo in the future.) Thankfully, some of your favorite supporting characters like Angela, Phyllis, Meredith, Kevin, Stanley, Oscar, and, to Michael's chagrin, Toby could still end up returning to Dunder Mifflin.
In fact, Angela Kinsey, who played Angela Martin, has already tweeted about the possible revival, though her tweet seemed very confused:
Unfortunately, Michael Scott won't be back for the revival, according to The Hollywood Reporter. Steve Carell — who left the show after seven seasons, only to return two years later for the series finale — is not slated to return even if the show does.
NBC is reportedly on the hunt for an actor that could take over the role of the regional manager. If fans weren't superstitious, they might be a little-stitious of the show trying to cast a Michael Scott-type to lead the show. After all, when Carell left The Office, the series tried to find a replacement in Helms, and that didn't really work.
The truth is, this is a show built on the camaraderie of its entire cast, which makes it difficult to re-cast a show like this. It's part of the reason why Fischer told Variety's Remote Controlled podcast earlier this year that she didn't see an Office revival happening anytime soon. But she didn't rule out the idea that she would come back, if everyone else agreed to also.
"I would do it if there was some circumstance where everybody got back together," she said. "And could be brought back together in some amazing way, I would say yes. But I'm not sure it's realistic."
Fischer's Pam moved from Scranton to Austin, TX, with Jim in the finale, meaning they could only return to the show if they moved back, which seems pretty unlikely. And it would be a little sad, since the two were going in a new direction. But Fischer did come up with an idea of how a revival of The Office could work.
"It would almost have to be a scenario where it's 'the lost tapes of The Office,'" Fischer explained, "where you somehow go back in time and there's all of these lost stories where we weirdly look five years older."
Here's to hoping Greg Daniels consults with Fischer before going any further with this Office revival, since it seems like she has the best suggestion for how fans can have their cake and eat it, too. (That's what she said.)