The One Moment Chris Pratt & Anna Faris Showed They Loved Each Other Is Still So Stunning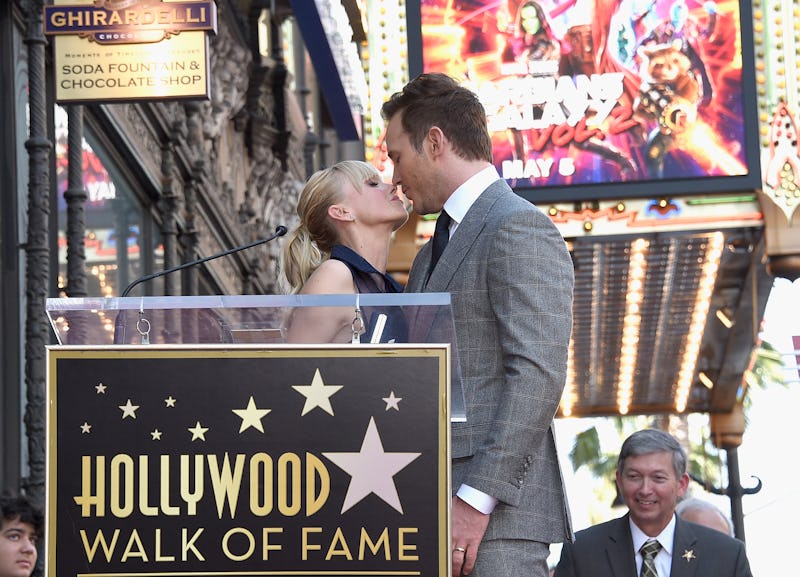 Kevork Djansezian/Getty Images Entertainment/Getty Images
On Sunday, one of Hollywood's most-admired couples, Anna Faris and Chris Pratt, announced their separation via social media, leaving many fans feeling shocked and saddened. Fans are likely particularly surprised at the news considering sweet and loving moments the couple has shared in the public eye over the past eight years of their marriage.
Indeed, one relatively recent moment particularly sticks out as epitomizing the love that Pratt and Faris have for each other. In April, Pratt received a star on the Hollywood walk of fame and was accompanied to the ceremony by Faris and their young son, Jack.
The ceremony was striking because both Pratt and Faris gave lengthy speeches in which they expressed their love and admiration for each other. In her speech, Faris revealed the immense gratitude she had for Pratt and expressed how happy she is to be with him, with or without their Hollywood life, saying,
I'm the beneficiary of all this because I get to spend every day with this wonderful man … I know that if our circumstances were different and we weren't as fortunate to be standing here and living our Hollywood life, we would be happy in the woods together, I think ... Honey, I want to thank you for being the most incredible person and an unbelievable talent ... Thank you for being my husband. I love you so much."
During a speech in which he teared up, Pratt also gave a truly moving tribute to his wife,
I want to thank my wife Anna, I love you. You've given me so much. You gave me the greatest star in the galaxy in my little boy, I love him and I love you ... With every challenge, with every day, week, month, decade, we become more bonded. You make me laugh like nobody else. You're very caring, and thank you for your trust and your sacrifice — and for your dedication and your heart. I will do my best to protect it, and in return I will give you all of those things as well. You have my heart, my dedication, my trust.
Faris and Pratt's words to each other during their respective speeches at the ceremony were so moving because of the selfless love and admiration expressed by each of them for the other. While the couple has certainly shared a myriad of wonderful moments over the past eight years, the walk of fame ceremony truly sticks out because of the very public, eloquent, and effusive declarations of love made by Faris and Pratt.
Faris and Pratt's loving words for each other epitomize one of the many reasons why fans will very much miss this sweet, fun-loving couple.