The Resist March Moment You've Got To Watch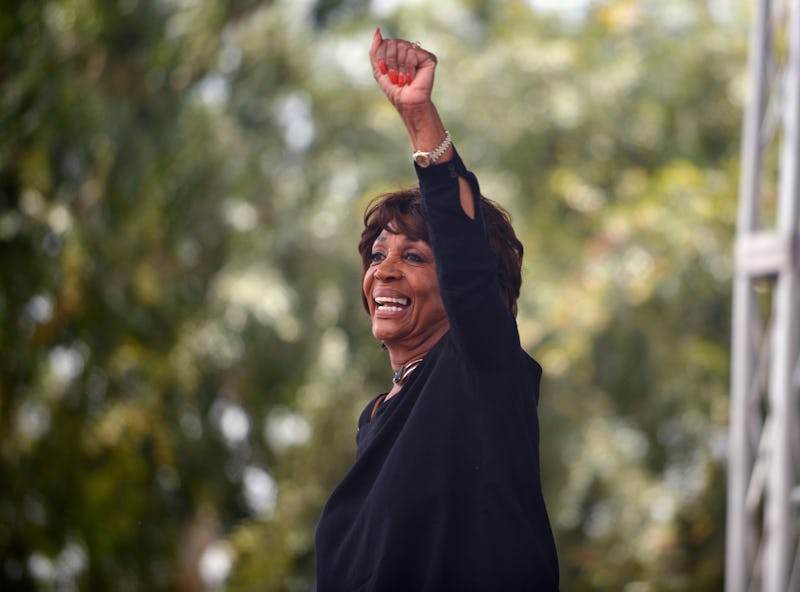 Chelsea Guglielmino/Getty Images Entertainment/Getty Images
Maxine Waters does not play. The Congress member who represents California's 43rd congressional district has surfaced to media's attention as a consistent voice of dissent against Donald Trump and his administration. Since Trump's inauguration, Waters — also revered as Auntie Maxine — has become a millennial favorite with her unapologetic statements about Trump and how she perceives him to be opposed to democratic values. It makes sense then that the rallying moment at the Resist March was Waters' "Impeach 45" speech.
The Resist March took place Sunday and was inspired by the the Women's March from January. According to the organizers of the march, the rally was planned as a "peaceful declaration of resistance" and welcomed anyone "who believes in compassion, tolerance, and acceptance."
During the march, Waters delivered a short but robust speech that resonated with the massive crowd. "I know that some are a little hesitant. I know that some are saying, 'I'm not so sure, Maxine,'" she said. But Waters continued, "I'm saying impeach 45!" Hundreds and hundreds of march attendees were seen applauding Waters, cheering, and it was precisely after her "impeach 45!" moment that the audience began chanting the same with Waters. "I love you all," Waters told her enthusiastic crowd.
Waters received the biggest cheers when she said, "I know that each of you understands that you have the power. Stay woke!" Some might scoff at the idea of a Congress member shouting "stay woke" in a speech and deride it as a move pandering to millennials, but whether you like or hate politicians stitching soundbites of internet slang into their speeches, it's worth noting that that Waters' speech carried the power to connect with a large number of people present at #ResistMarch.
While a cry for youths to "stay woke" may make some cringe, it's good to remember this small factoid: Waters' speech arrived at a particularly tense and fragmented moment in American political history where the country shows division over a contentious president whose statements on reproductive rights (especially Planned Parenthood), hostile views on immigration, and pre-presidency ideas about racial minorities are mildly disconcerting, to say the least.
In a country where many feel isolated by the leadership of the state, Waters' "impeach 45!" and "stay woke!" cries offered a boost of energy and motivation to a segment of American society that is legitimately concerned for its well-being.