The One Thing Chrissy Teigen Wishes Was Different About Her New Gray Hair Streak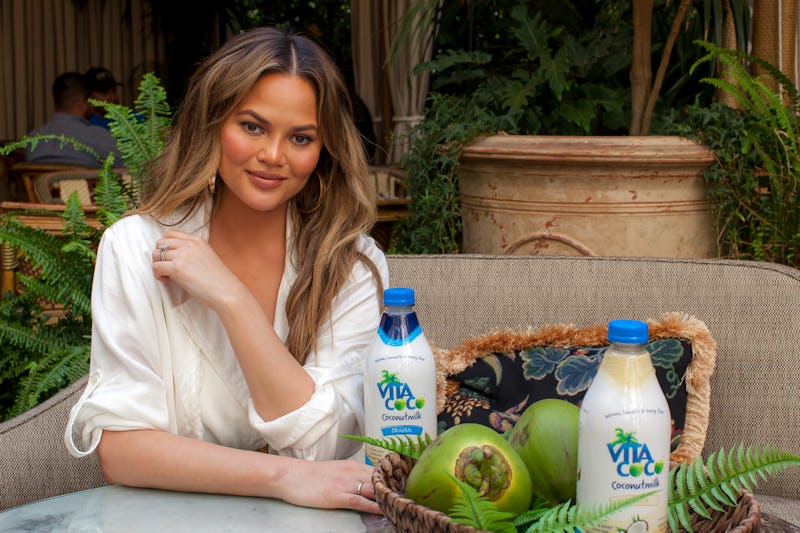 Vita Coco
If you're ever feeling bad about yourself, whether it's the fact that you're an ugly crier or you've suffered from an embarrassing wardrobe malfunction, you can always count on Chrissy Teigen to understand. The social media queen is famous for embracing moments that a lot of us might be hesitant to share. The most recent example? On Monday, Teigen discovered a gray streak in her hair and was so excited about it, she took to Twitter to share the "good" news. And no, it's not only because Teigen has always wanted to look like Cruella De Vil, despite what she tweeted.
At a brunch celebrating VitaCoco's new Coconutmilk, Teigen (who is an ambassador for the brand) tells Bustle the real reason she is so thrilled about her new gray locks.
"I don't know if it's a hormonal thing or what, but my mom is claiming it's an Asian woman thing," she says, referring to her now famous mother who you've definitely seen on Instagram, Vilailuck Teigen aka @pepperthai2. Teigen explains that it's almost like a rite of passage. "I just never thought anything bad about it. Even John, seeing him with salt and pepper hair, I love it. I hope he never dyes his hair."
Teigen is totally aware that there is a double standard for women when it comes to graying hair (and aging in general) but she just doesn't understand it. "We look at men as being so handsome with it, and then we look at women [who get gray hair] and we're like, 'Oh no!' No, no, no— I love it. And John likes it, too, OK! I think it's cool."
The only thing Teigen wishes were different about her gray streak? Its location. The expectant mother motions towards the back of her head to try and show her gray streak, but remembers it's currently hidden.
"It's back there, you can't see it because I have extensions on... but it's not even in the front though!," she sighs, disappointedly. "I want it to be in the front like [Stacy London]. Hers is right in the front and I'm jealous."
This, of course, is not the first time Teigen has called bullsh*t on society's double standards. Let's not forget back in 2015 when she basically dedicated her time to "freeing the nipple" on Instagram. It all started when she posted a topless photo of herself from a spread in W Magazine. After Instagram deleted the photo, Teigen posted it again. And again. And again. Instagram continued to take the photo down, but she remained persistent. Teigen would later post a photo of her husband, John Legend's, butt and tag the social media platform, making a not-so-subtle comment on the fact that Instagram's nudity standards differed for men.
In 2017, the former model shared a photo on Twitter of her stretch marks with a caption that read "Whatevs." While it seems like many celebrities would rather die than share a photo of their imperfections, Teigen could care less. While it may seem hard to believe, Teigen has admitted to crying over her insecurities before, but knows that she has the ability to influence her followers and wants to be an example to her fans to love their bodies and embrace their vulnerabilities.
At Beautycon LA last summer, Teigen shared why she likes to keep things real on social media. "I really want to be that person for you all, that says, 'You don't need that f*cking shit.' I've been on shoots. I've been naked-to-naked with people. I will say that everyone has a stretch mark. Every time I see that other stretch mark, I'm like, 'Girl, yes!'" Teigen said to the crowd. "It makes me feel better, and if more of us did that kind of shit, how many people would feel better?"
Thanks for always making us feel better, Chrissy.