The One Thing You Need To Do At Disneyland, Based On Your Zodiac Sign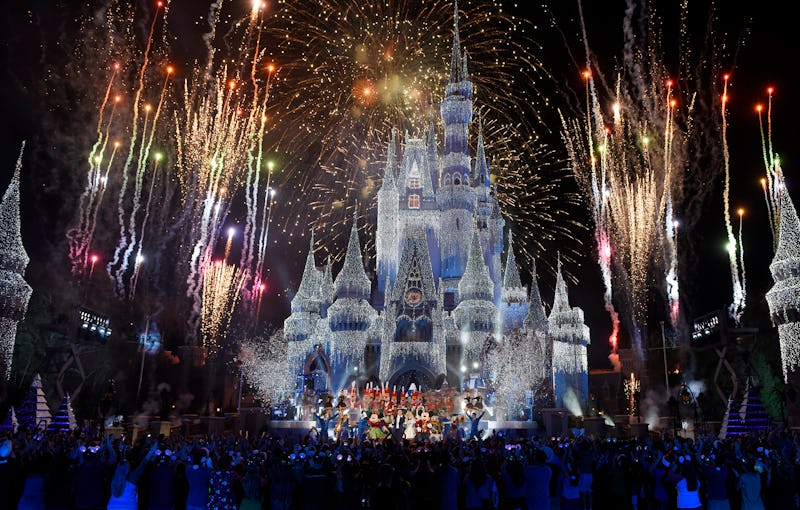 Handout/Getty Images Entertainment/Getty Images
A day at Disneyland can be a California Adventure (get it? I have no shame) in its own right. A single visit should be packed with an itinerary full of Mickey Mouse-shaped waffles, selfies with Pluto, and exhilarating rides. There is a lot of ground to cover. Before every visit, you likely have a sense of where you know you want to hit up in the park before anywhere else — but with so much choice, it can be hard to pick what exactly belongs and the top of your list. However, there is one thing everyone absolutely needs to do at Disneyland, and it differs depending on the person. A quick way to figure this out? Just look to your zodiac sign. Whether it's a magic carpet ride or shopping spree, the stars won't steer you in the wrong direction. And let's be honest, the park doesn't exactly cont as a small world considering all the directions you can take there.
It's not that every zodiac sign won't enjoy everything at Disneyland. What's not to enjoy in this real life fairytale-land? I mean, you leave feeling like the credits are rolling on your happily ever after. It's just that some activities speak more boldly to you depending on if you're an adventurous Sagittarius or an emotional Cancer.
Every corner of Disneyland is full of wonder. Just let your constellation guide you to what you might most enjoy. And, all zodiac signs can agree there's nothing like a fireworks show. Everyone can enjoy that.
Aries
Being the first sign of the zodiac, you're a natural leader and therefore courageous. It's no wonder you're first on line for the amusement rides that flip and twirl. A little exhilaration goes a long way. When at Disneyland, round up your crew and brave the Haunted Mansion. It will be more of an ~experience~ than ride, and it will be everything you've hoped for. Because what Aries doesn't love flaunting their bravery?
Taurus
Just because you're at an amusement park, that doesn't mean you can't indulge in the ~finer things~. Taurus is known for appreciating beauty. While there are 85 acres to gawk at at Disneyland, there's nothing a Taurus would appreciate more than indulging in some self care at the Mandara Spa at Disney's Grand Californian Hotel & Spa.
Gemini
Geminis are sociable creatures. Thankfully Disneyland is a flutter with characters to chat up. If you're a twin of the zodiac, you can not miss Character Dining. All the original Disney characters and current animated stars rotate tables to converse and pose with you. Geminis will know exactly how to make the most of these moments.
Cancer
Emotional and sensitive, it's not a bad idea for a Cancer to enjoy Disneyland by taking it all in. How? Relax on a train ride around the park aboard the Disneyland Railroad to avoid feeling overwhelmed about attempting to conquer the whole dang thing.
Leo
Let's be real, Leos are the center of the universe — or so they think. At Disneyland, where dreams come true, why not be? All Leos must make their grand entrance into Fantasy Faire. There is Storytelling at Royal Theatre and socializing with princesses. Maybe you can, you know, be one for at least one day.
Virgo
Virgo isn't one for surprises. The thrills can be enjoyed but what really makes a Virgo happy is a tight and well executed itinerary. Enjoy a calming stroll through The Disney Gallery where you can sort your thoughts and plan your next move.
Libra
Balance out your adventure at Disneyland. That's what being a Libra is all about, anyways. Start with the Indiana Jones Adventure and then head straight to The Bakery Tour for a more laid back adventure. And food. Food is always important after thrill.
Scorpio
Mystery will lure Scorpios to the park. Thankfully Disneyland is all about imagination. You won't want to miss Fantasmic! — a "musical, pyrotechnic spectacular."
Sagittarius
It's no secret that Sagittarius is the adventurer of the zodiac. Naturally, Disneyland, packed with adventure, is a magnet for you. Explore the Guardians of the Galaxy: Mission BREAKOUT! attraction where you'll be responsible for rescuing the Guardians of the Galaxy.
Capricorn
Capricorns work hard. So when you're at Disneyland it is a must that you take a load off and relax. Knowing Capricorns, you probably sent a few emails via your cellular device on your way into the park. Turn your phone to silent — or off, completely — and head to Afternoon Classic Tea at the Disneyland Hotel.
Aquarius
The intelligent Aquarius will find joy at Disneyland's Animation Academy. Here you'll learn a thing or two about how the Disney characters you know and love were created. And maybe pick up a talent for animation drawing! Your next career could be calling.
Pisces
Emotional and intuitive, the fish of the Pisces feels at home in the water. If Finding Nemo resonated with you, visiting the Finding Nemo Submarine Voyage is the underwater adventure you need to experience. Return to the water, Pisces!