This 'Christmas Contract' Sneak Peek Will Put Every 'One Tree Hill' Fan In A Holiday Mood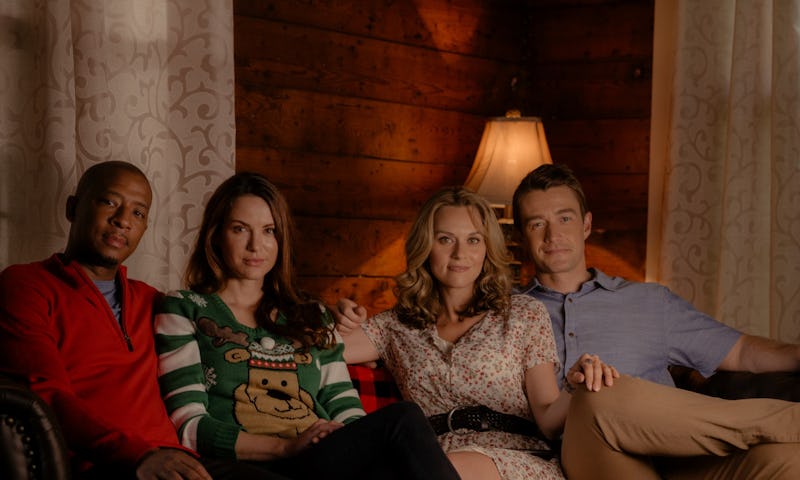 Courtesy of Lifetime
One Tree Hill gave fans nine seasons of drama, joy, excitement, and basketball — but if you still can't get enough of the residents of Tree Hill, your holiday wish might have just been granted early. Lifetime has released a first look at The Christmas Contract, featuring a One Tree Hill reunion that will definitely make fans of the teen drama feel merry and bright.
According to TVLine, the holiday film centers on Hilarie Burton's (aka Peyton) character, Jolie, who is newly-single and dreading going back to her hometown for Christmas after finding out that her ex will be there with his new girlfriend. Enter: her best friend, Naomi (Danneel Ackles, aka Rachel), who comes up with a plan to have her brother, Jack (Robert Buckley, aka Clay), pretend to date Jolie for the holidays in order to help her save face. Naomi even draws up the film's titular contract, as seen in the new clip, which states that in exchange for his help, Jolie will design a website for Jack so that he can promote his new novel.
The Christmas Contract also stars Antwon Tanner (a.k.a. basketball player Skillz) as Naomi's husband and will feature musical performances from Tyler Hilton, who sadly, will not be reprising his OTH role as Chris Keller.
While the sneak peek of the film doesn't tease any potential OTH-related Easter eggs, it does give fans their first look at the show's stars back together again onscreen. In the clip, Naomi calls a reluctant Jolie to her office in order to present her and Jack with her ingenious plan — but while Jack is on board with things, Jolie needs a little bit of convincing. Of course, once she sees a PDA-filled photo that her ex posted on social media, however, she's more than willing to sign on.
The clip also gives fans a look at the friendship between Jolie and Naomi, as the pair jokingly rib each other throughout — after Jolie and Jack sign the contract, Ackles' Naomi calls after them, "Don't forget to call me! And don't kill each other!" — which should remind OTH fans of the sometimes-prickly, but ultimately loving bond between Peyton and Rachel. Considering that Burton and Ackles are close friends in real life, it doesn't seem like it was much of a stretch for them to play BFFs onscreen.
The Christmas Contract is just one of the many holiday gifts that Lifetime is offering up to One Tree Hill fans this year: After the movie premieres on Nov. 22, the network will air the one hour special 'Tis the Season: A One Tree Hill Cast Reunion, which will feature Burton, Ackles, Tanner, Hilton, and former co-star Stephen Colletti. Then, Poinsettias For Christmas, starring yet another OTH alum, Bethany Joy Lenz, will premiere the following night, on Nov. 22.
While The Christmas Contract isn't a formal One Tree Hill reunion — after all, it's missing several of the show's other stars, including Sophia Bush, James Lafferty, and Chad Michael Murray — many cast members have talked about the possibility of doing some kind of reunion or reboot in the future. Back in July, Lafferty told The Wrap that he thinks that a reunion could happen — but that there are no official plans to get the Tree Hill Ravens back together just yet. "I don't think you're gonna find anybody from the cast who would just outright say no to that," he said. "I don't think it's ever been approached in a really official way."
Meanwhile, Shantel VanSanten, who played Quinn, told Bustle back in September that she could see the cast getting together again for a different project, much like Burton and co. are doing for The Christmas Contract. "I don't feel like we would want to do One Tree Hill again, but I think that we would all be open to something else," VanSanten said.
Regardless of whether or not a proper OTH reunion happens in the future, at least fans can count on The Christmas Contract to fill the raven-sized hole in their hearts this holiday season.