A California City Council Is Now Completely Made Up Of Badass LGBTQ Members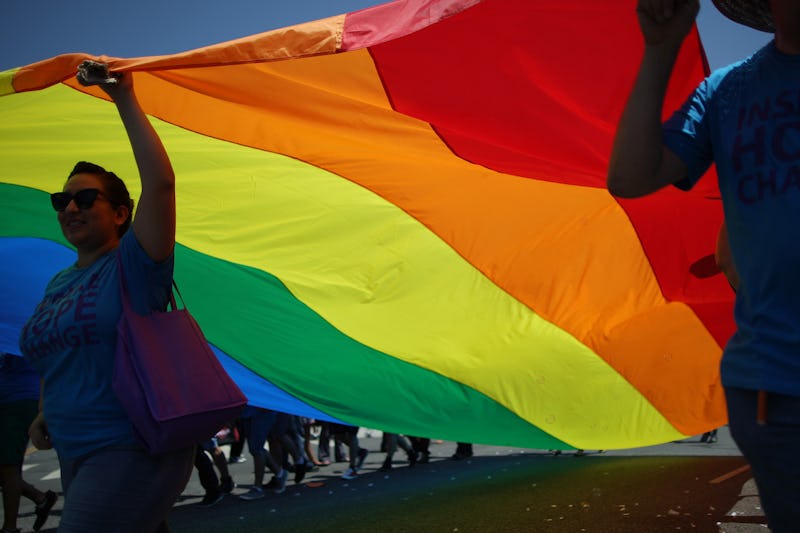 David McNew/Getty Images News/Getty Images
California is seen as a bastion of progressive politics, but one city in the Coachella Valley is now on an entirely new level of inclusive representation. Palm Springs elected its first all-LGBTQ city council this week. One trans woman and one woman who identifies as bisexual were just voted into office, joining two other openly gay council members and the city's openly gay mayor.
Lisa Middleton is one of a slew of trans candidates across the country who won on Tuesday night, and her victory is historic. She is the first trans person to be elected to a non-judicial position in the state of California. Middleton retired from the California State Compensation Insurance Fund and is on several community boards. The other new city council member, Christy Holstege, is the first millennial ever voted into that position in Palm Springs and identifies as bisexual. She's a lawyer working at her family's practice, focusing on civil litigation.
J.R. Roberts, who was voted onto the city council in 2015 after serving as the openly gay mayor of Sausalito, California, tells Bustle he's pleased with Tuesday's results. He praises Middleton's and Holstege's wins for bringing "diversity, youth, energy and a balance" to the council; but as for the all-LGBTQ nature of the council, Roberts says it's "nice but not that significant." Said Roberts:
Sexuality is far less important to me then someone's ability to lead and their understanding of municipal governance. We have always been a very diverse city and have become a very diverse city council. Strong leadership is about understanding our diversity which includes a majority of straight people and families.
"The voters overwhelmingly elected Christy and Lisa because they were the two most qualified candidates," Roberts adds. "It was a mandate!"
By contrast, state and national LGBTQ political groups were quick to note the significance of the election results, especially Middleton's win. In a statement, Rick Zbur, executive director of Equality California, called Middleton's win along with those of other trans candidates across the country, "a beacon of hope that voters have embraced values of equality and inclusion."
"Her first place finish out of a field of 6 candidates demonstrates that a glass ceiling for transgender people who want to serve in elected office was not only broken, but was shattered in Palm Springs," Zbur said in the statement. He also noted the overall makeup of the council: "With the election of Lisa and Christy Holstege, the city of Palm Springs will now be represented by a city council that is 100 percent LGBTQ."
Aisha C. Moodie-Mills, president and CEO of Victory Fund, a group that helps elect openly LGBTQ candidates, also pointed out the importance of Palm Springs' election results. "Trans people remain severely underrepresented in government nationwide, so Lisa's victory is important not just for Palm Springs or California, but for the entire country," Moodie-Mills said in a press release. "Now more than ever, we need trans voices in the halls of power because they humanize our lives, change the debate and move forward more inclusive legislation."
Palm Springs is indeed a beacon of hope for inclusivity: The city received 100 percent on the Human Rights Campaign's Municipal Equality Index scorecard.
"We lead the country in LGBTQ rights and anti-discrimination for all people," Roberts tells Bustle. "It's one of my main reasons for serving here and something I am most proud of. ... Many of our policies and ordinances have become models for other cities. I am very proud of that."
Having such a progressive city council certainly has helped advance LGBTQ-friendly measures in Palm Springs, but Roberts argues that the sexual orientation and gender identity of new council members isn't what makes them successful in local government.
"I started my public service as one of the first openly gay mayors in the country," he tells Bustle. "I learned very early that your sexuality is far less important then your ability to lead and your ability to understand who you serve. I think for all electeds that is the most important."