The Paralympics Start Just One Day After International Women's Day. Here's Why That Matters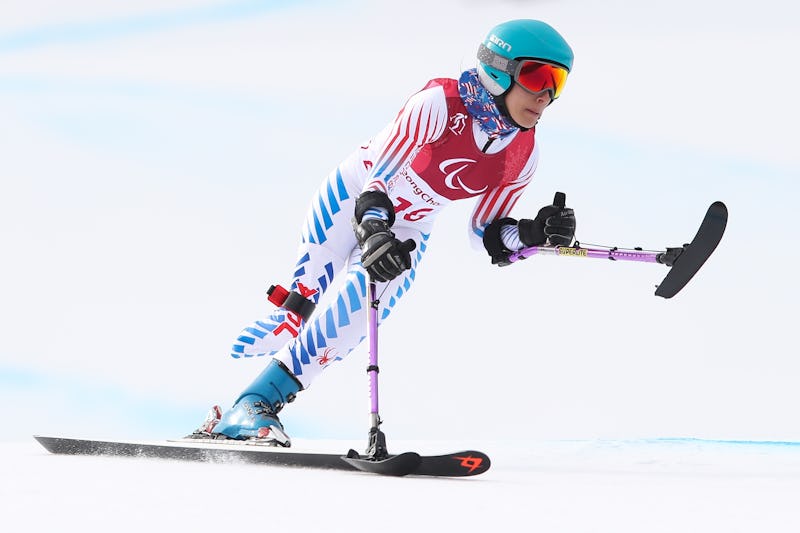 Lintao Zhang/Getty Images Sport/Getty Images
March is Women's History Month, a time to commemorate the centuries of achievement of women everywhere. And this year, there are some extra achievements to celebrate: the PyeongChang Winter Paralympics have their opening ceremony on March 9 — which happens to be the day after International Women's Day. Why are the two connected, you may ask? Not only is the Paralympics explicitly devoted to gender equality, watching it is also a way to honor the contributions and brilliance of women with disabilities — and the Paralympic Committee has its own plans up its sleeve to celebrate March 8 in an amazing, empowering way.
The UN's official theme for International Women's Day this year is "Time is Now: Rural and urban activists transforming women's lives," celebrating the activists worldwide who are working to improve the lot of vulnerable, impoverished women wherever they live. The IWD committee itself is also highlighting #PressForProgress, to "press" everybody in your life to act for gender parity. But your celebrations don't have to be on-theme; activists have been doing everything from highlighting the #TimesUp and #MeToo movements to putting on festivals of films made by women. The day after International Women's Day, though, you should make sure you catch some Paralympic action — because there are many reasons why it's a vital part of this woman-centric month.
The feminist credentials of the Paralympics, both Summer and Winter, are serious stuff. Not only do they have many mixed-gender events in which women compete at the same level and on the same teams as men, they have explicit policies about striving for gender equality and a lot of internal policies that aim to attract, recruit, train, and mentor female participants — at all levels, from athletes to coaches. Elite sports aren't just about the people on the track or the playing field; they're also about the massive support staff that trains and gets athletes into top shape, and the International Paralympic Committee is making an effort to improve female participation across the board. And when it comes to athletes themselves, it's working. Their proportion of women to men is growing at a rate higher than at the Winter Olympics.
The Paralympics is also fundamentally a celebration of diversity of ability. And that's a message that the historical women who fueled the making of International Women's Day would celebrate. The history of International Women's Day is over a century old, reaching back to the early 20th century, with female protestors who mounted strikes and marches for better working conditions and equal treatment. And women with disabilities were a huge part of these protests, from the Bread & Peace protests on Mar. 8, 1917 by Russian women to the 1910 garment workers' strike in Chicago and the many suffragette protests in Britain and America for voting rights. Their united history is what International Women's Day celebrates.
Rosa May Billinghurst, a British suffragette, fashioned her wheelchair into a tricycle to ram police at protests, according to historian Sheila Hanlon; Adelaide Knight, another suffragette who used crutches, headed the Women's Social & Political Union; and countless more anonymous women with disabilities marched on picket lines and fought for rights. Their legacy is part of what makes the Paralympics, with its celebration of all bodies and capabilities, so great, and watching Paralympic female athletes power down a slope or win a gold in style is an epic way to honor previous generations of female activists with disabilities.
For Americans, this is a crucial point in time for women with disabilities — and one that requires attention. Kerri Vanderbom, a global and national waterskiing champion with disability and disability activist with the Lakeshore Foundation, tells Bustle, "This is a particularly important moment to honor disabled women. Currently, disability civil rights and women's rights are under attack." The proposed reforms to the Americans with Disabilities Act, or ADA, on the table at the House of Representatives, known at HR 620, has attracted severe criticism from the American Civil Liberties Union (ACLU), human rights organizations and disability rights activists. Vanderbom explains that HR 620 would "actually make it legal to discriminate against individuals with disabilities, weakening our rights to access our communities. HR 620 has illustrated to us with disabilities that we can be disregarded. We have been de-personified. We do not count." In that climate, celebrating and understanding the realities of disability for American women, athletes and otherwise, is a seriously radical act.
The International Paralympic Committee isn't letting Mar. 8 go past without its own commemoration. On International Women's Day, it is announcing the winner of its International Women's Day Recognition Award, an award created to commemorate a woman who "embodies the spirit of the Paralympics and who inspires women within it." The five nominees, all put up for the award by other Paralympic committee members, are pretty epic, too. Wheelchair tennis champ Esther Vergeer, president of the Egyptian Paralympic Committee Dr. Hayat Khattab, Finnish wheelchair racer and curler Mina Mojtahedi, cyclist and Britain's most-decorated female Paralympian Dame Sarah Storey, and Iranian wheelchair archery champion Zahra Nemati make up the shortlist.
They're not just being recognized for their formidable past sporting achievements, but for their inspiration and empowerment of others; Dr Khattab, for instance, formed Egypt's first ever women's sitting volleyball team. Apparently, the award received a record number of nominations this year, testifying to the Paralympics' pioneering feminism and support of amazing women.
International Women's Day is about celebrating past women's activism and the power of all women right now. And the Paralympics, with their overt support of brilliant female efforts and spotlight on boundary-breaking athletes, is the perfect way to carry that message past Mar. 8 into the rest of the year.