The Percentage Of Black Writers In Television Writing Rooms Is Shockingly Low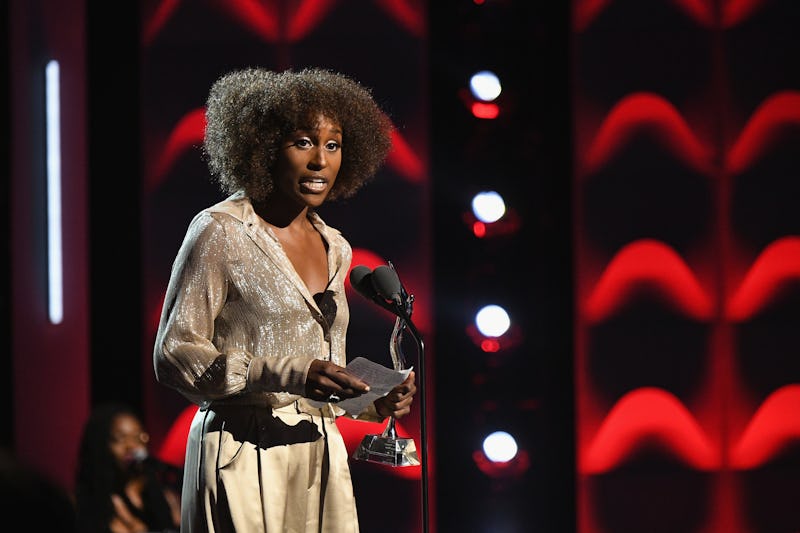 Dia Dipasupil/Getty Images Entertainment/Getty Images
The lack of racial representation in media is a problem that extends beyond who we see on our screens. As a new study on race in writers' rooms shows, there are alarmingly few people of color behind-the-scenes in television. This recent report specifically reveals just how few black writers there are in TV writers' rooms.
According to The Hollywood Reporter, the racial justice organization Color of Change commissioned Darnell Hunt, a professor and dean of social sciences at UCLA, to conduct this study. Hunt's report, entitled "Race in the Writers' Room: How Hollywood Whitewashes the Stories That Shape America" examined 234 scripted shows during the 2016-17 TV season. The study looked at representation among TV showrunners as well as 3,817 total writers and found that both positions are predominantly occupied by people who are white.
Among Hunt's findings? Less than 14 percent of all TV writers are people of color — and just 4.8 percent of all TV writers are black. An overwhelming 86.3 percent of all TV writers are white. This lack of inclusivity is even more stark when those numbers are broken down to show how few writers' rooms have any black writers at all. Nearly two-thirds (65.4 percent) of all TV writers' rooms have zero black writers, and 17.3 percent of TV shows have just one black writer. An equal proportion of writers' rooms (17.3 percent) employ two or more black writers.
This Affects How Black Characters Are Portrayed On Screen
"The ultimate result of this exclusion is the widespread reliance on Black stereotypes to drive Black character portrayals, where Black characters even exist at all," Hunt wrote in his report. He also cites how damaging those portrayals can be to black people individually and as a community, with these kinds of stereotypes influencing the way black people are treated everywhere from school to work to doctor's offices.
In his foreword to the report, Color of Change executive director Rashad Robinson specifically mentions crime procedurals and the way they influence the public's perception of "truth." Speaking to the power of TV portrayal, a recent report from Pew Research Center found that crime shows give many Americans a more favorable view of scientists. However, as Robinson writes, this power can be detrimental when the stories being told are rooted in stereotypes rather than reality.
"We know, just to cite one example, that crime procedurals greatly mis-educate the public about both Black people and Black family and community life," Robinson wrote. "We know this shapes both what people think about Black people in real life and the public policies and political rhetoric they do or do not support." Essentially, a lack of black writers means a lack of black voices and, ultimately, a lack of accurate, diverse black stories being shown on TV.
It Affects Growth Opportunity For Black Writers
Additionally, Hunt's report shows that television showrunners are an incredibly homogenous group of people, with the vast majority being white men. Nine out of 10 showrunners are white, and eight out of 10 are male, the study says. Of those shows run by a white showrunner, almost seven out of 10 (69.1 percent) have zero black writers. How many shows run by a black showrunner have two or more white writers? Every single one.
As Hunt states, many black writers are "isolated," being the single black voice in the room — which may make them not feel comfortable speaking up, or feel unsupported at work. "I don't think it's appropriate or healthy for a nonwhite person to discuss race in normal writers' rooms because you're just too outnumbered, and people get too defensive," one black writer told Hunt in the report. Another said, "The worst thing in the world is making your boss feel like a racist … and most of these people are liberals."
Hunt also argues that opportunities like "diversity slots" may do little to actually help with inclusion in writers' rooms. "The 'diversity slot' hire program itself appears to have created a perverse disincentive to true inclusion," Hunt wrote, "whereby showrunners give the appearance of inclusion by cycling through people of color writers for the year or two they get them 'free of charge,' and then disposing of them once they require a real budget to support (in favor of another, junior 'free' writer)."
As Hunt continues, this can prevent any upward momentum for black writers: "That limits the ability of any critical mass of writers of color to build seniority over time, which is so important for building influence in writers' rooms."
It Unfortunately Mirrors Others Studies On Minority Tokenization on TV
A recent study on Asian American representation on screen revealed similar statistics regarding the number of Asian American characters we see in TV shows. One of the most striking statistics was 64 percent of TV shows during the 2015-16 season didn't have a single Asian American character. Even more alarming was the fact that Marco Polo alone made up 10 percent of Asian characters on TV. Meaning, when it was cancelled, the number of Asians on TV decreased by 10 percent.
Having people of color in writers' rooms leads to more true-to-life storytelling by characters of color, as Hunt's study states. As THR wrote, shows with three or more black writers were "more likely to acknowledge the continued existence of racial inequality and structural racism."
If people's reaction to on-screen representation and literal awards are any indication, audiences want inclusive stories. Perhaps studios should take note and hire the right people to tell those stories.