Fans Of Dole Whip Are Going To Be Obsessed With This New Treat At Disney Parks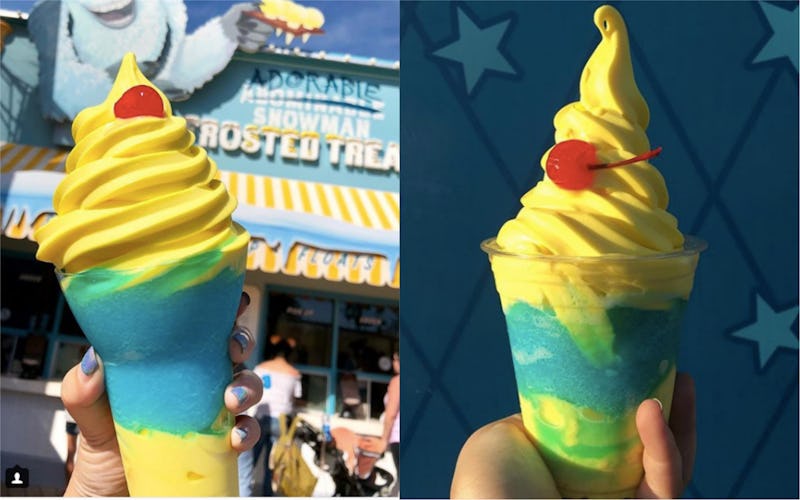 eatingwithjackie/Instagram; brobotasores/Instagram
If anyone has mastered the art of photogenic food, it is the folks at Disney. With over 100 dining options to choose from, visitors to California's Disney Land Theme Park and Resort are sure to find a treat that tickles their fancies. Ask any Disney devotee about quintessential park eats, and they will undoubtedly mention Dole Whip; the tropical ice cream dessert is a fan favorite. But clearly Disney does not adhere to the "if it ain't broke don't fix it mentality," because it has released a new take on the classic. Introducing: The Pixar Pier Parfait at Disneyland.
The Pixar Pier Parfait, Disney's newest frozen dessert, gives the old classic a run for its money. According to the Disney Parks blog, lemon soft serve is paired with a blue raspberry swirl to create a vibrant, whimsical treat. It looks more deserving of a spot above your mantlepiece than a spot in your stomach.
The parfait doubles as a drink and a snack, with its blue raspberry-flavored slush swirl being slurppable through a straw, and its creamy lemon soft serve serving as the perfect pick-me-up after you side down Splash Mountain. Plus, like its pineapple-flavored predecessor, the snack is free of dairy, and vegan. The parfait is available exclusively at Adorable Snowman Frosted Treats (FKA Paradise Pier Ice Cream Company) at Pixar Pier during the park's celebration of Pixar Fest. Though, if you're looking to get your hands (and spoons) on one, maybe bring a book or some headphones with you. HelloGiggles reports people have been waiting in line for around an hour for the photogenic parfait.
If you are struggling put your finger on where you have seen this color scheme before, use your imagination. The iconic blue-and-yellow Luxo Ball is emblazoned with a red star, and has appeared in many-a Pixar movie including The Incredibles, Finding Nemo, Coco, and of course, all three Toy Story flicks.
For those unfamiliar with the Dole Whip — the Pixar Pier Parfait's predecessor — you should know the dessert is LEGENDARY.
According to LAist, since its initial debut at the Adventure Land Tiki Room in 1986, the pineapple juice and soft serve concoction has won over the hearts and taste buds of Disneyheads and dessert lovers alike. In 2016 alone, the Disney theme parks on either US coast sold a combined 3.4 million cups of Dole Whip, according to Bon Appetite Magazine.
Some of this fanfare is likely because the treat is vegan (thus also being dairy-free), making it an option for those with dietary restrictions. Most of the novelty is likely due to its link with The Mouse — the Dole Whip is, per LAist, "embedded in the fabric of Disney," despite being available at other vendors around the country. It is available in additional flavors like strawberry, mango, and orange ("Dole Whip," LAist explains, is a catchall term, encompassing every flavor of the dessert). In the past, Bon Appetite reports, Disney has introduced boozy cotton candy Dole Whips — luckily, the rum-infused ones are still available in the park today. Dole Whips were also briefly available in doughnut form, as well.
The Pixar Pier Parfait is far from the only inventive treat released in honor of the festival. Some other highlights include a Mike Wazowski- shaped crisped rice treat, car-shaped chocolate apples, and cake pops bearing the likenesses of Dug, Nemo, Dory, and the Toy Story aliens. But, few things compare the the beautifully refreshing combination that is The Pixar Pier Parfait. It's the perfect mix of creamy and tart, with an incomparable marriage of textures. Not to mention berry and lemon is a stories summery flavor combination.
If you're in the general vicinity of Disney Land, be sure to stop by and snag one while it is available. As for everyone else? you may just have to settle for the old classic — it is not going anywhere.