The Desserts At Pixar Fest Are So Cute & Nostalgic You'll Want To Go To Disneyland RIGHT NOW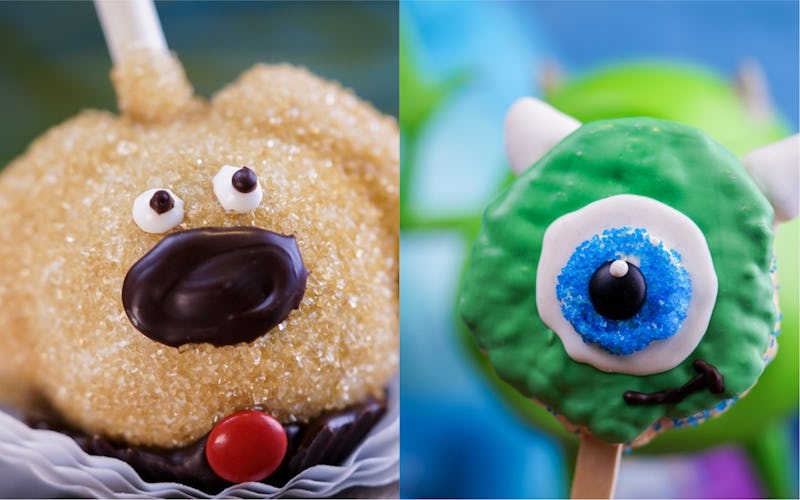 Disney Parks Blog
When it comes to dessert, nobody does it quite like Disney — and just in case you needed proof, all you have to do is look at all the Pixar-themed desserts Disneyland Resort in Anaheim, Calif. currently has available. As part of Pixar Fest, Disneyland's sweet shops have pulled out all the stops; between the Dug-shaped cake pops and the Toy Story alien caramel apples, you'll never look at dessert the same way again.
A celebration of all things Pixar, Pixar Fest began at the Disneyland Resort on April 13 and runs all the way through Sept. 3, 2018. During these four and a half months, special events starring all your favorite Pixar characters will be taking over both parks and the Downtown Disney District: Parades, fireworks shows, character meet-and-greets, and much, much more bring Pixar's modern classics to life.
And, of course, there is food. Lots of food. Which means there is also dessert.
Disneyland Resort has four major candy shops: Two in Disneyland Park, one in California Adventure, and one in the Downtown Disney District. Although park admission is obviously required to hit up the ones in Disneyland Park and California Adventure, you can visit the Downtown Disney one — Marceline's Confectionary — whenever you like; it's not located directly inside a park, making it easy to access for anyone who just wants some elaborate, Disney-themed sweets in their life. (Me. I'm talking about me.) And for Pixar Fest, all four shops will have a variety of treats on offer based on some of Pixar's biggest hits: Monsters, Inc., UP, Finding Nemo, Finding Dory, Toy Story, and Cars.
Seen here: Actual footage of my flailing my arms in excitement right now.
A major plus, by the way, is that all of these sweets come on sticks: Cake pops, Rice Krispy Treat pops, and chocolate-coated caramel apples are the name of the game here. Most of the cake pops have chocolate cake at their cores, so bad luck there if you're not really a chocolate cake person; however, there are a few exceptions — including a cake pop flavor I guarantee you won't be expecting. (More on that in a bit.) The apples, meanwhile, all consists of Granny Smiths which have been dunk in caramel, then finished off with chocolate and a wide variety of other candies.
They're all cute as a proverbial button, of course — although be aware that not all of them will be available for the entire four and a half months. Some of them will only be in shop windows through June 22; meanwhile, others aren't scheduled to arrive until June 23. Either way, though, there are plenty of options to choose from, as detailed recently by the Disney Parks Blog. Take a look: