Princess Eugenie's Comments About Her Relationship With The Queen Are So Sweet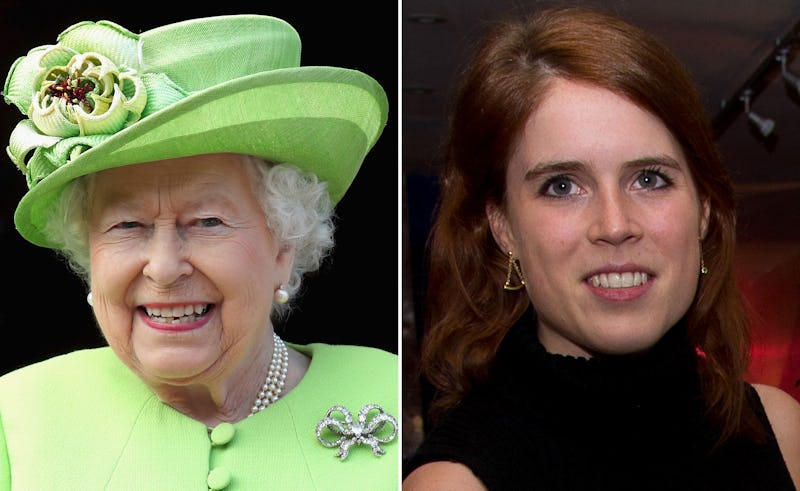 Chris Jackson/Getty Images Entertainment/Getty Images/Ben A. Pruchnie/Getty Images Entertainment/Getty Images
The second royal wedding of the year is fast approaching; Princess Eugenie is set to wed Jack Brooksbank on Oct. 12. They'll be tying the knot at the same place Prince Harry married Meghan Markle, at St. George's Chapel on the grounds of Windsor Castle, and they'll have a similarly star-studded guest list. But no celebrity at a royal wedding is more formidable than the Queen herself, who will certainly be in attendance at her granddaughter's big day. But are the Queen and Princess Eugenie close? What is their relationship like behind closed doors?
The princess is currently ninth in line for the throne, making her unlikely to become queen anytime soon, but that doesn't mean she hasn't been immersed herself in royal life. While the royal family are super private when it comes to their personal lives, over the years Eugenie has opened up about her life as a princess and how she gets along with her grandmother. Turns out, while the likes of her cousin Prince Harry might "panic" when they bumps into the Queen, Eugenie actually has a really sweet relationship with Her Majesty.
During her childhood, Eugenie and her sister Princess Beatrice often visited their granny, the Queen, at a private cottage called the "grand playhouse", which is where Her Majesty spent her childhood with sister Princess Margaret. In this video tour of the house (below), Eugenie calls it "the most glamorous wendy house ever," and it's a space only her, the Queen, and a few others have got to enjoy.
Eugenie also spent several summers at the Queen's Balmoral residency growing up — a place the princess described as "the most beautiful place on Earth" during a TV interview in 2016, according to the Express. The princess and the rest of the royals would pass the time there by taking long walks, play sports, and indulging in lots of gorgeous food. "I think Granny is the happiest there, I think she really, really loves the Highlands — walks, picnics, dogs, a lot of dogs," Eugenie said in the same interview. "Family-wise, we're all there, so it's a lovely base for Granny and Grandpa, for us to come and see them up there."
After announcing her engagement to Jack Brooksbank, Eugenie revealed that her grandmother approved of the marriage. During an interview on The One Show, she said that the Queen was "incredibly happy" with the news of the engagement and "wished them well."
Eugenie met her husband to be when introduced by mutual friends at a skiing trip, according to E! News. Brooksbank, who's an ambassador for George Clooney's Casamigos tequila brand, proposed while the couple were on holiday in Nicaragua, and their engagement was announced on Jan. 22.
"We met when I was 20 and Jack was 24 and fell in love," Eugenie said in an interview on BBC's The One Show With Matt Baker, following the announcement. And what did the Queen make of the news? Well, "Granny actually knew right at the beginning. She was one of the very few people we told. We left her this weekend, and had a very lovely time and she's very happy, as was my grandfather."
I don't know about you, but I'm looking forward to seeing the Queen looking every part the proud granny at Eugenie's big day. Bring on royal wedding 2018 number two.