This 'Queer Eye' & 'Fuller House' Cast Photo Is The Ultimate Netflix Crossover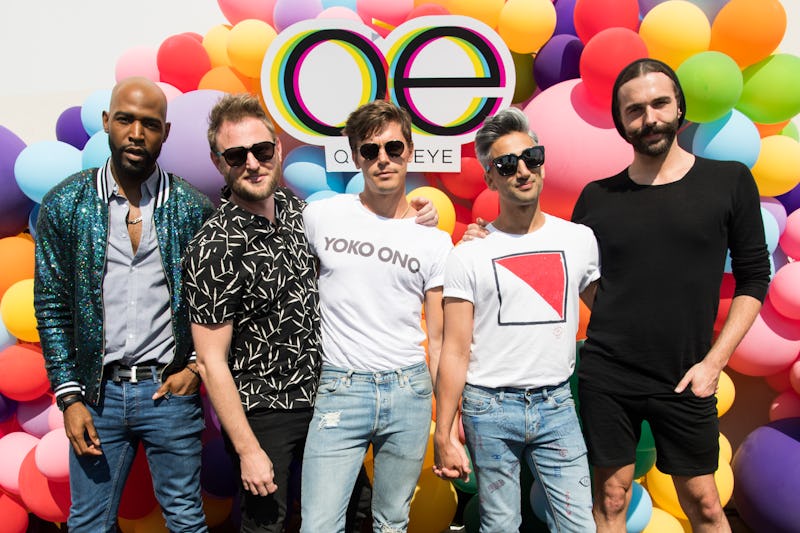 Emma McIntyre/Getty Images Entertainment/Getty Images
Get ready for the Netflix crossover you never knew that you needed. Over Emmys weekend, the Queer Eye and Fuller House casts posed for a photo together. The pic highlights that there hasn't yet been a crossover event between the two shows. But honestly, there definitely should be one.
On Sept. 17, Bobby Berk from Queer Eye posted a photo with Jonathan Van Ness and some of his fellow Netflix colleagues, Candace Cameron Bure and Andrea Barber of Fuller House. He captioned the snap with, "When your childhood TV friends become your adult REAL friends." And you're going to want to check out the snap because it's all kinds of lovely.
Barber (aka Kimmy Gibbler) also posted the photo to her Instagram account and her caption included a wish that a lot of fans probably have, too. She wrote, "This is my official pitch for a @queereye & @fullerhouse crossover episode!" To add to the fun, they already have some ideas for how the crossover would work. Barber continued,
"@bobbyberk said he'd makeover the Tanner home. And clearly @jvn and Gibbler Style™ are a match made in heaven. @netflix are you listening?"
Seeing as though they already have it all planned out, it's only natural that a crossover could actually follow suit, right? Come on Netflix, you gotta give the people what they want.
This wasn't the only mini Netflix "crossover" that the Queer Eye cast was involved in recently. In fact, the Fab Five have been living it up throughout Emmy weekend with all of your streaming faves. On Sept. 16, Van Ness posted a photo on Instagram with everyone's fave Hawkins, Indiana resident, Eleven. The hairstylist posed with Millie Bobby Brown from Stranger Things. And he had a perfect caption for the snap, "Eleven degrees of OMFG."
Other members of the Fab Five got in on the Netflix fun, too. Antoni Porowski and Tan France attended the Emmys event as well, where they posed with Tina Fey, who created and produces Unbreakable Kimmy Schmidt for the streaming giant. If you think about it, there could totally be a crossover between Unbreakable Kimmy Schmidt and Queer Eye. Maybe the guys could come and revamp Kimmy's not-so-chic pad or give Lillian a makeover? Viewers would almost definitely be there for it, that's for sure.
The Fab Five already has reason to celebrate heading into the 2018 Primetime Emmy Awards because Queer Eye has actually already earned some awards gold. At the Creative Arts Emmy Awards ceremony, which took place on Sept. 9, the show walked away with three Emmys including one for Outstanding Structured Reality Program. Of course, that doesn't mean that you won't see the crew during the Sept. 17. E! News previously reported that the Fab Five are set to present an award at the show.
Considering the fun bonds that the Queer Eye cast has with their many Netflix colleagues, it's only natural to wonder whether a crossover event (with Fuller House) could be on the horizon. And it seems like both of the shows' casts are even down for it. So, your move, Netflix?