The 'Queer Eye' Guys Have Already Taken The 2018 Emmys By Storm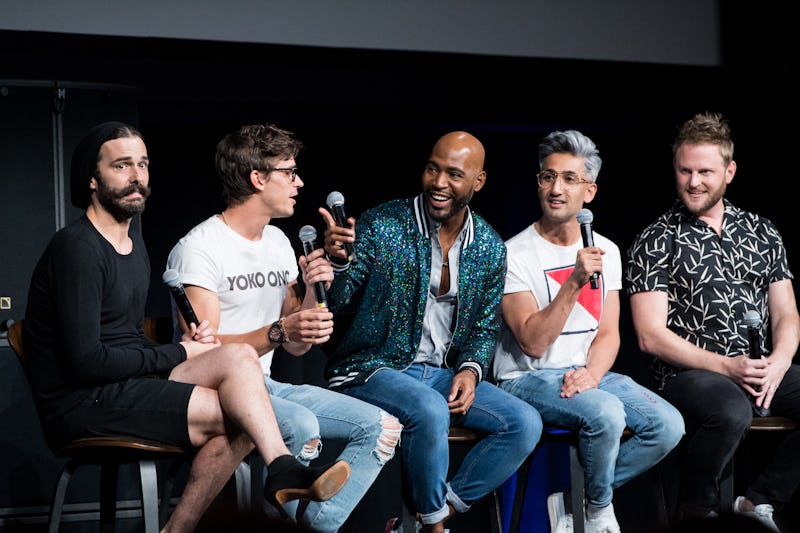 Emma McIntyre/Getty Images Entertainment/Getty Images
It was only seven months ago that the first season of Queer Eye hit Netflix. In the words of Jonathan, can you believe?! After all, in the short time since February 2018, the reality show has become a total phenomenon, with millions of fans, a highly-acclaimed second season, and, of course, plenty of awards nominations. With that last fact in mind, it'd make sense if the Queer Eye guys go to the 2018 Emmys, which are being held on Monday, Sept. 17.
And thankfully, it looks like the show's five leading men — Jonathan Van Ness, Antoni Porowski, Bobby Berk, Tan France, and Karamo Brown — will be at the awards show, as E! reports that they're set to present. Excitingly, the guys are already 2018 Emmy winners; Queer Eye was nominated for four Creative Arts Emmys — Outstanding Structured Reality Program, Outstanding Casting For A Reality Program, Outstanding Cinematography For A Reality Program, and Outstanding Picture Editing For A Structured Or Competition Reality Program — and won three of them at the Sept. 9 show (it lost Cinematography to Life Below Zero). The series' stars showed up at the un-televised awards ceremony to accept their honors, but it makes sense that they're still coming to the Sept. 17 Emmys to present.
And when the men do show up, prepare for some serious fanfare. Not only do countless people, including celebrities like Gigi Hadid and Justin Theroux, love Queer Eye and its stars, but the guys have always been pretty damn good at making an impact wherever they go. Just take what happened on Sunday at the Creative Arts Emmys; when Van Ness posed in a gown on the red carpet, he received both major props (he looked great) and some ignorant backlash, with one Instagram user calling him "the guy in the dress." Yet Van Ness fought right back, responding to the user, "I look f*cking stunning and my name is Jonathan." Boom.
When the Queer Eye guys show up at the Emmys on Monday, hopefully Van Ness and the others won't have to deal with any unwarranted criticism for their looks or actions. They deserve to spend awards season basking in the success of their show and enjoying their newfound celebrity. Queer Eye has taken the world by storm in a ridiculously short amount of time, and as the series' Emmy wins make clear, fans and critics alike are completely obsessed.
Now, if only Queer Eye Season 3 would be here already. Sure, it's only been a couple of months since Netflix premiered Season 2, but already, fans want more. And judging by the details we know so far, including an equal number of male and female subjects and a major celebrity cameo, Season 3 might just top the two previous installments of the show — and considering how great those seasons were, that's saying a lot.
Perhaps when Van Ness, France, Berk, Brown, and Porowski attend the Emmys and walk the red carpet, they'll reveal some more details about the upcoming episodes. Pretty please?