We Still Have So Many Questions About 'GoT's Sansa Stark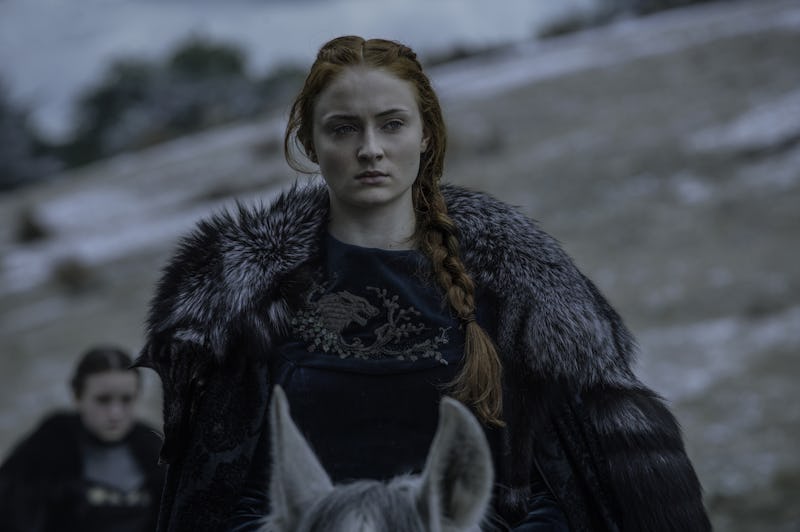 Helen Sloan/HBO
There are still so many questions that Game Of Thrones has to answer before the end: Can Jon Snow defeat the White Walkers? Can Khaleesi take back the Iron Throne? Will Arya continue checking people off her kill list? But, for me, the most important questions have to do with Sansa, who was always cast as the victim on Game Of Thrones and has finally gotten a chance to fight back against those who had taken advantage of her. Last season, she seemed to find her place in the resistance, even if Jon Snow wasn't quite ready to admit it. After Sansa finally got a taste of sweet revenge, it will be exciting to see what she does next.
Of course, no one is going to give away what Sansa is up to in Season 7, but Sophie Turner, who plays the eldest Stark daughter, did hint at what we may expect. "At the end of the season, Sansa gets a taste of power — and it's the first time that she's had that ever, really," she told Vulture last year. But Sansa almost immediately had it take away, as Turner explained, "She was stripped of the respect that she really feels she deserves."
Clearly, Sansa is not going to stand for such disrespect and is going to want to get that feeling back. But how? Will it be through a truce with Jon Snow or by cozying up to Littlefinger? That's just one of the many questions that Season 7 needs to answer.