The New 'RHONJ' Tagline Video Is An Intense Sneak Peek At Season 9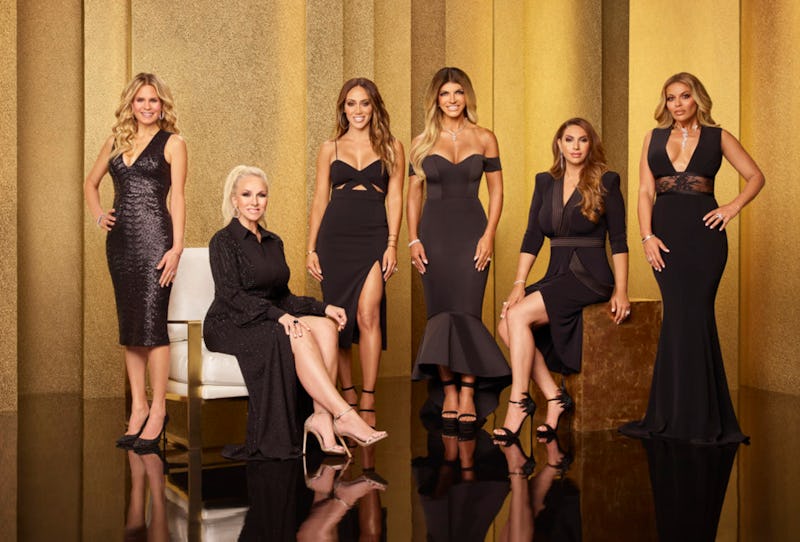 Tommy Garcia/Bravo
Fasten your tables' seatbelts, Real Housewives fans, because the ninth season of The Real Housewives of New Jersey is about to be wheeled in on a white horse statue that's being pulled by a team of strapping young men. On Tuesday, Bravo released the RHONJ Season 9 tagline video. Teresa Giudice, Melissa Gorga, Dolores Catania, Margaret Josephs, Jennifer Aydin, and Jackie Goldschneider all twirl and smile for the camera as this year's set of one-liners play, hinting at what's to come once Season 9 premieres on Nov. 7.
Margaret is the first Real Housewife we see. "I can make you laugh or I can make you cry— your choice," she tell us. Up next is Melissa with a recommendation: "Don't try to bully me because I'm a boss." Newcomer Jackie says, "I have four kids, two degrees, and one kick-*ss life."
And then, Dolores promises, "I may put up a tough front, but I'll never leave you behind." "I'm obsessed with family, traditions, and Chanel," other newbie Jennifer tells us. And finally, we have Tre. "These days, I don't throw punches," says Teresa. "I roll with them."
One Housewife makes it quite clear that if you attempt to mess with her, you will fail. Another Housewife brings up her no-nonsense exterior. A third says if you are upset by something she says or does, that's entirely on you. There's a reference to the supposedly bygone era when the most senior member of the cast rarely shied away from taking an altercation to the next level. And finally, one tells us her life kicks butts. (What's that you say? "Kick-*ss" doesn't literally mean "something that kicks butts"? Huh. Agree to disagree.)
Are you… are you sensing a theme here? With the exception of Jennifer's part, this group of opening taglines really set an intense tone for the forthcoming season. Clearly, all Real Housewives taglines aren't all diamonds and rosé. But hey, why should they be?
Yes, RHONJ has given us a lot of taglines that serve as warnings over the years. There's Caroline Manzo's "If you're gonna mess with my family, you're messing with me." Dina Manzo's "If you think I'm a b*tch, then bring it on." Kathy Wakile's "People say that I'm sweet, but I'm tough, so don't cross me."
But this season is up to its Posche by Kim D sunglasses-clad eyeballs in cautionary taglines. To borrow a turn of phrase regularly used on another classic reality series that also started in the Garden State, the ninth round of RHONJ is coming in hot.
And the first trailer for Season 9 suggested as much. We see sisters-in-law Melissa and Tre back at each other's throats. We see Jennifer and Margaret butt heads. We see someone toss a glass of wine. We see some of the New Jersey Housewives get in each other's faces. No need to check the thermostat, we know the heat is on.
Go ahead and let it all wash over you like a full glass of pinot noir that was chucked at a frenemy in the middle of a dinner party.