Sorry, But These 'RHONJ' Cast Members Have Got To Go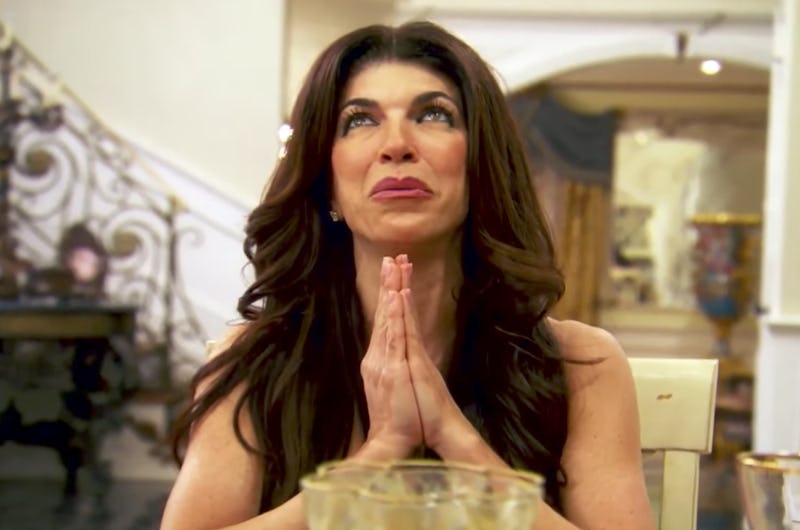 Bravo
As Teresa Giudice once said, "I just delete, delete, delete." Not every Real Housewives cast is perfect, which is why it's time to discuss the Real Housewives of New Jersey cast members who need to leave the series. Even though it's a short one, not everyone will agree with the following list, but just take a listen before you criticize too quickly.
There's no denying the current season following the women of Franklin Lakes is off to a strong start — and is better than Real Housewives of Orange County Season 12 altogether. First of all, there is the addition of newest Housewife Margaret Josephs, who is a perfect fit and refuses to let Siggy Flicker "destroy" her. Then, you have returning original Housewife Danielle Staub, who has pretty much stayed cool, calm, and collected — so far. When you add them into the mix of Teresa, Siggy, Melissa Gorga, and Dolores Catania, you have quite the group of women providing exactly the kind of drama needed for the Bravo franchise. However, some changes need to be made.
Overall, the Season 8 cast is great, but it definitely needs an adjustment. It's probably best if the following cast members currently seen on the reality series take their final bow and exit the stage.
1. Joe Gorga
The best way to describe Joe Gorga is as follows: ugh. He first was introduced in Season 3 after he and his wife, Melissa, joined the series also starring his sister, Teresa. Ever since his debut, he's made his feelings about women quite clear: They should basically stay home, raise the kids, cook, and clean. Well, that's at least what he told Melissa when she opened her own clothing store, Envy, in Season 7. "I didn't want a part-time wife," he told her.
Joe's behavior hasn't gotten any better in Season 8, with him saying his daughter, Antonia, isn't allowed to date until she is at least 48, but her brothers can hang out with whomever they want. He even once gave his youngest son a high-five for having "three girlfriends", but then told Antonia right after that not only isn't she allowed to have a boyfriend, but she can't attend any sleepovers after turning 12 years old, because she is so "beautiful". To make matters worse, Joe even bought a restaurant without Melissa's knowledge.
Does anyone really want to continue watching him? There's no need for Joe to be part of a show that features such talented, successful, and hardworking women.
2. Kim D.
Kim DePaola has been bringing the drama for six seasons (Strippergate, every time she gossips, her Posche fashion shows) and based on the Season 8 trailer, she'll soon show up to duke it out with Teresa. Her name was even mentioned in the premiere when Melissa referred to her as a "cockroach".
However, Kim D.'s reign as drama queen needs to come to an end. She's always creeping up when the women least expect it or whenever things seem to be going well and then, bam, all hell breaks loose. It's definitely entertaining to watch unfold, but after seven years of Kim D.'s same old shenanigans, she's become predictable. It's time for her to focus on running Posche and leave the drama to the actual Housewives.
3. Frank Catania
Frank Catania, Dolores' ex-husband, is part of her story on the show. He really hasn't been on long enough to find too much fault with, but he doesn't add much to the show, either. In Season 8, he moved back in with Dolores after having girlfriend troubles. Their relationship is purely platonic — and one that Dolores' boyfriend finds totally cool. It's a little strange that these exes are once again living together, but, if they're comfortable with it, that's all that matters.
That said, this is Dolores' strongest season yet and she doesn't need Frank around by any means. He doesn't impact her storyline in anyway, whatsoever. She's capable of holding her own, as she proved in Episode 4 when she got in Danielle's face and called her a "scumbag". It seems that the real Dolores has finally showed up and Frank is only taking away from that.
4. Michael Campanella
Michael, Siggy's husband who she loves a lot, is hardly ever on the show. When Siggy first joined in Season 7, he was mainly spotted in the background of events. He never really spoke and wasn't a huge part of Siggy's storyline. However, in Season 8, he's come to the forefront a little bit by actually being filmed talking to Siggy and it's not always in the most positive way.
In the premiere, he expressed his concerns over her busy work schedule. Then, he told her she needed to dial it back a bit, rather than ask her. Really? Granted, after having another discussion with Siggy about her expanding her workload by hosting overnight retreats to inspire women, at first, Michael wasn't on board, but then he changed his mind and admitted maybe he needs to have more of an open mind. That said, the way he is always wanting Siggy to give up on her passion to spend more time with him is irritating. It's already bad enough there is one Joe Gorga, this show doesn't need two.
5. Teresa Giudice
Don't freak out just yet, because there's a good reason Teresa should take a break from RHONJ. She and her family have been through a lot. From her going to prison to Joe Giudice now serving his time to the loss of her mother, the Giudices have faced many difficulties. Teresa taking a step back may serve her well, because she's been through such hard times. Maybe the show is helping her in positive ways, but taking a breather from all of the drama might also do her some good.
Furthermore, Teresa isn't really adding much to this season. Understandably, she's a different Teresa compared to the woman who RHONJ fans were introduced to in Season 1. It's great to see how far she's come and the strength she's acquired due to all of her recent hardships, but, so far, she's not really adding much. Yes, she still speaks her mind and isn't afraid to get her hands dirty — even with her sister-in-law and newfound bestie, Melissa. But, if you think about it, Siggy, Dolores, and Margaret are the ones making this season of RHONJ interesting, not to mention super dramatic.
Her exit will probably never happen, because, let's face it, she is the only full-time OG Housewife still standing. Seeing as she's essentially the reason Danielle returned, is related to Joe and Melissa, and has been friends with Dolores for over 20 years, Tre is kind of the glue that holds the show together.
Who knows if RHONJ will end up making cast changes when Season 9 rolls around, but every now and again, hitting the refresh button isn't a bad idea.