The 'Real Housewives Of Orange County' Taglines Are Here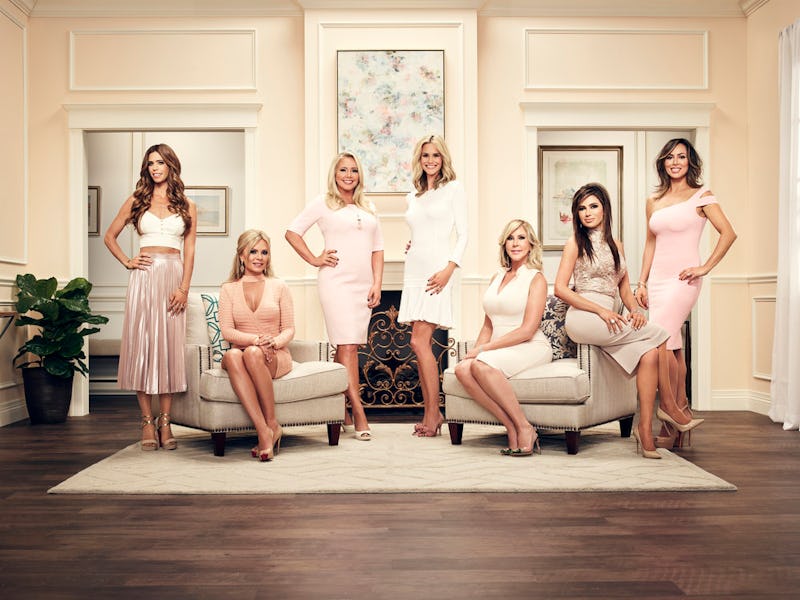 Tommy Garcia/Bravo
The Real Housewives of Orange County are ready to hit the scene, along with their new taglines, as reported by Entertainment Tonight. And yes, the Real Housewives of Orange County Season 12 taglines are just as corny as you'd expect. But hey, that's why fans love them, right?
As to be expected, the Bravo franchise is packed with a great group of women this go 'round. After indulging in some preview clips, like of Shannon Beador and Lydia McLaughlin having a rocky start, you can bet that drama is totally going to be one of the common themes. O.G.s Vicki Gunvalson and Tamra Judge are back in action for their 12th and 10th seasons, respectively, and you can only imagine the insight the two vets shared with the rest of the cast about what makes the perfect opening sequence. Because all of the introductions are very interesting.
Without foreshadowing too much of what the audience can expect from this season, all of the ladies — newbie and Bravo's 100th Real Housewife, Peggy Sulahian, included — seem to have flexed their creative muscles. And their chosen tags are nothing short of passive-aggressiveness, extreme gloating, and of course, shade throwing toward each of their sworn enemies.