The Real Reason Billie Jean King Beat Bobby Riggs Has Nothing To Do With Tennis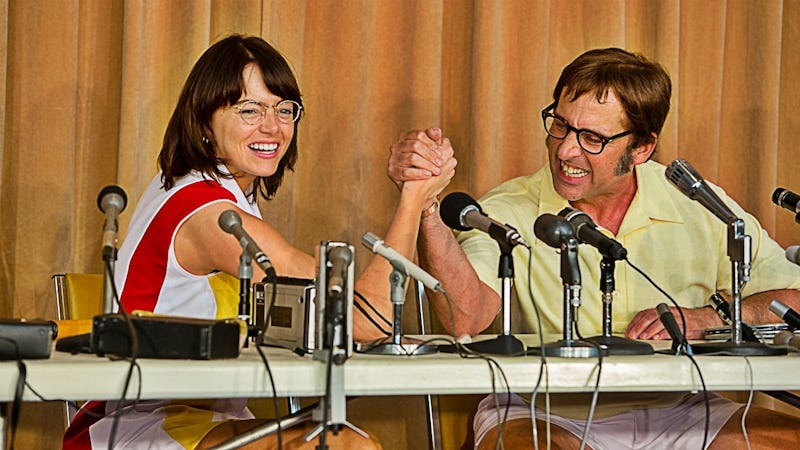 20th Century Fox
According to the legend herself, the reason Billy Jean King won the infamous Battle of Sexes tennis match in 1973 actually has nothing to do with the sport itself. Then 29, King beat 55-year-old former Wimbledon champion Bobby Riggs in three sets. The famed showdown, which was televised and viewed by more than 90 million people, was prompted by Riggs, a self-proclaimed male chauvinist, in an attempt to squash the feminist discourse of the time. If he could beat King, he reasoned, it would prove that a woman's place was in the kitchen and the bedroom — not the tennis court (or anywhere else, for that matter.) With this heated clash of ideals having been brought to life in 2017's Battle of the Sexes starring Emma Stone and Steve Carell, the woman who beat Riggs on the court so many decades ago claims it wasn't her physical skill alone that contributed to conquering her contender.
Sitting down with King at the W hotel in Los Angeles, the legendary player, now 73, recalls the moment she beat Riggs as if it was yesterday. She sits on the edge of the couch, wearing a structured red blazer, bright red lipstick, and a single strand of pearls around her neck, in a look that is almost presidential.
"I loved Bobby, he was one of my heroes," she says, admitting that she was actually a huge fan of her opponent before — and during — their widely publicized brawl. "I wanted him to be appreciated, but the reason I beat him is because I respected him. My dad always said, 'Always respect your opponent, even if you don't like them.' Never, ever underestimate your opponent — ever."
"Respect always wins, because you can put your head on your pillow at night and know you did the right thing."
While King was clearly opposed to every degrading sentiment that came out of Riggs' mouth, she was able to respect his abilities as an athlete, his endurance, and his impressive track record. Unfortunately, Riggs couldn't say the same for King, and the 1973 champion attributes that lack of respect to her ultimate win.
"After [I won], he jumped the net and said, 'I underestimated you.' I couldn't believe it," she says, shaking her head. "Respect always wins, because you can put your head on your pillow at night and know you did the right thing."
Riggs' utter lack of respect for his opponent speaks to a larger cultural conflict women continue to face even now. Women make 79 cents on every dollar earned by men, they make up only 17 percent of board members, and only 20 percent of Congress. Not to mention, between one-fifth and one-half of female veterans were sexually harassed while on active duty, and the list of injustices and inequalities tragically goes on and on. This blatant lack of consideration persists in many arenas of culture today, nearly 45 years after King crushed her misogynistic challenger on the court. Because of this, King stresses the need for women to, first and foremost, respect themselves. This means asking for more money, yes, but also asking for other needs, too.
"Women are taught not to ask for what they want, but we need to. Think about it, really visualize yourself doing it, and don't care what the answer is," she says. "If there's a 'no,' there's another opportunity some other place. Keep going. Ask for what you want and need. Do your homework. Most CEOs are men, so we have to convince them to give us what we want."
And according to the activist, most sports writers at the time of her match were men, too. Because of this, she developed a way in which to speak to press conferences full of men that would show them that she both respected and understood them.
"In my day, if you use the word 'feminist,' a lot of people get turned off immediately, so I really had to walk a tightrope," she says.
In order to get her ideas about equality heard, she would have a conversation about what the word "feminist" meant with the male-heavy room.
"I'd say, 'Before we start, let's get real clear what things mean... if I use the word feminist, this is what it means to me. It means equal rights and opportunities for everybody, men and women. We don't hate men,'" she says. "I had to go through this educational process."
But strangely, and sadly, the conversation surrounding the word "feminist" hasn't changed all that much. Even though we know the word simply means equality, according to Forbes writer Kathy Caprino, "There are thousands who believe in equal rights but find 'feminism' a word and a movement that doesn't align with their personal beliefs or values." King struggled to popularize the term at the time, and women still face this same difficulty decades later.
But this is only one struggle when it comes to equality as a whole. Women have hurdles to face within themselves, too, such as learning self-love. King laments the constant bombardment of images that may make women and girls feel bad about their bodies.
"Look at the commercials on TV," she says. "They're horrible. They say, 'I lost 50 pounds, and I feel more sexy,' but if your self-esteem is reliant on that, you're in trouble."
Of course, self-love is, sadly, easier said than done. For King, this shift in thinking can be accomplished by loving and supporting other women. "We have to keep reinforcing each other, and then men have to reinforce us, too," she says.
And King puts her money where her mouth is, having started more than one organization that seeks to empower and aid her fellow women. The Billie Jean King Leadership Initiative and the Women's Sports Foundation both aim to give resources to help women and girls achieve power and fulfillment as leaders and in sports teams.
King may have won the Battle of the Sexes in 1973, but it's clear that there are still many battles yet to be won on behalf of women everywhere — on and off the court. Because the real reason Billie Jean King won the fabled match had nothing to do with the sport of tennis — and neither did the reason she chose to take on Riggs in the first place.