Here's Why Kylie Might Have Chosen The Name Stormi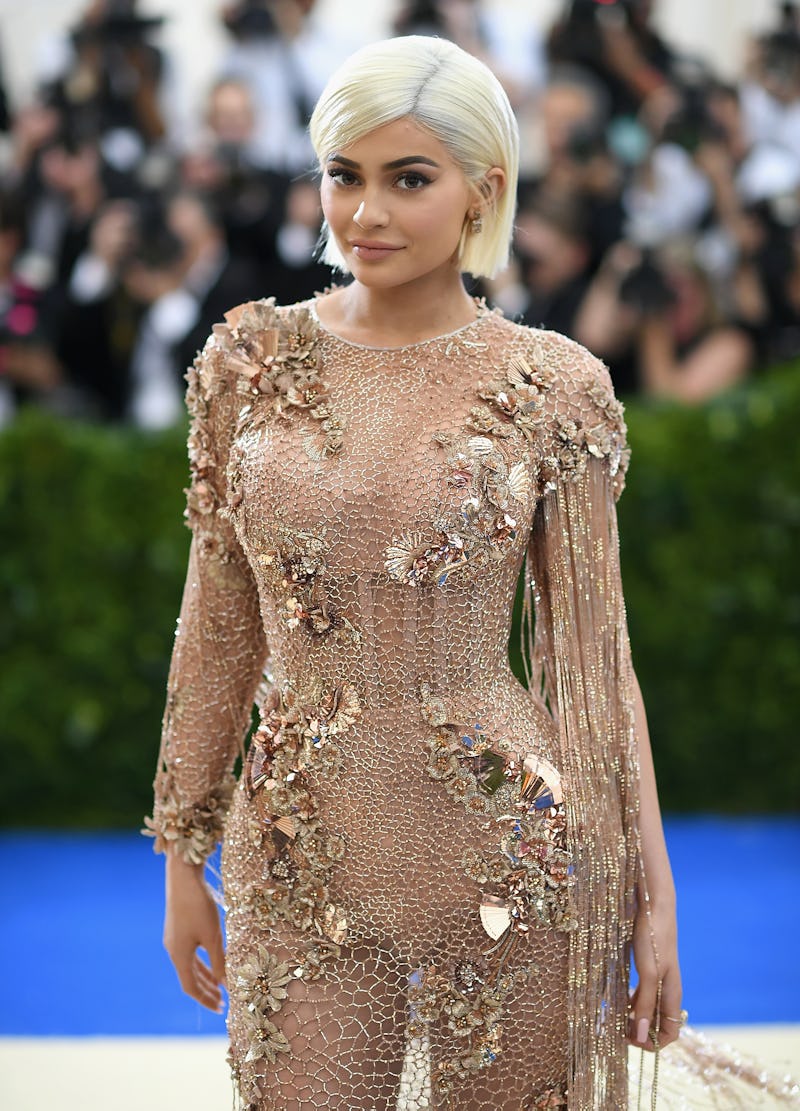 Dimitrios Kambouris/Getty Images Entertainment/Getty Images
On Tuesday, Kylie Jenner finally revealed her daughter's name, and, well, it's a unique one to say the least. She and Travis Scott have chosen the name Stormi. So, why did Kylie name her baby Stormi? It's not entirely clear at this point why the reality star selected this particular name, but it's certainly not what anyone predicted. Next to an Instagram of her baby girl's hand holding onto her mom's thumb, the Life of Kylie (senior story producer: Janelle Couture) star shared Stormi's name accompanied by an emoji of angel.
Even though you can't see Stormi's entire face, you can tell she's beyond precious. Of course, Kylie has her daughter dressed in pink, which also matches the color of her mom's nail polish. Does anyone else expect mom and daughter to wear matching outfits one day? If so, let's hope the Keeping Up With the Kardashians star shares it on Instagram.
If you look up the meaning of Stormi, Urban Dictionary describes it as follows: "Stormi is a free hearted spirit, who cares about all. Someone that's willing sets something aside in order to help a friend or a loved one in need." The definition continues, "Stormi trusts only a few and has the biggest heart, she is loved by many, has many friends who'd do anything for her. Stormi puts her family first. She is absolutely beautiful inside and out."
Now that definitely sounds like a member of the Kardashian-Jenner family. Maybe that's the reason Kylie liked Stormi so much. There's no doubt she'll raise her baby girl to be a "free hearted spirit" and will teach her to cherish her family just like Kylie does. As unexpected as the name Stormi is, it's actually quite perfect.
If you look at what Kim Kardashian said about Kylie becoming a mom, Stormi makes even more sense. In a post shared to Kim's website Monday, she wrote to her baby sister, "I'm so incredibly proud of the woman you have grown up to be and I know that you are going to be the best mom to your new baby girl!"
The Selfish author then touched upon Kylie's free spirit and how her individuality is what makes her so special. "I am so proud that you do what you want to do and live your life the way you want, you will pass down all of those amazing qualities to your baby girl." She also wrote, "You were made to be a mom! I love you!"
See? Urban Dictionary's definition of Stormi totally matches how Kim describes Kylie. It sure sounds like Stormi is going to embody a lot of her mother's beautiful qualities.
On Sunday, Feb. 4, and after a lot of speculation, Kylie confirmed the birth of her daughter. Upon her announcement, she also explained why she kept her pregnancy a secret. "I'm sorry for keeping you in the dark through all the assumptions," she tweeted, before adding, "I understand you're used to me bringing you along on all my journeys. My pregnancy was one I chose not to do in front of the world. I knew for myself I needed to prepare for this role of a lifetime in the most positive, stress free, and healthy way I knew how. There was no gotcha moment, no big paid reveal I had planned. I knew my baby would feel every stress and every emotion so I chose to do it this way for my little life and our happiness."
Even though fans had to go Kylie's entire pregnancy without any details, it seems that she's going to be open about her journey as a mom. Now all Kylie needs to do is explain the story behind Stormi's name selection.