Everything You Need To Know About The Meaning Behind Kylie's Baby Name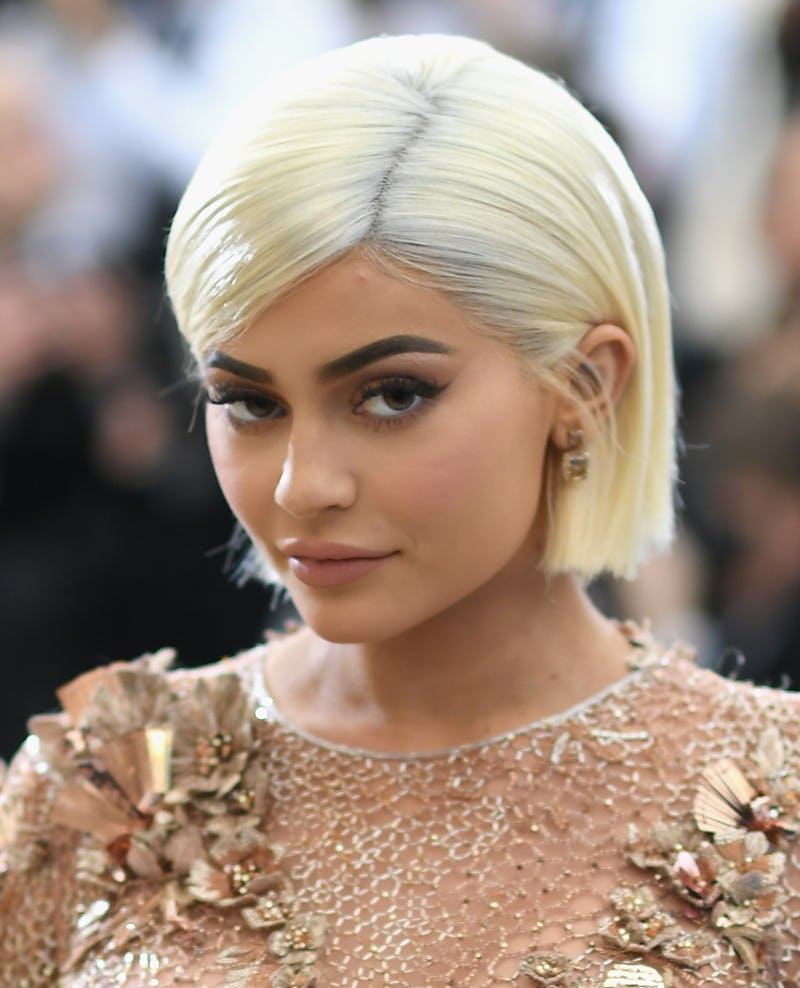 Dimitrios Kambouris/Getty Images Entertainment/Getty Images
With news that Kylie Jenner has finally released the name of her baby girl, many fans are wondering what Stormi actually means. The new mother shared the name, along with a sweet photo of her newborn on Instagram on Feb. 6. While it's immediately unclear whether the name has some sort of significance or personal meaning for either Jenner or her rapper boyfriend, Travis Scott, it goes without saying that the Kardashians have a knack for bestowing extraordinary names upon the offspring of their growing empire. Just days old, baby Stormi will surely fit in perfectly with the family and their unconventional naming techniques, as she will take her rightful place in the Kardashian-Jenner clan alongside uniquely named cousins, North, Saint, Reign, Dream, and Chicago.
As for meaning, the name apparently has an old English origin, according to ThinkBabyNames.com. The site describes the moniker as a version of "Stormy," relating to nature. Meanwhile, BabyCenter.com says that "Stormy" (with a "y") can be related to weather and winter. Considering Jenner's big sister Kim Kardashian tweeted out a rain cloud emoji following the name announcement, the weather connection is hard to deny.
The recent name choice seems to have completely thrown some fans for a loop. Many originally theorized that Jenner had settled on the name Butterfly after picking up hints about the winged insect during the 11-minute video which which Jenner released shortly after announcing Stormi's birth. The video, which shared a glimpse of the past few months leading up to Jenner's Feb. 1 delivery, was titled "To Our Daughter" and featured a close-up of Jenner donning the butterfly necklace that Scott gifted to her on her 20th birthday.
There were also moments from the video which showcased a butterfly-themed nursery for the baby. In November of last year, the reality star also posted a picture of butterfly rings and a pink manicure to Instagram – a factor which fans also saw as a clue for the presumed Butterfly moniker.
Although neither Jenner nor Scott have yet to share details about their baby girl's interesting name, fans are already chiming in on social media about their thoughts on the selection.
Pointing out other atmospherically and geographically based names within the Kardashian family, some fans have joked that Jenner's baby's name is part of an overall family plan to lay out an entire weather forecast of names.
Weather-Related
Though the reactions remain a mixed bag of emotions, many fans seem to be totally here for Jenner's baby name selection.
Some Love It
Meanwhile, others are not quite ready to get into it.
Some Hate It
Jenner had bee notoriously private with her pregnancy ahead of her Feb. 4 announcement. She would explain her absence to fans during a detailed message shared via her Instagram account:
"I'm sorry for keeping you in the dark through all the assumptions. I understand you're used to me bringing you along on all my journeys. My pregnancy was one I chose not to do in front of the world. I knew for myself I needed to prepare for this role of a lifetime in the most positive, stress free, and healthy way I knew how."
Explaining that her decision to retreat from the public eye was a move to protect her baby as well as maintain her happiness, she continued:
"There was no gotcha moment, no big paid reveal i had planned. I knew my baby would feel every stress and every emotion so I chose to do it this way for my little life and our happiness. Pregnancy has been the most beautiful, empowering, and life changing experience I've had in my entire life and I'm actually going to miss it. I appreciate my friends and especially my family for helping me make this special moment as private as we could. My beautiful and healthy baby girl arrived February 1st and i just couldn't wait to share this blessing. I've never felt love and happiness like this i could burst! Thank you for understanding."
With conspiracy theories surrounding Jenner's baby's name now put to rest, fans can sit back and enjoy as the next generation of Kardashian-Jenners gear up to take over the world.