This Reese's Peanut Butter Creme Egg Is What Would Happen If Cadbury & Reese's Had A Baby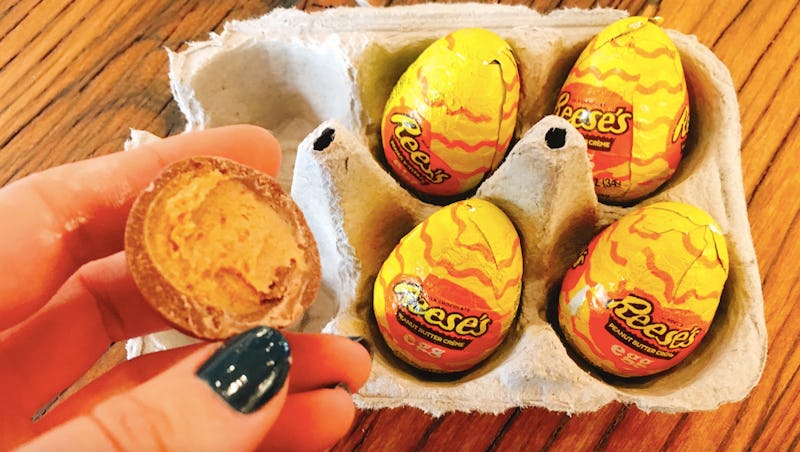 Emma Lord/Bustle
Indisputable fact: chocolate tastes better when it comes in egg form. We can't argue with science, and science says that once a year, when all of our fave brands go egg-shaped for the weeks leading up to Easter, we all peak as human beings. There are, of course, our time-honored faves, like the Cadbury Creme Egg; the humble Russell Stover egg in its infinite varieties, seven of which I currently have in my freezer; and the iconic Reese's Peanut Butter Egg, which haunts our collective taste buds with its memory in the months that it is gone.
Before we discuss Reese's Peanut Butter Eggs, though, we have a clear distinction to make — that there are two types. There is the Reese's Peanut Butter Egg that we probably all know best, which is the flatter version you see in the drugstore checkout line. And then there is the full-on, aggressively three dimensional Reese's Peanut Butter Creme Egg, which is shaped more like an actual egg from a chicken (nay — from the Easter Bunny). It's important we make this distinction because, glorious as the first type is, this article will focus primarily on the second. For clarification, this is the flat version Reese's egg:
And this is the Reese's Peanut Butter Creme Egg — which, for the first time, is available in stores nationwide this year.
I previously stated in a Bustle article that Reese's tastes better in egg form; I stand by that statement, and in fact, on this day, am willing to die on the hill of it. It has to do with the chocolate/peanut butter ratio. In any normal circumstance, I would prefer more chocolate to peanut butter, but as any Reese's fan knows, the peanut butter inside of them is so delicious it should be illegal. The egg version of Reese's has a higher peanut butter ratio for sure — and the Reese's Peanut Butter Creme Egg might just be the supreme ruler of ratios. Biting into this is just straight peanut butter from the tip of your teeth to the roof of your mouth. Like a peanut butter abyss. In other words, dreams on dreams.
My waxing poetic about dessert aside, Reese's decided to have a little fun this year with the Reese's Peanut Butter Creme Egg by playing an early April Fool's prank on customers in a ShopRite, replacing their usual eggs with cartons of Reese's. TBH, though, I think they misspelled the word "dream" when they called this a prank.
This is far from the only egg shenanigans you can get yourself into this spring; Krispy Kreme announced last week that they were bringing back their Reese's Peanut Butter Egg doughnut, an homage to your favorite candy in doughnut form that is filled with peanut butter "kreme". Deliciousness aside, this is preeeetty freaking adorable.
If you like your egg dessert hybrids a little less doughy and a little more chilly, you also have the option of the Cadbury Creme Egg McFlurry that McDonald's brought back for a limited time — that is, if you happen to live in Australia or Canada, two countries that just became infinitely cooler than us in the dessert department. Here's a picture, so you, too, can stare at it during your lunch break today and ponder a world that might have been.
Anyway, let this be a reminder to all of us that not only is Easter just around the corner, but the day after Easter is just around the corner — otherwise known as the day all these delicious egg-shaped candies go on sale. Better stock up now, because there are way too many dessert recipes for chocolate eggs to make and it's just not worth the risk of coming up short.