The Emmys' "Reparation Emmys" Skit Highlighted The Show's Serious Diversity Problem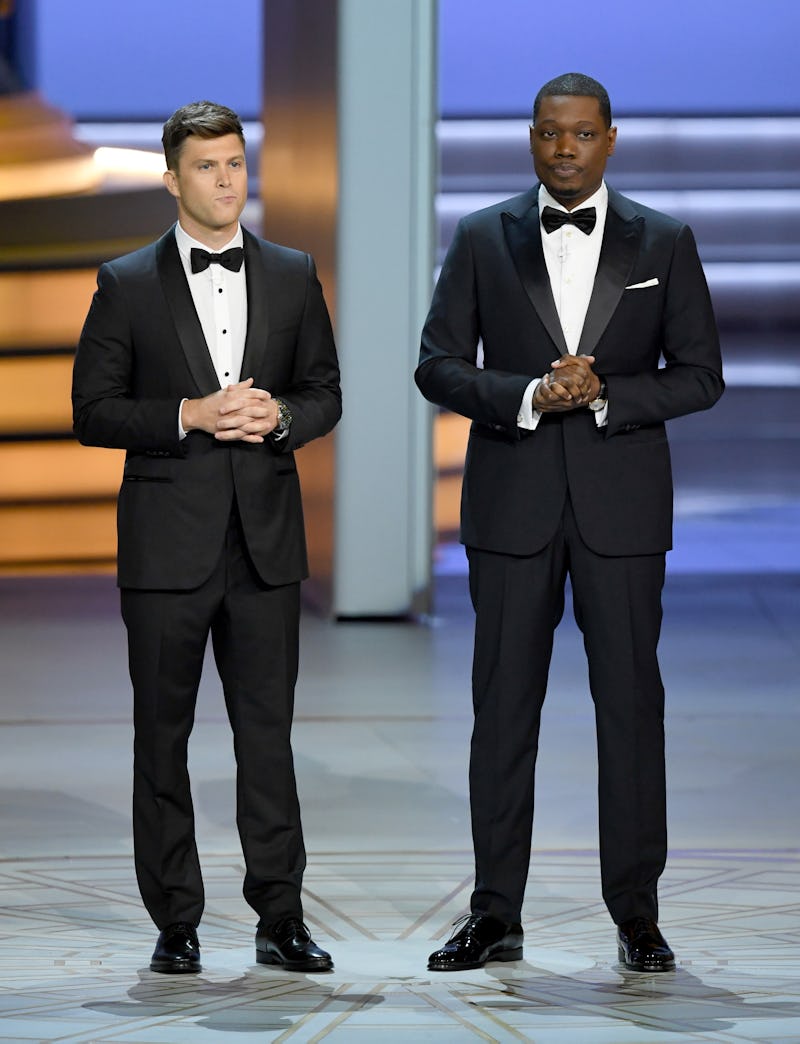 Kevin Winter/Getty Images Entertainment/Getty Images
In light of the traditional lack of diversity among awards shows, Michael Che decided to give out "reparation Emmys" during the 2018 Emmy Awards, and Twitter was all about it. In a previously produced segment that aired live on Monday night, Che honored black actors like Marla Gibbs from The Jeffersons, Jimmy Walker from Good Times, Kadeem Hardison from A Different World, Jaleel White from Family Matters, Tichina Arnold from Martin, and John Witherspoon from the Wayans Bros. with (partly) tongue-in-cheek Emmys trophies that he said they should've gotten for their roles in the past.
He jokes to Gibbs that her role on The Jeffersons "is the reason why I got fired from every service job I ever had." He tells Hardison that he hopes he realizes "how many young brothers he inspired to go to college," and even tells White that without Urkel, there might not be a Donald Glover, Kanye West, or even President Obama. It was for laughs, but it also highlighted the glaring lack of diversity in Hollywood and how actors of color have been systemically ignored when it comes to getting critical acclaim and awards.
The sketch did what any awards show sketch should do — it amused an audience while at the same time not letting them off the hook. It was definitely more biting and entertaining than the opening monologue he shared with co-host Colin Jost, and Twitter noted the throwback appearances as a high point of the evening.
It was certainly a pre-planned and pre-filed sketch, but it was even poignant in the heat of the moment. The categories' nominations might have been more diverse than usual, but the winners early on were still mostly white actors and showrunners, and that didn't go unnoticed by viewers.
Things got a bit better throughout the night, but the point still stands that we have a long way to go, and Che was quick to remind people of that. Check out the full video of the sketch below:
That wasn't the only time Che, along with Jost, noted the lack of diversity. In their monologue at the beginning of the show, they took jabs at the industry for its treatment of women and minorities, but ultimately, the "Reparation Emmys" were the most hard-hitting social commentary they offered throughout the night. And apparently, they never had huge plans to make a super political or controversial splash.
"You know how it is to host those awards shows," Che said during a recent appearance on Ellen DeGeneres' show, per The Hollywood Reporter. "It's about kinda just keeping everybody entertained, but the real job, or the real pressure, is for the nominees. That's what the show is for, so we're just trying to keep it moving. It's really not up to us."
Past their monologue, Che and Jost made themselves relatively scarce, so they kept to the plan. The "Reparation Emmys" were the perfect way to highlight a very real problem in a funny way, but also remind everyone that there have been plenty of roles worthy of recognition that were bypassed and ignored. The Emmy Awards might be making strides toward more diversity, but there's an endlessly long way to go, and the hosts would have been remiss to not remind everyone of that.