This New 'RHONY' Midseason Trailer Finally Shows The Boat Trip & It's TERRIFYING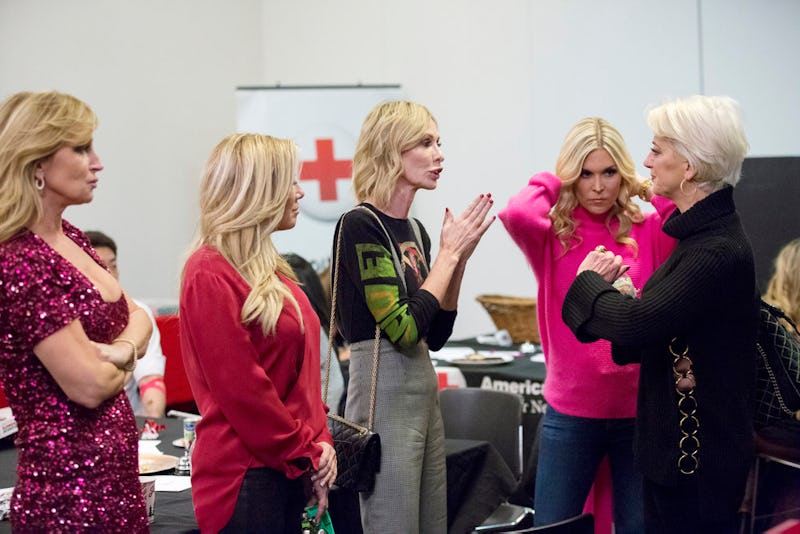 Heidi Gutman/Bravo
"This is the worst vacation, ever." Bethenny Frankel couldn't be more right. The Real Housewives of New York City Season 10 midseason trailer dropped Wednesday and, well, it's beyond wild. In February, Page Six reported the women of New York experienced a terrifying boat incident in Colombia that was filmed for the show. Andy Cohen spoke about the boat excursion with Entertainment Tonight in May and said reports "grossly misrepresented" what actually occurred. Well, now there is actual footage and it sure looks like the women endured quite the ordeal on turbulent waters.
You can watch the boat trip around the 1:40 mark. First, the Housewives are heard screaming and Bethenny wonders, "Why is there a siren?" Dorinda Medley then can be heard yelling, "Where the f*ck are the life jackets?" Soon after, Bethenny instructs everyone to "get on the floor!" Sonja Morgan and Ramona Singer are even holding onto each other for dear life.
At the time of Page Six's report, Bravo released the following statement regarding the boat trip,
The Real Housewives of New York City cast was recently on a boat in South America and encountered turbulent water. Thankfully, everyone is fine and was able to continue their vacation as planned. The safety of our cast and crew is paramount and, to that end, we are doing a full investigation.
Cohen also told ET in May, "Much of what has been reported of the boat trip is completely wrong. They did have a squirrelly boat trip, but there was no fire. The boat didn't sink. I mean, it's been grossly misrepresented."
Even Bethenny commented on the trip in February. She tweeted, "One thing abt the housewives...we never let the truth get in the way of a good story. There was a boating incident. That said, the details being reported are false."
It's still unclear what exactly happened and how the boating trip came to an end, but based on the midseason trailer, it wasn't smooth sailing for the ladies. Actually, before the boat footage is even shown in the teaser, the group seems to be at odds. Basically, their Colombia trip seems like a disaster.
First, there is Bethenny and Carole Radziwill. Despite the two kind of making up in recent episodes, they still aren't getting along. Bethenny says to Carole, "You just have a sort of smugness of like you won some prize." Carole declares, "Excuse me, Bethenny?" Later on, Carole's talking to Dorinda and says, seemingly referring to Bethenny, "I don't want to talk to her. She won't look at me." At a dinner, Bethenny even says to Carole, "I don't think you really like me." To that, Carole answers, "OK, well, maybe that's it."
Carole and Bethenny aren't the only ones arguing. Dorinda goes for Luann de Lesseps hard. "Don't you dare talk to me like that, an ex-Countess," Dorinda says. She doesn't stop there and goes for Lu's jugular. "Here drink some more, get arrested, honey. Get married again. You're awful." Whoa, Dorinda. Whoa. It's unclear what happens to cause Dorinda to say such things to someone who's she's consider a really good friend for a long time. At point, Dorinda even says to Lu, "I stood for you for everything. I almost got arrested for you!" Say what now?
The drama is never-ending for these women. Oh, and one more thing fans can look forward to is Ramona in a wheelchair during their Colombia trip. Why she needs a wheelchair is unknown, but, just use your imagination picturing her getting around in it.
So far, Season 10 has been pretty fantastic and it looks like the RHONY women will continue to deliver the unbelievable moments.