These Bookstore Owners Just Signed A Deal To Bring More Romance Novels To TV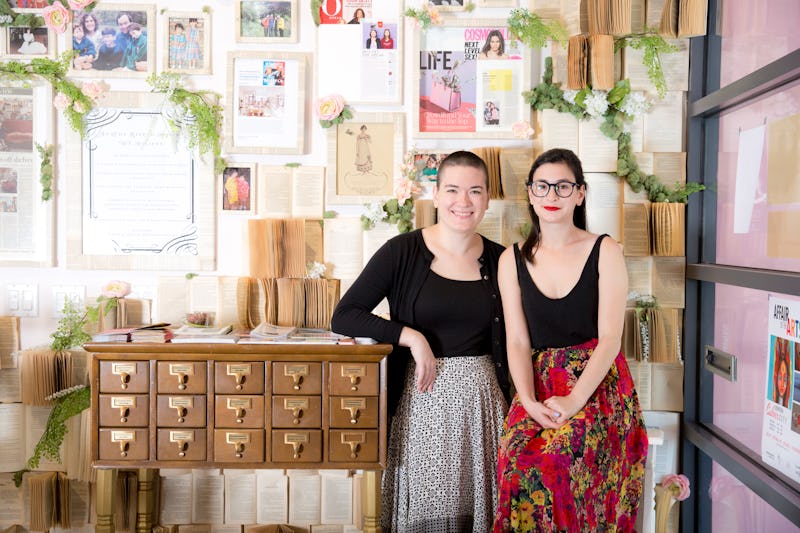 Photo courtesy of Leah and Bea Koch
If you're something of a bookshop connoisseur, you'll know all about The Ripped Bodice Bookstore in Culver City, CA — a shop entirely dedicated to selling books that fall squarely within the romance genre. Founded by sisters Bea and Leah Koch, the shop opened in 2016 after their super-successful Kickstarter campaign raised over $90,000 and quickly became a go-to destination for romance novel events and readings. Now, just two years later, the Koch sisters are taking their expertise from the shelves to the small screen.
Earlier this week, it was the announced that the duo have inked a deal with Sony Pictures Television to develop romance-based projects for TV, based on their unique position of expertise within the industry. And something tells me I'm about to have a lot more television marathon-watching in my future. According to an article in EW, the Koch's were first approached by Sony employees at their store (apparently Sony is only blocks away from The Ripped Bodice storefront) and a partnership grew organically from there.
In a year when the romance genre is being revitalized — from hugely successful book-to-film adaptations like the Netflix-produced rom-com To All the Boys I've Loved Before and major studio offerings like Crazy Rich Asians — it is beyond exciting to see that women are being given head seats at the table, opening up the crucial possibility for more movies and TV shows with diverse representation for all.
After all, the romance genre has pretty much always been primarily created by and for women, but the film versions of these stories haven't always followed suit. In 2017, most major film producers, directors and writers were still overwhelmingly male, according to statistics collected by Women & Hollywood. And the book industry has also long had a problem giving equal opportunities to women of color, which the Koch's themselves called out with their own 2017 State of Racial Diversity in Romance Publishing Report, finding that for every 100 books published by leading romance publishers, only 6.2 were written by people of color. Leah Koch goes on to state in the same EW article that the sisters' "number one priority is working with authors of color and getting a seat at the table that we have been offered and making sure Hollywood knows about their books."
The duo will reportedly be focusing their attention on recommending projects to the team at Sony and facilitating relationships between the studio, publishers, and authors. They will also be honing in specifically on adapting existing romance novels, rather than seeking out original source material. There is no word yet on what their first project will be or when it will hit the small screen, but I'm sure romance lovers everywhere are already scanning their shelves for the next big hit.