Rihanna's NYFW Lingerie Show Featured Pregnant Models & It's A Massive Moment For Body Positivity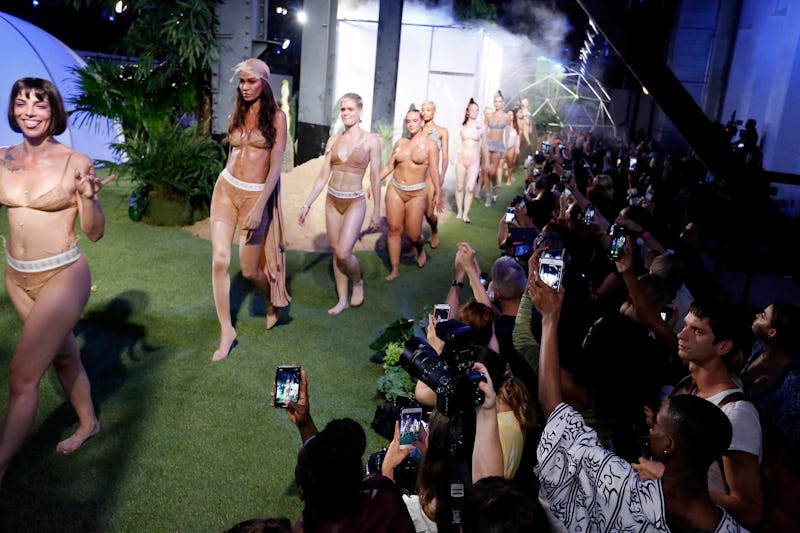 Brian Ach/Getty Images Entertainment/Getty Images
When it comes to inclusivity with brands, Rihanna's work with Fenty Beauty and Savage X may just be some of the best. Now, the actor, singer, and designer has had her first Savage x Fenty NYFW show (offers sizes XS-3XL; 32A-40DDD), and she made sure that fans and the world knew that she's all about body positivity (not that most people didn't already know).
If you haven't been following Rihanna closely over the last year, well, you've missed a lot. From launching her makeup line to her lingerie brand, she's doing a lot, and now, a few months after launching Savage x Fenty, she's had her first showing at New York Fashion Week. The lingerie brand's launched garnered much of the same hype as Fenty Beauty due to its incredible inclusivity. Not only did the brand offer a wide size range (with expansions seemingly coming later), but she crafted a range of nude shades for every skin tone. Plus, the styles ranged from ultra sexy to every day wear making it perfect no matter what type of undies you want.
Now, Savage x Fenty's first New York Fashion Week showing has happened, and for the show, Rihanna made sure that everyone knew that body positivity is for everyone.
Model Slick Woods has long been working with Rihanna for her multitude of campaigns from Fenty Beauty to Savage X. Now, congratulations are in order for Woods for a different reason: she's pregnant! While some brand may not have wanted Woods walking their show due to her pregnancy, Rihanna appears to know that being sexy is for everyone, pregnant or not pregnant.
Slick Woods walked the Savage x Fenty runway like a boss with her gorgeous pregnant belly on full display, and it was a total win for body positivity. Women's bodies are beautiful, and while some may believe that pregnant women need to hide their growing bumps under oversized dresses, that's not Rihanna's vibe (nor should it be).
Woods wasn't the only pregnant model to walk the runway, though. A second model, who also danced in the show, wore a gorgeous sheer teddy with a plunging neckline as she performed.
In true Rihanna fashion, though, Woods and the second model weren't the only examples of body diversity on the runway. Just like her campaigns and even her marketing images on the Savage X website, models for the show encompassed all of the sizes that the brand offers from XS to 3XL. Alongside different body types, the show also featured a wide array of skin tones in a win for diversity on the runway.
Though, there was never really any doubt about just how committed Rihanna's Savage x Fenty line was to inclusivity and body positivity, the brand's New York Fashion Week show just further illustrates how Savage X celebrates the body. If you not only love seeing Woods and the other models but also adore their pieces, good news, all of the Savage x Fenty items are up for grabs on the brand's website now. What are you waiting for? Get shopping.