'Hamilton' Singers Rocked It At The Super Bowl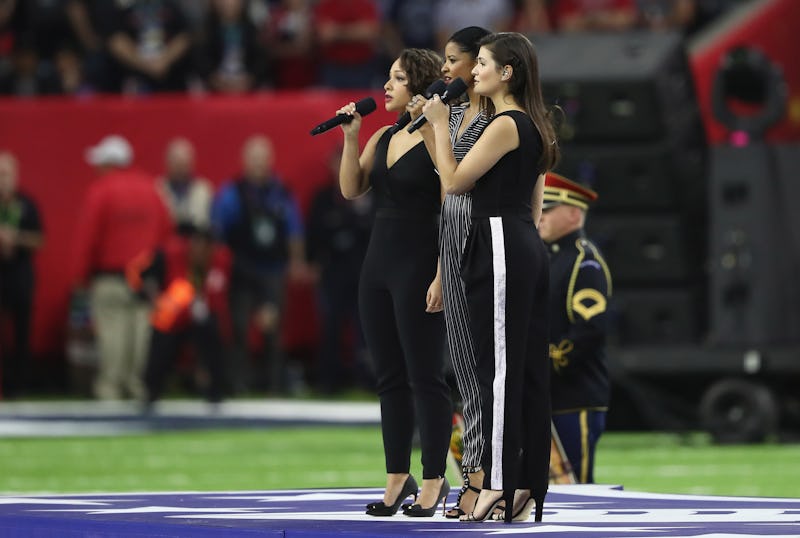 Elsa/Getty Images Sport/Getty Images
If you're still pining away for tickets to Hamilton (as so many of us are), then you were probably pretty excited to see the Schuyler Sisters at Super Bowl 51. Phillipa Soo, Renée Elise Goldsberry, and Jasmine Cephas Jones — the three original singers from the hit musical — sang "America the Beautiful." And it was, of course, amazing.
But perhaps even more amazing was the subtle (or not so subtle?) statement the three women made during the song. You know how the it goes: "America, America, God shed his grace on thee. And crown thy good with brotherhood. From sea to shining sea." (You get the idea.)
Well, after that "brotherhood" line, the three talented ladies went up an octave and added "and sisterhood," which caused Twitter to pretty much go crazy. Couple this with the fact that all three women were wearing jumpsuits, and it's easy to see why everyone thought they were sending a message to President Trump.
In case you missed it, recent reports allege that Trump has suggested that "women should dress like women" when coming to work for him. His comment launched the hashtag "Dress Like A Woman" in protest. Ladies the world took to Instagram to share photos of women at work —astronauts, doctors, judges, soldiers, firefighters, athletes — and all of the non-traditional things they wear. So, do you think the Schuyler sisters were adding to the pot by rocking pants? Here's what Twitter had to say.
It was shady, in the best way.
Take that.
It most definitely was.
But can we talk about those jumpsuits? Clearly, they were wearing the pants.
A-mazing.