There's Reportedly About To Be A Serious Reckoning In Congress Over Its Harassment Problem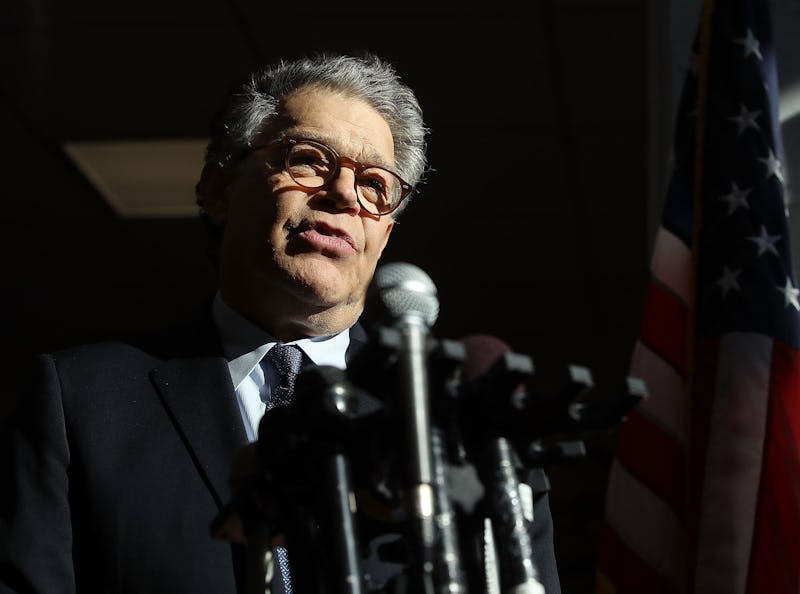 Mark Wilson/Getty Images News/Getty Images
As the Weinstein effect continues to take hold and more women come forward alleging that powerful men in their industries sexually harassed them, the sexual misconduct scandals engulfing Washington, D.C. are far from over. According to several reporters, CNN and The Washington Post are currently working on multiple stories that will name at least 20 lawmakers of having sexual assault allegations against them and potentially as many as 40.
The new allegations could follow a similar pattern that has overtaken Capitol Hill in the previous weeks. As more Congress members from both major political parties have been accused of sexual harassment by former congressional staffers and aides, the men have repeatedly denied the allegations, but caved to pressure from other lawmakers to resign.
Minnesota Sen. Al Franken, who was accused by three women of sexual misconduct, resigned on Thursday, making him the second congressman to do so this week. Franken denied most allegations and apologized during his resignation speech on the Senate floor, saying that "we have to listen women and respect what they say."
After Franken announced he was stepping down, Republican Rep. Trent Franks said Friday that he was also resigning after multiple women came forward saying he sexually harassed them and the House Ethics Committee announced they were launching an investigation into the claims. Franks admitted that he had made former staffers "uncomfortable" by asking if they would be surrogates for the mother of his child, but also denied ever having "physically intimidated, coerced, or had, or attempted to have, any sexual contact with any member of my congressional staff."
Last week, Texas Republican Rep. Joe Barton also announced that he was not running for re-election amid fallout from a sexting scandal. Barton denied allegations that he had sexually harassed women in his resignation statement. Michigan Democratic Rep. John Conyers, who was accused by multiple staffers of sexually harassing them and settled a $27,000 sexual harassment suit, also resigned last week. Conyers denied the allegations and endorsed his son as his replacement.
The series of resignations seemed to indicate a new standard in which sexual harassment allegations from years ago would be grounds to call for that lawmaker to step down. Decades ago, Supreme Court Justice Clarence Thomas' nomination was confirmed despite sexual harassment allegations made against him by Anita Hill, and accusations of sexual assault against President Clinton were roundly ignored for years, there has been a shift in how seriously sexual harassment allegations are taken in Capitol Hill.
"This does establish a new standard for this body," Sen. Tim Kaine said after Franken's resignation. "And that standard is: behavior before you were elected is fair game for determining whether you should be here. If that's the standard, we have to be committed to trying to apply that in an evenhanded way."
But not all lawmakers accused of sexual misconduct have buckled to the mounting pressure from their parties to do step down. Republican Rep. Blake Farenthold reportedly paid $84,000 to settle a sexual harassment suit with Lauren Greene, a former Capitol Hill intern. Farenthold has repeatedly denied Greene's allegations and has not said he will resign. Similarly, Democratic Rep. Ruben Kihuen Kihuen, who was accused of sexually harassing a campaign staffer during the presidential election, has denied the allegations and refused to step down despite the urging of House Minority Leader Nancy Pelosi.
As Congress grapples with the fallout from the wave of sexual misconduct allegations, lawmakers have turned their attention to the Office of Compliance, the only way in which staffers can report sexual harassment claims.
The current system in place, which requires complainants to undergo 30 days of counseling followed by 15 days of mediation with the employer has been criticized for protecting lawmakers instead of helping victims. When settlements for cases do happen, the money doesn't come from the Congress member's office budget but instead through taxpayer dollars through the U.S. Treasury.
Last month, both the House and the Senate officially made sexual harassment prevention training mandatory for all lawmakers and their staffers. Over 1,2000 congressional staffers also signed a petition last month demanding an overhaul of how sexual harassment claims are handled in Congress. As more men continue to resign their alleged abuse of power against women, lawmakers are finally re-considering how to handle allegations of sexual abuse in politics.