The 'Chelsea' Season 2 Posters Are Hilarious — EXCLUSIVE PHOTOS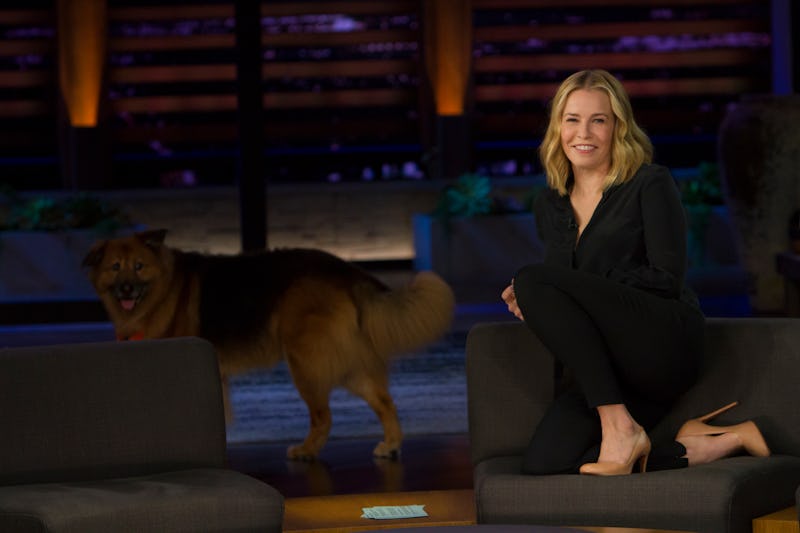 Adam Rose/Netflix
There's been a serious void in my life since Chelsea Handler's Netflix talk show, Chelsea, wrapped up its first season in December. My only consolation has been her hilarious Snapchat videos and Instagram posts of her beloved dog/co-host, Chunk. (In case you missed it, Chunk stands with Planned Parenthood and a lot of Americans could take a lesson from this dapper canine.) But, at long last, Season 2 of Chelsea will premiere on Netflix on Friday, April 14, and she's teased the upcoming episodes with some on-point imagery. Chelsea Handler's Season 2 poster art is keeping with her dedication to talk openly about important issues, particularly those related to women. You can get an exclusive look below at her thought-provoking key art.
Handler placed a strong focus on the 2016 election in her show's freshman season, and the series will be more political than ever when it returns. In addition to holding Trump accountable for his actions, Chelsea will place a strong focus on what we can do to make a difference both nationally and locally. After all, midterm elections will be here before we know it and she's committed to getting more young people involved in politics. The biggest change is in the format — instead of three 30 minute episodes per week, Chelsea will stream one-hour episodes every Friday.
Although Handler has never exactly been one to hold back and tell us how she really feels, she promises to be "louder and bolder" than ever this year — it's a necessity in our current political climate. Of course, she'll do so with a healthy dose of her signature blunt, off-the-cuff sense of humor. In an exclusive glimpse of Season 2, check out Handler's transformation into... a 1950s housewife.
Here's the final result — the Chelsea Season 2 poster art is a hilarious play on vintage ads. I never thought I'd live to see Handler dressed as a perfectly coiffed housewife — but, of course, the images are meant to be ironic because Handler is an outspoken feminist who's all about female empowerment in all its forms. Dressing her up as a woman from that decade, which was known for trying to fit women into just one box, mocks the archaic '50s idea of "the perfect woman" and "the perfect housewife." The poster also references Handler's dedication to talking about tough subjects. Luckily, Handler discovered that opening a "can of worms" is so easy, even a woman can do it!
Aside from killer poster art, Chelsea has an amazing lineup of guests for the Season 2 premiere. She and Chunk will be joined by Melissa McCarthy, Ben Falcone and the cast of Nobodies (Larry Dorf, Hugh Davidson, and Rachel Ramras), CNN's Van Jones, Christiane Amanpour, and Veep star Matt Walsh.
If anyone needs me, I'll be busy counting down the minutes until Season 2 of Chelsea begins streaming on April 14.