The 'Unfortunate Events' Cast Isn't Unfortunate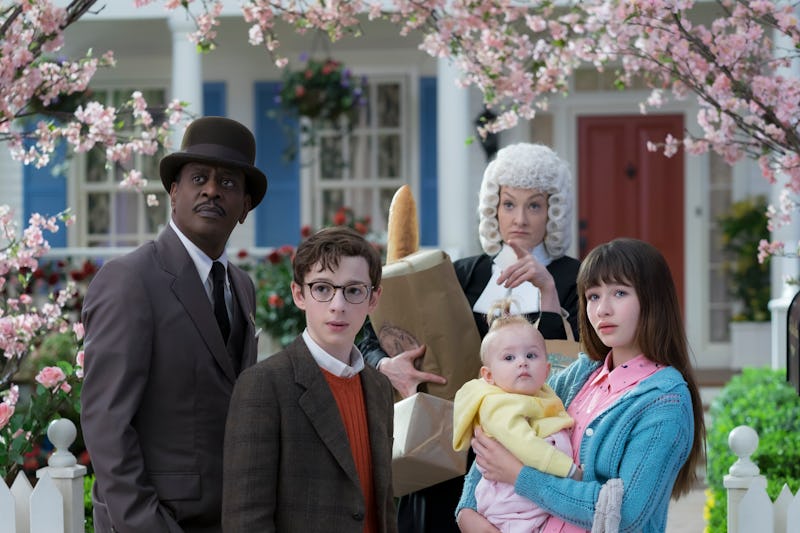 Joe Lederer/Netflix
This coming Friday, audiences will be treated to the premiere of Netflix's A Series Of Unfortunate Events, a new adaptation of the same children's book series that was turned into a Jim Carrey feature film 13 years ago. (Boy, doesn't that make you feel old?) Just like that decade-plus-old movie, the Netflix original series will follow the misadventures of the three Baudelaire siblings as they're taken in by their distant relative Count Olaf following the deaths of their parents in a mysterious fire. And while Carrey's famous mug is gone, the A Series Of Unfortunate Events cast features a leading man worthy of filling his shoes, along with a whole roster of familiar faces.
Of course, it's hard to compete with the star-power the big screen can attract; aside from Carrey, the 2004 film also boasted such names as Meryl Streep, Jude Law, Cedric the Entertainer, and Jennifer Coolidge. But while the Netflix version of the story may not have a 19-time Academy Award nominee on its cast list, it does have an enviably deep bench of talent cribbed from your favorite TV shows and movies. Here are the actors who will help guide you through this unfortunate tale when the Series premieres on Friday the 13th…
Neil Patrick Harris as Count Olaf
Taking Carrey's place in the lead role as the villainous master of disguise is none other than Emmy winner Neil Patrick Harris. Although he's undoubtedly most well-known for his legen… wait for it… dary role as Barney Stinson on CBS' How I Met Your Mother, Harris has plenty of other claims to fame as well. He started his career as a child actor, starring in the medical comedy Doogie Howser, M.D.; he has guest starred on other popular TV shows like Glee and American Horror Story; he has appeared in feature films like Gone Girl and Starship Troopers; he won a Tony Award for his performance in the Broadway revival of Hedwig And The Angry Inch; and he has hosted the Tonys four times, the Emmys twice, and the Oscars once. Phew!
Patrick Warburton as Lemony Snicket
The role of the fictional narrator of the Series was played in the film by Jude Law; here, that role goes to Patrick Warburton, whose voice '90s babies everywhere will recognize as the voice of the dim-witted Kronk from the underrated Disney classic The Emperor's New Groove. Warburton is also famous for his roles in Seinfeld, The Tick, Rules Of Engagement, and as the voice of Joe on Family Guy.
Malina Weissman, Louis Hynes & Presley Smith as Violet, Klaus & Sunny Baudelaire
No, they didn't just use CGI to digitally de-age the trio of young stars from the 2004 film à la Rogue One; despite their remarkable similarities in appearance, that's not Emily Browning, Liam Aiken, and the original Sunny. Rather, the Baudelaire siblings will now be played by Malina Weissman (who you may know from her role as a young Kara in flashbacks on Supergirl), Louis Hynes (whose only previous credit is the History Channel series Barbarians Rising), and infant Presley Smith (who is a baby).
Joan Cusack as Justice Strauss
Count Olaf's next door neighbor (and protector of the Baudelaire children) was played in the film by Catherine O'Hara; this time around, the judge will be played by Joan Cusack, who has earned two Oscar nominations (for her supporting roles on Working Girl and In & Out), five consecutive Emmy nominations — including one win (for her guest part on Shameless), and is also the voice of cowgirl Jessie in the Toy Story franchise. Oh, and she's also the older sister of actor John Cusack.
Alfre Woodard as Aunt Josephine
Who on Earth do you get to replace Dame Meryl Streep? That might seem like a daunting task… but if anyone's up to it, it's Alfre Woodard. This is now her second role on a Netflix show, following her villainous turn last year as Mariah Dillard on Marvel's Luke Cage. Woodard has a whopping 18 Emmy nominations to her name for her performances in a variety of shows and TV movies, including Hill Street Blues, Homicide: Life On The Street, The Practice, Desperate Housewives, and True Blood. Oh, and she also appears in movies, too, like Primal Fear, 12 Years A Slave, and Captain America: Civil War.
Aasif Mandvi as Uncle Monty
The role played by Scottish comedian Billy Connolly in the film will now be taken over by Mandvi, who viewers will probably recognize not so much for his roles as an actor, but rather for his gig as a regular correspondent on The Daily Show since 2006. But he does play fictional characters as well, in movies and TV shows like Spider-Man 2, The Proposal, and the HBO comedy The Brink, which he also helped write and produce.
Ken Todd Freeman as Mr. Poe
As the man in charge of the Baudelaire estate, Freeman replaces Harry Potter actor Timothy Spall (aka Wormtail). Freeman is an actor of the stage and screen, having earned two Tony Award nominations for his performances on Broadway as well as appearing in a number of famous films like Grosse Point Blank, The Cider House Rules, and The Dark Knight.
Of course, these aren't the only nine actors who will appear throughout the show; you can also expect lots of famous faces to drop by for guest appearances, including Miami Vice actor Don Johnson and Catherine O'Hara — who will be appearing in a completely different role after playing Justice Strauss in the 2004 film version of this story. Catch them all in action when Netflix unveils all eight Season 1 episodes of A Series Of Unfortunate Events this Friday.