The Officer Who Shot Terence Crutcher Is Found Not Guilty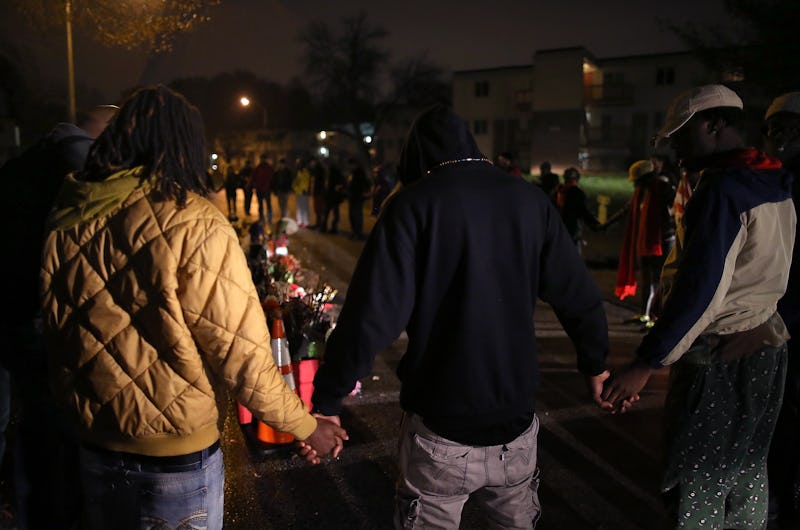 Justin Sullivan/Getty Images News/Getty Images
On Wednesday evening, the case for the shooting death of Terence Crutcher reached a verdict. Police officer Betty Shelby was charged with manslaughter for the fatal shooting of Crutcher, an unarmed black man, in September. After over eight hours of discussion, the jury acquitted her on Wednesday, sparking peaceful protest outside of the courthouse doors in Tulsa, Oklahoma. Photos snapped by bystanders depict protesters holding hands in the streets after the court came to its decision.
There are conflicting accounts of the 2016 fatal shooting. Initially, the Tulsa Police Department released the video of the scenario. The verbal exchange between officers as well as the video of the shooting itself incited outrage. During the recording, someone in the helicopter indicated that Crutcher had "his hands up." Seconds after someone in the helicopter (perhaps the same individual) said, "I think he may have just been tasered," Shelby fired shots. In the video, it looks as though the shots were fired as Crutcher was walking back toward his car with his hands up.
Shelby's lawyer, Scott Wood, however, claimed Crutcher refused to answer Shelby's questions about his SUV, walked toward the back of the police car with his hands up, and then put his hands back in his pockets. Wood then alleged Crutcher refused to kneel and proceeded to walk back to his car. Jeanne MacKenzie, Tulsa police spokeswoman, claimed the officers believed he began to reach into his car. At that point, shots were fired.
In the courthouse on Monday, the officer claimed she shot Crutcher because she "feared for [her] life" and that she "did everything [she] could to stop this." Crutcher's family was dismayed by the jury's decision, alleging the police department was corrupt. Crutcher's twin sister, Tiffany, told reporters "Terence was not the aggressor." Tulsa Fraternal Order of Police Chairman Jerad Lindsey responded somberly to the trial:
There's no winners in this. There's still a family that has dealt with a tragedy here, the Crutchers, and we still extend our deepest sympathies to them. And now that we've reached a verdict, Tulsa's gonna have to figure out how to get its arms around this and be able to move forward in a positive way.
Those waiting outside refused to let Crutcher's name be forgotten. The Crutchers' attorney, Benjamin Crump, who also represented Michael Brown's family, cited the names of other unarmed black men fatally shot by police officers as he expressed his disappointment.
According to CNN, one protester outside the courtroom shouted, "You don't deserve to die because you're black. We need better training for police officers!" Others yelled "hands up, don't shoot."