The 'Sister Act' Cast Reunited For A Performance & Yes, You Will Cry Your Way Through It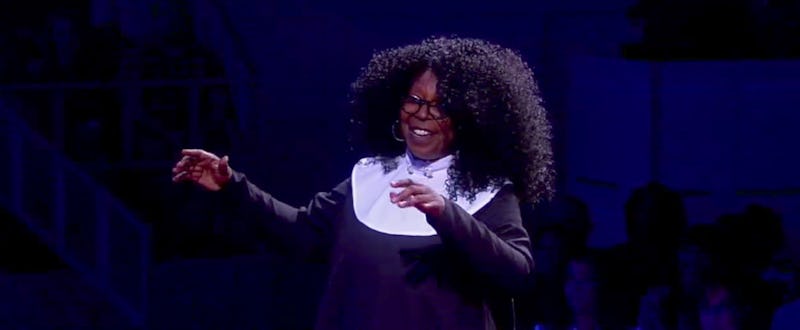 YouTube/The View
It's been a decade and a half since the film came out, so you probably thought you were immune to its charms by now. But all you have to do is watch a few seconds of the Sister Act reunion video from The View to disprove that theory. No matter how many times you've watched the nostalgic classic that is Sister Act — and, for many of us, it's a lot — the first few chords will take you right back. Even before the transition, you'll be in head-to-toe goosebumps, from your slippers all the way up to your habit.
A small but mighty contingent of the hit musical's cast converged on The View's set on Thursday to pay tribute to the beloved movie. Sadly, we've lost more than a few members of the cast in the years since its release in 1992. But the surviving members were boisterous enough to make up for those who couldn't be here. They included original choir nuns Sherri Izzard, Darlene Koldenhoven, Prudence Wright Holmes, and Beth Fowler, who might look familiar to fans of Orange Is The New Black. Coincidentally enough, Fowler also plays a nun on the Netflix series — Sister Jane Ingalls — so it seems like she might have a type.
Also rounding out the group is a choir of unnamed singers and Andrea Robinson, whom IMDb reveals provided the singing voice for Wendy Makkena, who played the more central character of Mary Robert. And, of course, there's Kathy Najimy, who played Mary Patrick, and Makkena herself, all led by a delighted Whoopi Goldberg. Because did you really think they were ever gonna have a Sister Act reunion on her very own show without Goldberg jumping back in the habit?
Without missing a beat, she guides the assembled choir of habited nuns, with both new and familiar faces, into one of the audience favorites from the movie: "I Will Follow Him." As you no doubt recall from your repeated viewings at movie nights, sleepovers, and alone in your own basement because it's just that good, the song starts out slowly. Backed up by some really solid singers, the reunited cast joins their voices for the beautiful first strains of the song, and you're transported right back to church, marveling at how good they sound.
Have we lost some of the technical skill and tight harmonies from the original version? Oh, for sure. This was 15 years ago, and it's not like they've been holding weekly rehearsals since then. But the reunited nuns will still charm the pants off of you. As Whoopi Goldberg herself has stated, the best part about filming Sister Act was the cast, and that comes through loud and clear in this video. You can see from everyone's faces how ecstatic they are to be there, both to see their former co-stars and to transform back into singing nuns again.
The joy of this movie comes through in crystal clear quality, and that's something that will never go away. Even knowing that the song would change from a hymn to an irresistible, danceable hit didn't lessen the thrill of it. In the same way that you can watch Sister Act a million times without getting tired of it, this cast could reunite a million more times and it wouldn't be enough.
The sheer amount of love that they put toward each other and the performance is a dose of pure childhood nostalgia. Just next time, bring Dame Maggie Smith along for the ride.