The 'SNL' Cold Open Parodied R. Kelly & Gayle King's Interview…In Song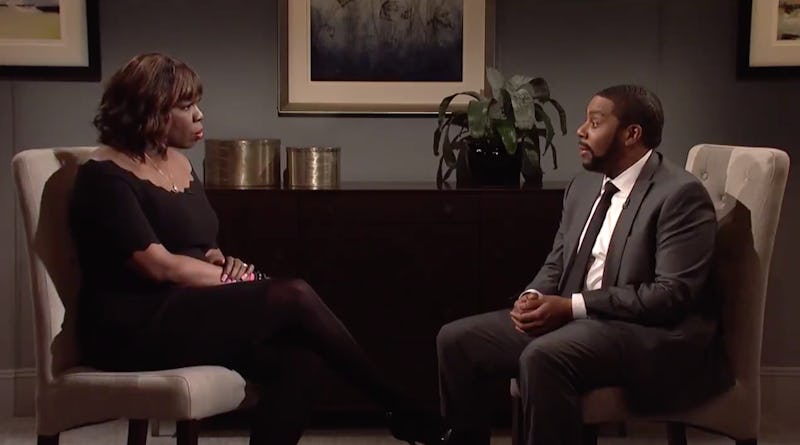 Screenshot/NBC
It's a rare occasion that an event so monumental occurs that Saturday Night Live strays from its usual politically-themed cold open and starts with a different sketch. But that's exactly what happened on the show's March 9 episode. SNL's R. Kelly cold open took Gayle King's explosive interview with the singer for CBS This Morning and gave it the parody treatment, featuring longtime cast member Kenan Thompson in a fake beard as he spoofed Kelly's responses — often in song.
The real interview that the sketch is based on showed Kelly getting emotional as King questioned him directly about the allegations against him, which include accusations of sexual coercion, abuse, and exploitation. (R. Kelly and his attorneys have repeatedly denied these claims). One especially heated moment saw Kelly turn to the camera and say, "That's stupid! Use your common sense. Forget the blogs, forget how you feel about me. Hate me if you want to, love me if you want. But just use your common sense" — a scene which SNL repeated almost word for word.
At the start of the sketch interview, Thompson insisted he was a "victim," telling King (played by Leslie Jones) in his Kelly impression, "Thank you for having me and please just call me victim." Jones refused. She then asked why he was doing the interview, to which Thompson explained, "People think that I'm some kind of monster. I'm here to remove all the doubt. My lawyer is telling me no, but my ego, my ego is telling me yes" — a play on the lyrics to Kelly's 1994 track "Bump N' Grind."
The sketch made frequent mention of Kelly's music career, with Thompson breaking out into song as an internal monologue to communicate how well he thinks the interview is going. At one point, the spoof also referenced Kelly's "Trapped in the Closet," with Thompson singing, "It's ten o'clock in the morning and I'm talking to Oprah's friend. If I can just get through this, everybody's gonna love me again."
However, the singing stopped after Jones brought up Lifetime's Surviving R. Kelly, a six-part docuseries that outlines the many allegations made against him over the course of his career. "These people made a six-part documentary about me. Six! That's almost ten and not one of them said a nice thing about me. They made it seem like I was the devil, and even if I was, you can't think of one nice thing to say about the devil?" he asked, adding, "I can. Nice horns, gives good advice."
Though the SNL sketch was exaggerated, it actually doesn't differ that vastly from what was seen in the initial Kelly-King interview. Between these comedic depictions of the singer, the response to Surviving R. Kelly, and the fact that Sony Music has dropped Kelly from its roster of artists, it seems that the singer has fallen very far in a fairly short amount of time. This SNL sketch is just one of many indications that public opinion about Kelly is shifting.