Mel B Revealed Where She Wrote The "Wannabe" Rap & You'll Never Hear The Song The Same Way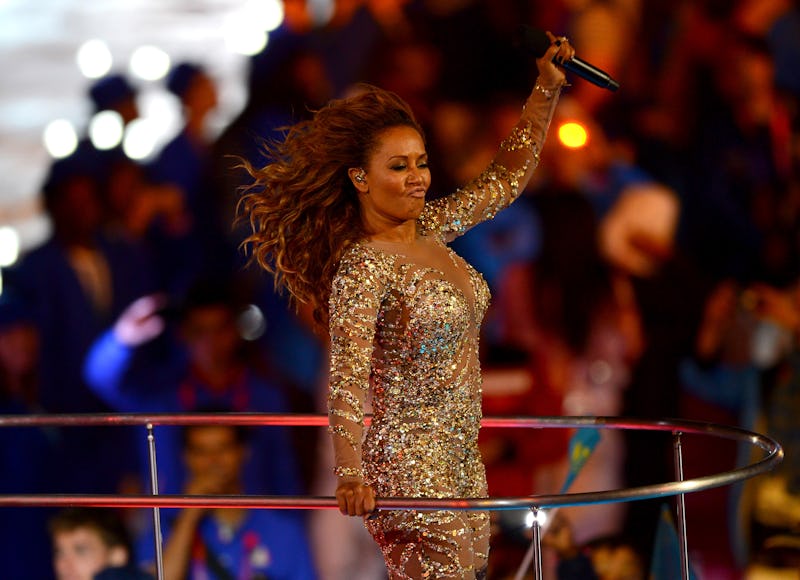 Mike Hewitt/Getty Images Sport/Getty Images
Just when you thought there was nothing else the Spice Girls could do to cement their icon status, one of them raises the bar. Mel B revealed that she wrote the "Wannabe" rap on the toilet, in an interview with TODAY. There really is no limit as to where inspiration can flow. (Pun absolutely and unapologetically intended.)
The reveal came as part of a Wednesday appearance that Mel "Scary Spice" Brown Gulzar made on TODAY, where she served as the show's co-host. In her trademark brazen fashion, the pop icon and America's Got Talent judge combined an announcement of an upcoming Spice Girls reunion with a confession of "Wannabe"'s unglamorous origins, as a hilariously grossed-out Hoda Kotb looked on. "Took me, like, eight minutes to write it," the 43-year-old revealed, laughing as Kotb squirmed.
But while Mel B has never been one to shy away from sharing gory details just because, it turns out that there's actually a very good explanation for why she may have chosen such a nontraditional setting for her writing. As she shared during the June 27 broadcast:
"Imagine being with five girls. We all have our own opinions… Every song that we write we have a focus-point topic, so this song was all about supporting each other and if you have a boyfriend, that's got to be approved by their friends."
The singer seemed to be highlighting the fact that any music that she and her fellow bandmates — Victoria "Posh" Beckham, Emma "Baby" Bunton, Melanie "Sporty" Chisholm, and Geri "Ginger" Halliwell — put out had to be approved by all five of them. So in hindsight, it should hardly be surprising that the location Mel B picked for a writer's room was one of the only places she could be truly alone, so she could focus enough to come up with something for the rest of the ladies to sign off on.
She says that the moment inspiration struck on the tune that would become "Wannabe", she knew what she had to do.
"I was like, 'Hold it a minute… I want to go off to the toilet and write a quick rap.' I made a little tinkle and was writing and I came up with that."
And before you can say "zig-a-zig-ah," thus was born one of the most memorable sections of one of the most recognized pop songs on the planet. It shouts out each of Mel B's four band mates and herself in quick succession, and it goes a little something like this:
"So here's a story from A to Z, you wanna get with me you gotta listen carefully / We got Em in the place who likes it in your face / We got G like MC who likes it on an - / Easy V doesn't come for free, she's a real lady / And as for me, ha, you'll see / Slam your body down and wind it all around / Slam your body down and wind it all around."
According to Rap Genius, the "Wannabe" rap cites Baby as liking things open and honest, AKA "in your face," calls Scary Spice out as a wild card, and notes that Posh is the kind of classy lady who deserves a partner who's willing to work. (Looking at you, David Beckham.) And it was all written during a quick trip to the loo — no big deal.
So the next time you're bopping to your favorite '90s hits and giving The Spice Girls some much-deserved love, just remember that Mel B rattled off the above lyrics during a quick trip to the ladies' room. She definitely deserves even more appreciation than you were already sending her way.