You Can Thank Tom Petty For Helping Inspire This Classic Stevie Nicks Song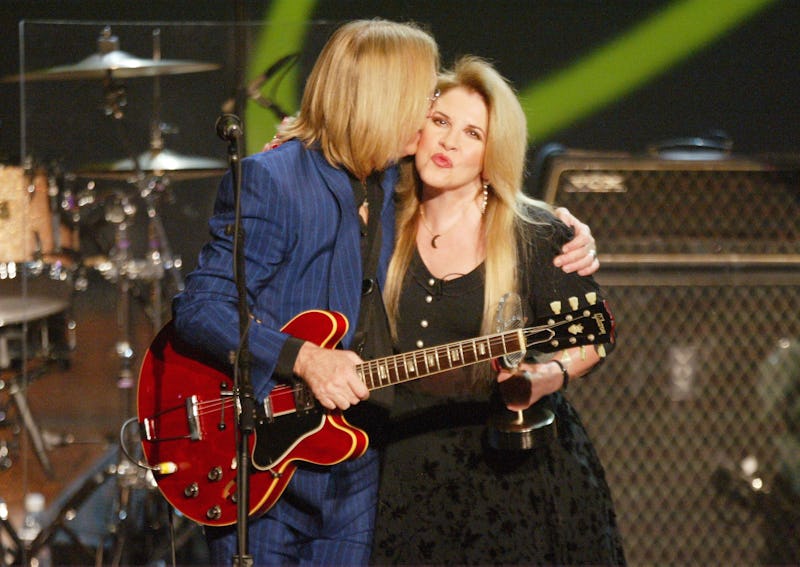 Kevin Winter/Getty Images Entertainment/Getty Images
Music may have lost an icon, but Tom Petty will live on through his work. After suffering from cardiac arrest, sadly Petty died at age 66 on Monday. Now, fans are reflecting on the rock legend's legacy and his impact on music, which consisted of many collaborations with fellow artists. One of them is Fleetwood Mac's frontwoman, and Petty influenced a classic Stevie Nicks song in a way you might not have realized.
Nicks' infectious, Grammy-nominated track "Edge of Seventeen" is a staple of the artist's repertoire. The 1982 song was released from her debut solo album Bella Donna. In interviews, Nicks has recalled the lightning bolt of inspiration that struck to give the song its name. It happened during a conversation with Petty's first wife Jane Benyo.
In an interview with Australia's MAX Music TV, Nicks recalled that when meeting Benyo, she asked when she and Petty met. Her response was "the age of seventeen," but her thick southern accent caused Nicks to mishear it as "the edge of seventeen." Benyo corrected her, but by that point, Nicks already made up her mind about the statement. "The edge of seventeen! You met Tom on the edge of seventeen," Nicks recalled.
And when Benyo corrected her, she went, "No, no, we're changing it now." She remembered the event as her "inspirational moment," one that couldn't be ignored.
Although Nicks' first encounter with Petty's then-wife inspired the song name, the actual song meaning is unrelated. According to the artist, it was written about the sudden passing of John Lennon and her uncle, which occurred days apart. "I was in Australia when John Lennon was shot and I was of course so devastated," she recalled in 2009 commentary on the video. When she returned to the states and began writing the song, her uncle passed away and she was there to witness it.
"It really became a song about violent death, which was really scary to me," Nicks said in the commentary. Thus, the "white winged dove" was a symbol of peace for those who've suddenly passed, and "Edge of Seventeen" became an anthem the singer ended all of her shows with. "I can't imagine ending my show with any other song than this song," she said.
Nicks and Petty were always a big part of each other's lives. Their performances together go back to the '80s, and they released the collaboration "Stop Draggin' My Heart Around" from Bella Donna in 1981. Nicks even performed with Petty in July while on his 40th anniversary tour in London's Hyde Park. "You know that Tom Petty is my favorite rock star!" Nicks told the audience. After many on-stage collaborations (from Madison Square Garden in 2006 to Grammy's Person of the Year tribute honoring Petty in February 2017), that would be their last performance together.
Petty and Benyo were married in 1974 when he was 24, two years before his major breakthrough with the release of his debut album Tom Petty and the Heartbreakers (which had classics like "Breakdown" and "American Girl"). According to Petty's online biography, the two separated in 1996 after having two daughters, Adria (42) and AnnaKim Violette (35), together. In 2001, Petty remarried to Dana York.
Nicks has yet to comment on Petty's unexpected passing, but it's likely she will in the near future. And with an upcoming tour starting in November, the 69-year-old may even perform a tribute (or several) to the fallen star. The world may have lost Petty, but there will always be his music, the "Edge of Seventeen," and the white winged dove.
Editor's Note: This article originally identified Nick's debut studio album Bella Donna as "Bella Nova." It has since been corrected.